Always wanted to try your hand at karaoke and have a meal, just like the ones you see in your favourite K-dramas? For Kolkata Korean pop-culture fans, the wait is over because the much-awaited Seoul Story has opened its doors in the city's most famous food street. Seoul Story on Park Street is the city's newest Korean restaurant from the house of King's Bakery.
Grills and bowls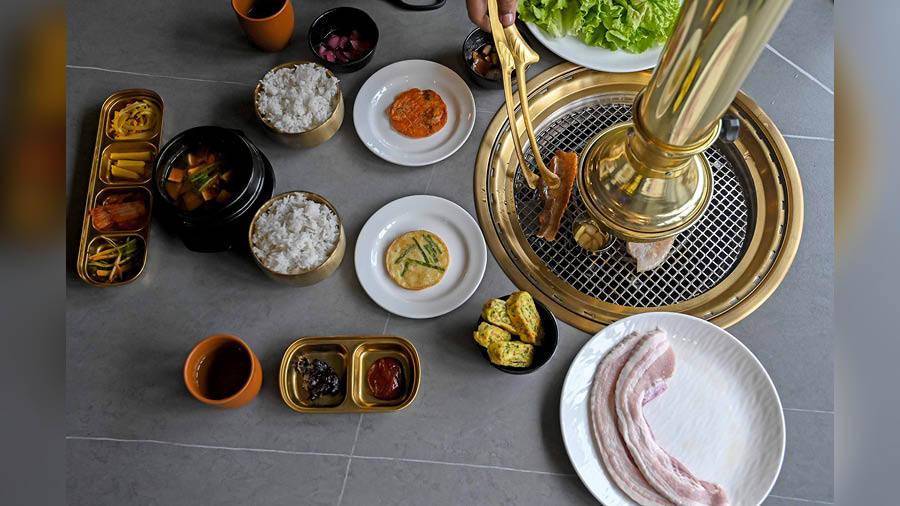 Samgyubsal in the making
If you are interested in Korean food, or on social media, chances are you've seen this barbecue dish, which looks like a little lettuce roll.
Samgyubsal (or samgyeopsal) is a Korean delicacy and a hit among locals in Korea. Literally meaning 'three-layered meat', the grilled pork belly dish has a cut of meat with a layer of meat between layers of fat.
At Seoul Story, you can live barbecue or gui your meat at the setup on the table.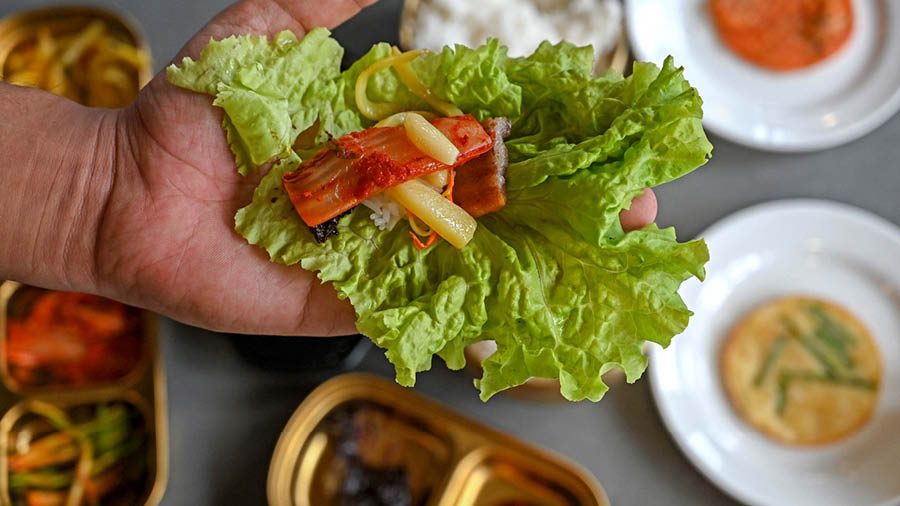 The traditional way of eating the Samgyubsal is by wrapping up the meat, rice and accompaniments in a lettuce leaf
The traditional way of having samgyeopsal is by placing small chunks of the grilled meat on a lettuce leaf and customising the dish to your taste by adding veggies, rice and traditional sauces. Try the doenjang, a fermented soya bean paste with a sharp paste or the spicy and popular chilli-paste gochujang. The interactive eating experience also makes for a cherished meal with loved ones.
The Samgyubsal for two costs Rs 2,400 and comes with Belgian pork belly slices, two bowls of rice and 14 side dishes including the popular Korean egg rolls Gaeranmari (or gyeran mari), but you can also customise your own. There's no vegetarian option for this dish.
A prior booking with a pre-payment of Rs 1,500 is needed for the Samgybsal for two. More details here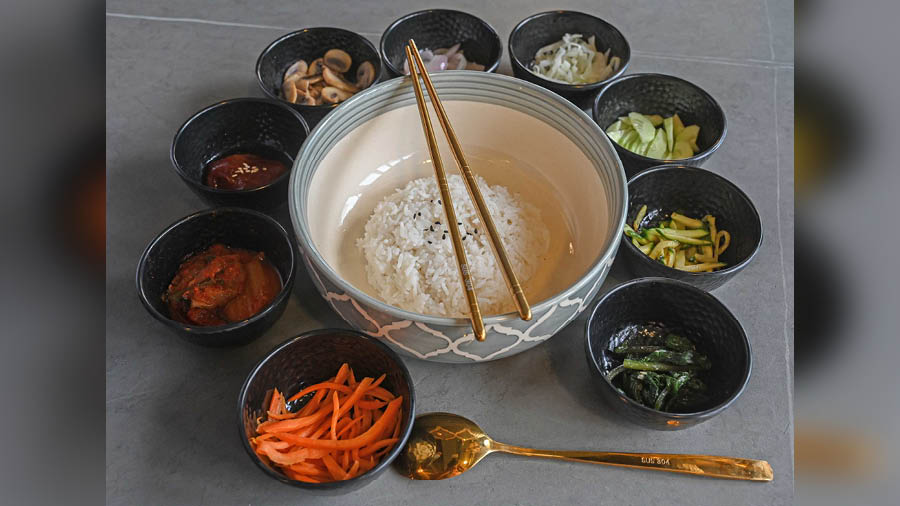 Bibimbap
It wouldn't be Korean dining without some good ol' bibimbap. The Bibimbap at Seoul Story comes with all the sides of sauces, vegetables and meat for the slightly sticky cooked rice. Mix up your rice with stir-fried carrots, mushrooms, zucchinis, some fried onion and pickled cucumber, and add your choice of sauces or pastes and meat if you opt for the non-vegetarian version.
The vegetarian Bibimbap costs Rs 525, and you can choose to add chicken for Rs 90 or egg for Rs 30.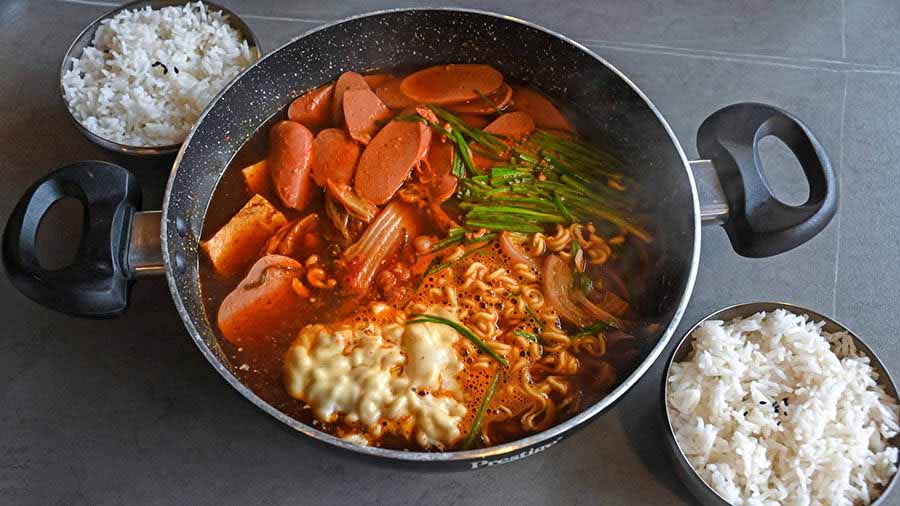 Budae Jjigae
Head chef Hansol Kim's pick for a hearty meal is the Budae Jjigae, often known as an army stew. It "dates back to the Korean War in 1950. The army personnel in Korea would have this mix of ham (pork), chicken sausage, onion, kimchi, dubu (tofu), cheese, baked beans, and ramyeon (or ramen) noodles as a post-war meal," he explained.
The spicy-tangy soup or stew has become a comfort food pick globally, and Seoul Story serves thick Korean ramen noodles that add an interesting texture to the dish. One bowl (Rs 1,400) comes with a side of rice, and can comfortably serve two.
There are a host of other mains including Chicken and Don (pork) Katsu, Gimbap, Kimchi fried rice, Ramyeon and the Jeontong Babsang — rice, served with nine side dishes. Seoul Story's small bites menu has popular picks like the Triangle Gimbap that many might recognise from King's Bakery's menu as well as Korean pancakes in kimchi, spring onion, and seafood varieties.
Sips and sweet treats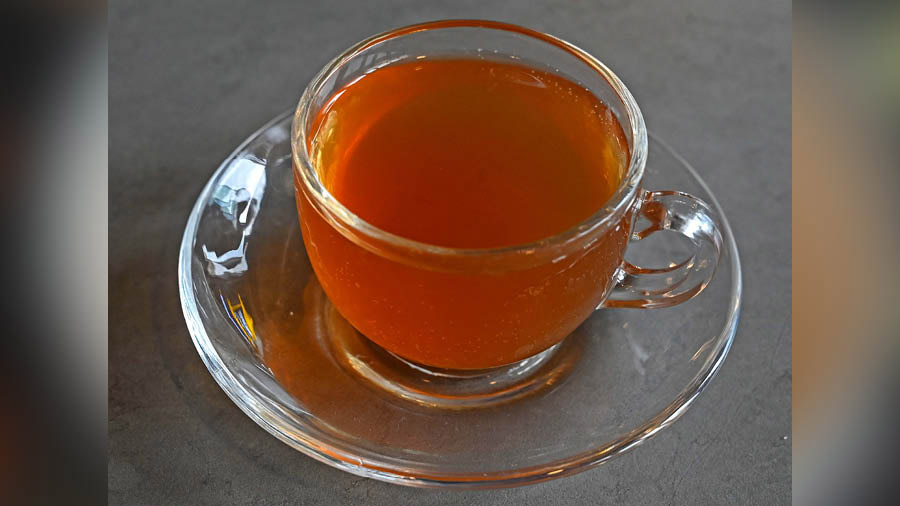 Sujeongwa
Our pick is the Sujeongwa, a traditional Korean cinnamon punch usually served cold, but can also be had hot and is very soothing on the throat. This cinnamon-ginger drink costs Rs 170. There is also a range of coffees including cold brews and Korean coffee, as well as juices, ice teas, shakes and mojitos.
The desserts menu has all the favourites from King's bakery including their delightful choux pastries along with the egg tart and cakes. The Hwachae (or subak hwachae) is a traditional Korean dessert — a punch-like mix of watermelon, cut fruits, milk and soda.
BLACKPINK, BTS and cherry blossoms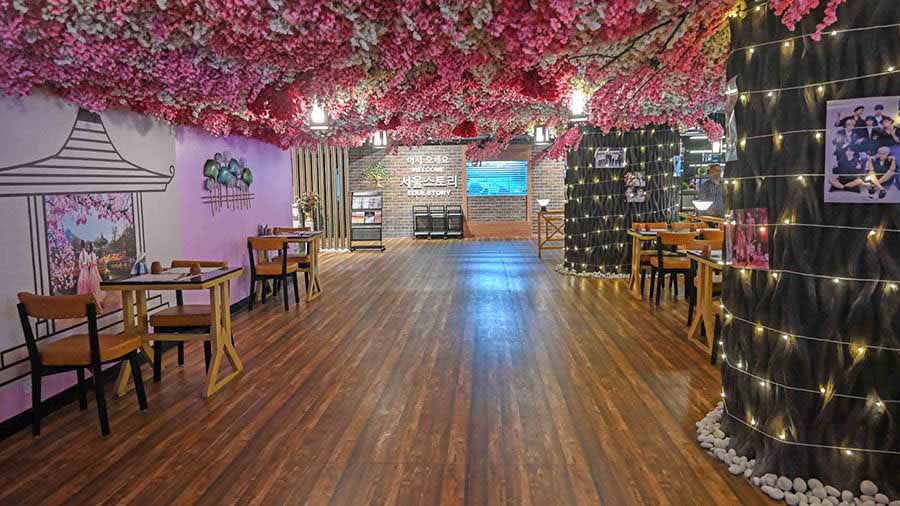 The cherry blossom walkway is a highlight of the decor
Perhaps the highlight of the decor at Seoul Story is the 'cherry blossom walkway' which has a canopy of artificial blossoms in shades of pink and white. The open ambience of the 130-seater restaurant has Korean favourites woven into elements of the design from the murals on the walls, to posters of BTS and BLACKPINK on the 'tree trunk' and might give you a slice of Seoul in Park Street.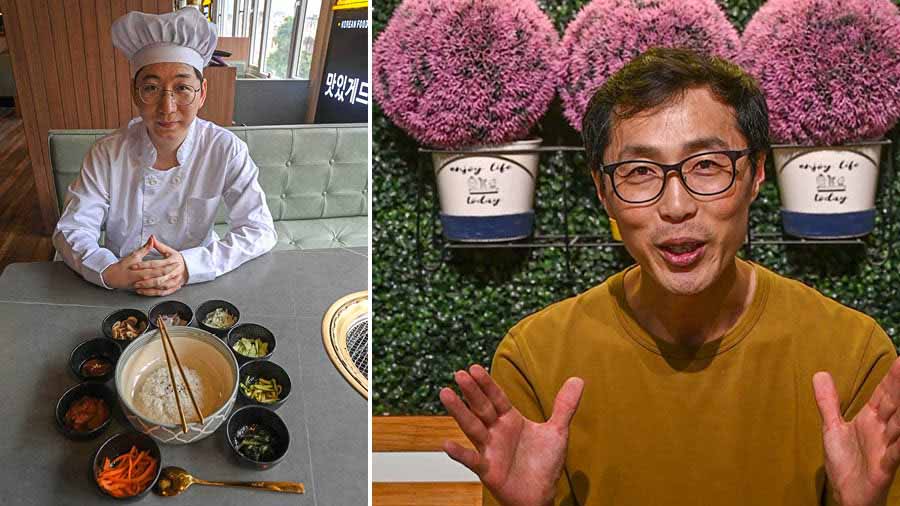 Head chef Hansol Kim and (right) Jung Seok, founder of Seoul Story
For head chef Kim, who loves food and feeding friends, this is just the start for Seoul Story. "Korean food leans towards natural tastes and does not depend much on the spices. There are a lot of vegetarian and fish dishes that I'd like to introduce gradually at Seoul Story, as Korean food is still new for Indians," he said.
Jung Seok, founder of King's Bakery and Seoul Story, has big plans for the venture. "I am grateful and proud to be a Korean, therefore I want to introduce my Indian friends in Kolkata to Korean food and culture in an authentic way. In the foreseeable future, I want to open Seoul Story in cities like Bangalore, and Mumbai," he signed off.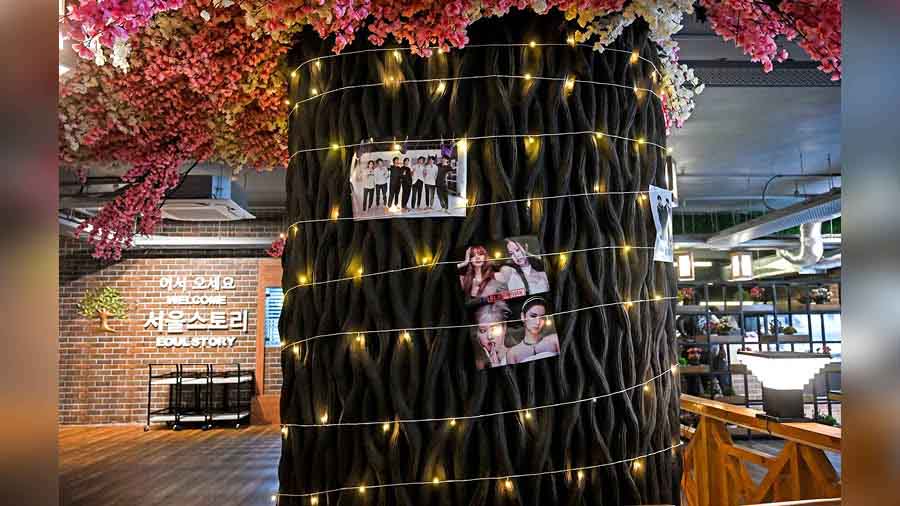 Posters of BLACKPINK and BTS are sure to make KPop fans happy
SEOUL STORY
· What: Korean fine-dine restaurant, with live Korean barbecue and karaoke rooms.
· Where: Park Centre Building, 24, Mother Teresa Sarani, Mullick Bazar, Park Street area.
· Timings: Mon-Sun, 11.30am-11pm (last order at 10.30pm)