Winter is here and so is the zeal to cook without sweating buckets. And hogging hog is a wintertime tradition that really can't be missed. So, here are five pork recipes — some healthy, some spicy — to go all out with as we continue to enjoy the rising nip in the air.
Bok choy soup with artisanal pork sausage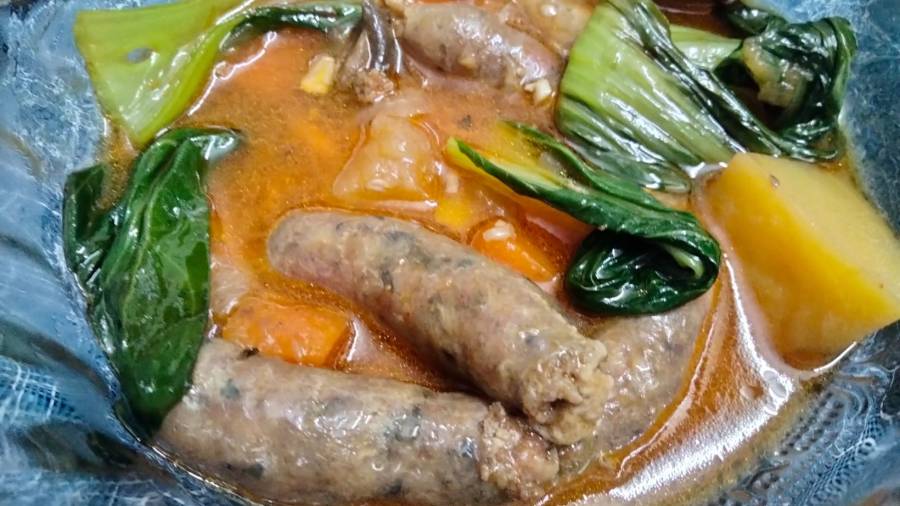 Pooja Mitra
An under 30-minute zero oil soup with the rich aroma and taste of artisanal sausage and big helpings of green goodness.
Ingredients:
Artisanal pork sausages: 6-7 pieces (Medium spice)
Bok choy: 10-12 pieces
Medium thick sliced baby carrots: 8-10 pieces
French beans: 6-7 pieces
Baby onions: 6-7 pieces
Baby potatoes: 4-5 pieces
Medium diced broccoli: 8-10 pieces
Chopped coriander leaves: 3 tablespoons
Finely chopped green chillies: 1 tablespoon
Bay leaf: 1 large
Crushed garlic: 1 tablespoon
Lemon juice: 4 tablespoons
Crushed black pepper: 2 tablespoons
Salt
Recipe:
Put the artisanal pork sausages and baby potatoes in a pressure cooker with a pinch of salt, crushed garlic, bay leaf and black pepper powder and sufficient water. Cook on low flame for two whistles
Now add carrots, French beans, baby onions, broccoli, green chilli and cook until another whistle, and on low medium flame this time
Open the lid, add the bok choy, lemon juice, the remaining black pepper and cook uncovered for 3-5 minutes
Check seasoning and have a warm bowl full of meaty-healthy goodness
Tip:
You can replicate this recipe with chicken, mutton or beef, and add more vegetables of your choice
You can also add eggs once the soup is ready and give a two-minute swirl-and-cook for an egg-drop version
Pork keema chapli kebabs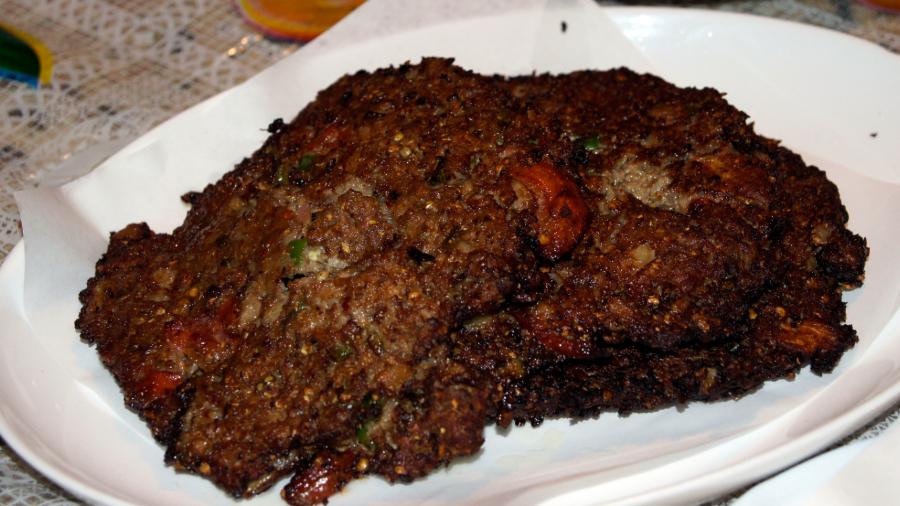 Wikimedia Commons
A tasty kebab recipe to go with a tangy-minty chutney and a glass of rum (or coffee).
Ingredients:
Pork keema: 200gm
Onion paste: 2 tablespoons
Ginger and garlic paste: 2 tablespoons
Green chilli paste: 1 teaspoon
Lemon juice: 2 teaspoons
Scrambled eggs: 2 eggs
Finely chopped onion: 1 large
Finely chopped mint leaves: 1 teaspoon
Roasted cumin powder: 1 teaspoon
Red chilli powder: 1 teaspoon
Roasted and crushed coriander seeds: 1 teaspoon
Salt
Vegetable oil
Ghee
Recipe:
Drain any excess water out of the keema
Marinate the pork keema with scrambled eggs, onion-ginger-garlic-green chilli juice, lemon juice and salt. Cover and let it sit for 10-15 minutes
Now add the second batch of marination, i.e. the chopped onion, mint leaves, some ghee and the masalas, mix well and allow it to sit for another 15 minutes
Heat vegetable oil + ghee on a non-stick pan (50:50 ratio)
Make medium-sized patties and cook on low flame uncovered for 2-3 minutes, covered for 4-15 minutes and then again uncovered for 2-3 minutes
Tip:
If you knead the dough to tighten a little, add a little maida. These kebabs should be succulent and not chewy, so take a bit caution while making the meat mince
Pork chops with fried onions and mashed potatoes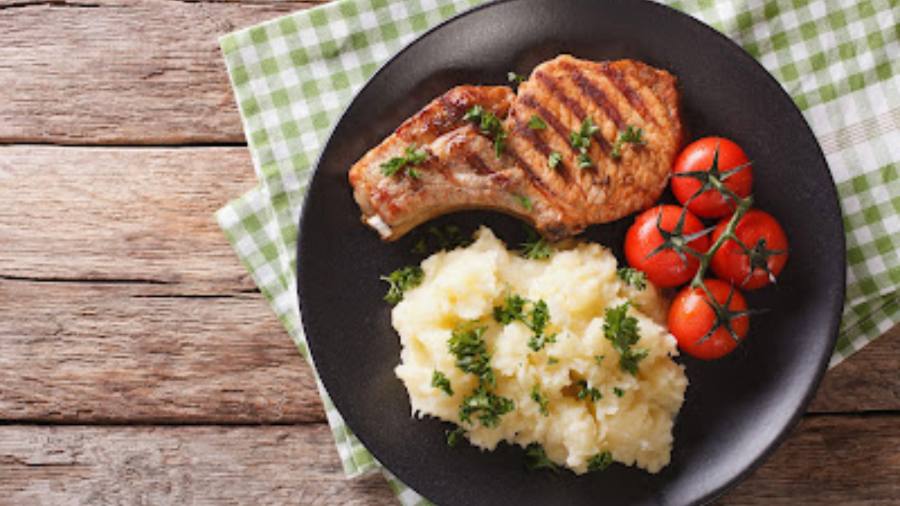 Representative image
Shutterstock
A winter favourite — pork chops in barbeque sauce topped with some fried onions and a dollop of creamy mashed potatoes — this dinner recipe can never go out of style.
Ingredients:
Pork chops: 2
Barbecue sauce: 3 tablespoons
Mashed potatoes: 3 large
Full fat cream: 100ml
Fried onions: ½ small cup
Crushed garlic cloves: 3
Crushed black pepper: 2 teaspoons
Salt
Butter
Recipe:
Marinate the pork chops with the sauce, crushed garlic, 1 teaspoon black pepper powder. Check seasoning and add salt if required
Preheat oven at 140 degrees for 10 minutes
Brush butter on each side of the chops and grill for 7-8 minutes per side
Keep the baking tray below the grill stand to avoid wasting of the delish pork juice
Meanwhile, in a nonstick pan, add some butter and heat. Add the mashed potatoes (ensure that they are lump free) and season with some salt and pepper
Cook on low to medium heat for 2-3 minutes before adding the cream. Mix well and cook on low to medium heat for 5-7 minutes or until you have the desired consistency and texture
Plate the chops and mashed potatoes with fried onions and dig in
Tip:
To fry onions, marinate with salt and pepper and saute on low flame until golden and almost light brown
Char siu pork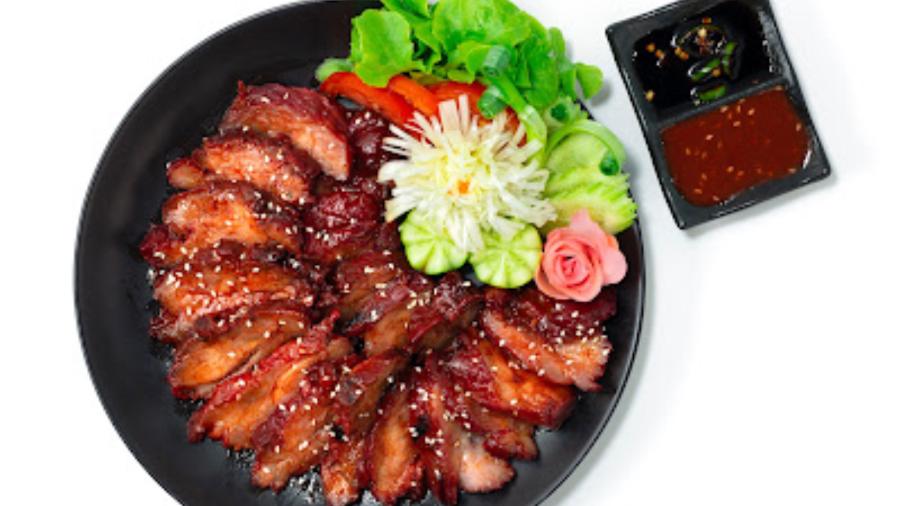 Shutterstock
A big bowl of ramen, some char siu pork with toasty sesame seeds sprinkled and a go-to movie or series — an unwind and chill situation we want to fit into our schedule ASAP.
Ingredients:
Pork shoulder fillets: 8 pieces
Chinese five spices: 1 teaspoon
Honey: 1 tablespoon
Brown sugar: 1 teaspoon
Light soy sauce: 2 teaspoons
Hoisin sauce: 2 teaspoons
Roasted white sesame seeds: 1 teaspoon
Salt
Butter
Recipe:
Marinate the pork strips with five spices, honey, brown sugar, soy and hoisin sauce. Check seasoning and add salt if required
Preheat the oven to 140 degrees for 10 minutes
Brush the strips with butter and place on the grill stand. Place the baking tray at the bottom and grill for 30 minutes
Garnish with sesame seeds and have hot
Pork cutlets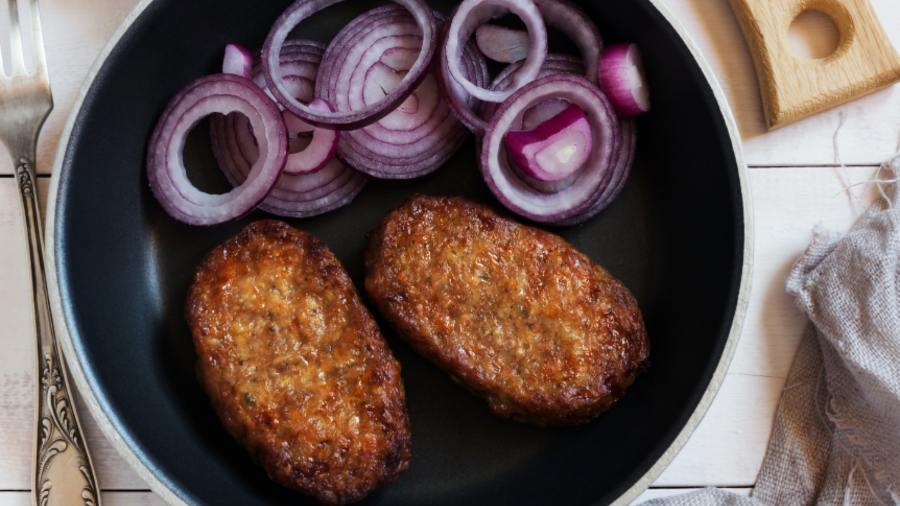 Elena Leya/Unsplash
Time to indulge in all things fried — air-fried or deep-fried — because winter is here and we can't keep calm (neither can our gastronomical adventure plans that were tucked away, because, well, summer!)
Ingredients:
Pork keema: 200gm
Finely chopped onions: 2 large
Finely chopped coriander leaves: 1 tablespoon
Finely chopped green chillies: 2-3
Ginger and garlic paste: 2 tablespoons
Garam masala powder: 1 teaspoon
Kashmiri red chilli powder: 1 teaspoon
Mashed potatoes: 1 large
Eggs: 1 for marination, 1 for coating
Bread crumbs
Salt
Vegetable oil
Recipe:
Marinate the meat with the chopped vegetables, ginger and garlic paste and dry spices and leave it in the freezer preferably overnight or at least for 10-minutes
Add mashed potatoes, egg, salt and knead well
Give cutlet-shapes, coat in egg and then in bread crumbs and deep fry on low to medium heat until golden brown
Tip:
All the pork juices while grilling can be reused while making any dish (practically any) and can be stored in a glass container in the freezer for up to 2-3 days