After the excitement and exhilaration of Ashtami, Navami, to revellers, can be bittersweet, what with it being the penultimate day of the pujas. Thus, Navami needs an even more delicious spread to beat the blues. Here are a few easy and tasty recipes to try on this day…
Chaler atar ruti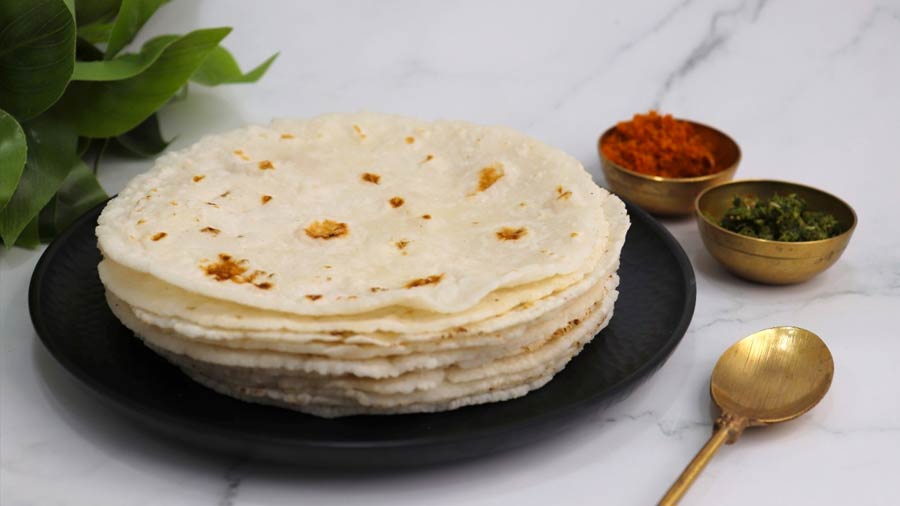 Wikimedia Commons
Move over parathas, this pujo try soft and delish chaler atar ruti.
Ingredients:
Rice flour or chaler ata: 1 cup
Salt: 1 teaspoon
Water: 1 cup
Full fat milk: ½ cup
Recipe:
Dry roast rice flour on a nonstick pan on low flame for about 5-7 minutes or until the flour starts to spread aroma
In a pan, boil water with salt
Add the rice flour and start mixing it on low flame slowly. Preferably, use a wooden ladle
Once the water and rice flour has mixed well, turn off the flame, cover the dough and set aside for 5-7 minutes
Sprinkle some dry rice flour on an even platform, wet your hands with some milk and start kneading the dough. If the dough needs some more moisture, add some milk
Make small balls, round them up and flatten them into thin rotis
Cover the raw rotis with a wet cloth as you heat the pan
Cook the rotis on medium flame until each side is ready and serve hot
Tip:
Rice flour dough gets dry very easily. They have to kneaded when luke warm
The rotis too have a tendency to burn. Cook them carefully
Mutton barra kebab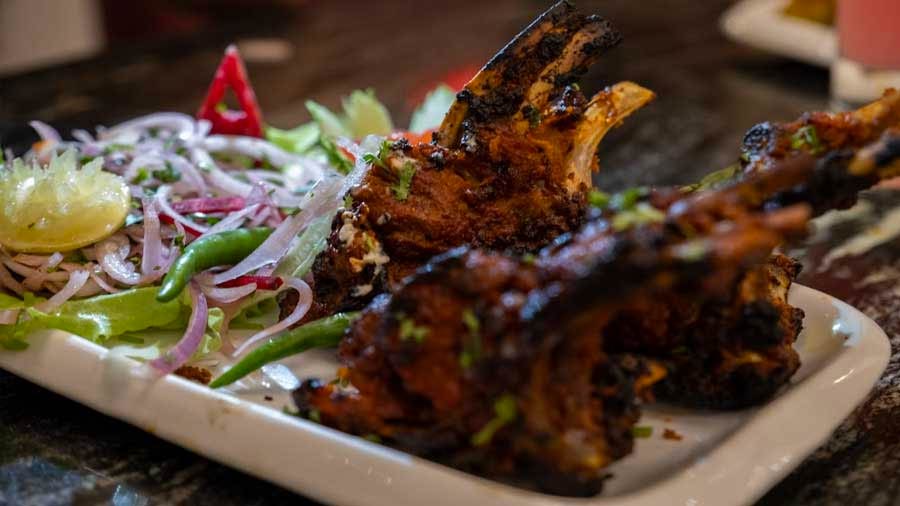 Ritagnik Bhattacharya
Succulent mutton chops in exotic masalas teamed with chaler atar ruti with some salad on the sides — this Navami is going to be a flavour riot.
Ingredients: 
Mutton chops: 10 pieces (120-140 gm each preferably)
Roughly chopped onion: 1 large
Roughly chopped ginger and garlic: 3 tablespoons
Grated raw papaya: 1 tablespoon
Dry roasted whole red chilli: 2
Green chillies: 2
Lemon juice: 2 tablespoons
Red chilli powder: 2 teaspoons
Kashmiri red chilli powder: 2 teaspoons
Dry roasted garam masala powder: 1 tablespoon
Whole blackpepper: 1 teaspoon
Hung curd: 3 tablespoons
Sugar: ½ teaspoon
Black salt
Mustard oil
Charcoal: 1
Ghee
Recipe:
Make a rough paste of onion, ginger and garlic, grated papaya, whole red chilli, salt, lemon juice, red chilli powder, Kashmiri red chilli powder, garam masala powder, whole black peppers
Use a paper towel or cloth to dry the mutton chops and make a few whole or cuts on the chops
Marinate the mutton chops with the spice mix, ghee and hung curd and preferably leave overnight or for minimum 2-3 hours
Preheat the oven to 200 degrees for 10 minutes
Add some ghee to the chops, give a good mix and place on the grill. Cook for 30-40 minutes
Now, place the kebabs on a tawa
Light a charcoal and place in it in the middle of the tawa 
Turn on the flame, add some ghee from the top on the charcoal and cover for 2 minutes
Turn off the flame and serve piping hot and all succulent and tasty
Fish chop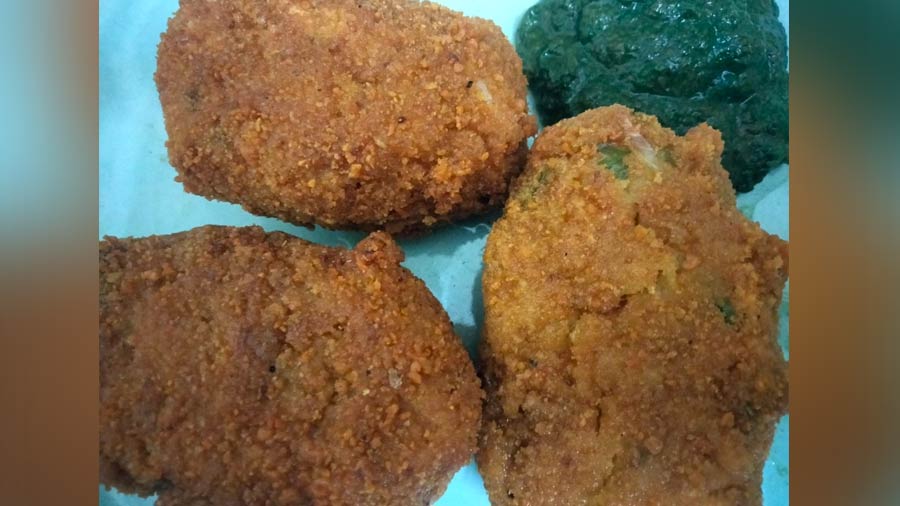 Pooja Mitra
It's okay if there's no ilish on the menu. Sneak in some crunchy maachher chop, dip in some kasundi and enjoy the festivities.
Ingredients:
Boneless fish (rohu or katla): 300 gm
Boiled and mashed potato: 2 large
Onion paste: 3 tablespoons
Ginger and garlic paste: 2 tablespoons
Green chilli paste: 1 teaspoon
Red chilli powder: 1 teaspoon
Garam masala powder: 1 teaspoon
Coriander powder: 1 tablespoon
Finely chopped onion: 1 large
Finely chopped coriander leaves: 2 tablespoons
Finely chopped green chilli: 1
Lemon juice: 1 tablespoon
Sugar: 1 teaspoon
Beaten eggs: 2
Bread crumbs: ½ cup
Chaat masala: 1 tablespoon
Salt
Vegetable oil
Recipe:
In a mixing bowl, take boneless fish, mashed potatoes, onion paste, ginger and garlic paste, green chilli paste, red chilli powder, garam masala powder, coriander powder, lemon juice, salt, sugar and mix well into a soft dough
Keep it aside for 10-15 minutes and then add the chopped vegetables, i.e. onion, coriander leaves and green chilli. Add some mustard oil and mix well. Leave aside for another 5 minutes
Add some salt while beating the eggs and also in the bread crumbs
Now, check the seasoning of the filling and start making the chops by giving them desired shapes
Meanwhile, also heat oil in a kadhai to deep fry the fish chops
Once the oil is hot, lower the heat, dip each chop in egg and bread crumb and deep fry until light brown
Strain the oil, sprinkle some chaat masala and serve with ketchup or kasundi
Achaari alu dum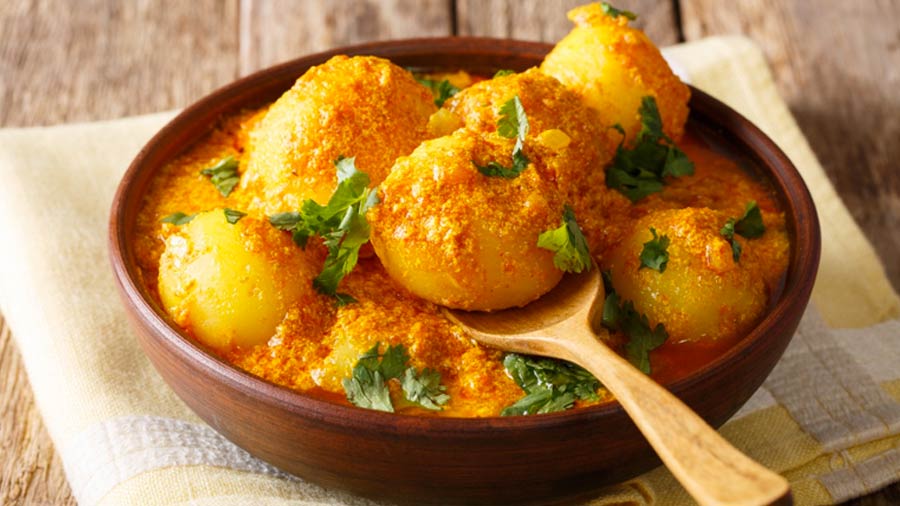 Shutterstock
Goodness of achaar, richness of bhaja masala and the quintessential alu — this quick alu dum can also be saved for days when dil mange more, but kitchen time is under 30 minutes.
Ingredients:
Small potatoes or medium sized potatoes cut into halves: 300gm
Finely chopped onion: 1 large
Beresta: 3 tablespoons
Ginger and garlic juice: 4 tablespoons
Green chilli and lemon juice paste: 1 tablespoon
Whole red chilli, tomato and kashmiri red chilli powder paste: 2 tablespoons
Dry roasted garam masala powder: 1 tablespoon
Amchur powder: 1 tablespoon
Kashmiri red chilli powder: 1 teaspoon
Red chilli powder: 1 teaspoon
Roasted coriander powder: 1 tablespoon
Turmeric powder: 1 teaspoon for gravy, 1 teaspoon for potato marination
Mango pickle, roughly crushed: 1 tablespoon
Bay leaf: 1
Whole garam masala: 1 teaspoon
Hung curd: 2 tablespoons
Salt
Sugar
Mustard oil
Recipe:
Marinate the potatoes with salt and turmeric powder and deep fry in mustard oil until the potatoes are golden brown. Strain excess oil and leave aside
In the same cooking utensil (preferably a big kadhai), add some more mustard oil if required, add bay leaf and whole garam masala. Temper well
Now, add chopped onions and fry until light brown
Add ginger and garlic paste, green chilli paste, Whole red chilli paste, Kashmiri red chilli powder, red chilli powder, turmeric powder, salt and coriander powder and cook for 8-10 minutes on low flame until oil leaves the surface
Now add the hung curd, garam masala powder, amchur powder and beresta and slow cook for another 5-6 minutes on low flame. Add a few splashes of water if required. The spice base will have a brown and oily consistency
Add the potatoes, mix well with the masalas and cover and cook for 15-20 minutes on low flame
Uncover, add required amount of water to make gravy, add salt and sugar and cover again to cook till the potatoes are ready
Check seasoning, add the pickle and give a good stir. Cover and cook for 2-3 minutes and turn off the flame
Semai payesh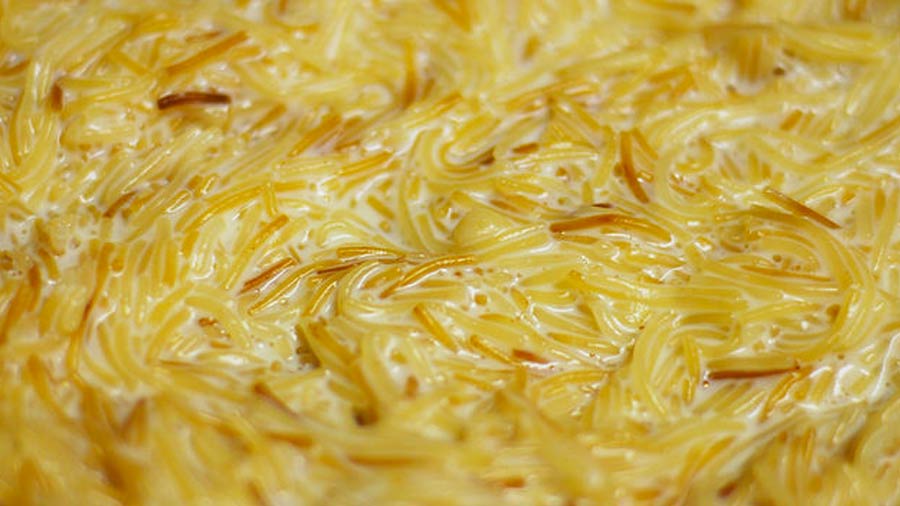 Wikimedia Commons
One of the easiest and tastiest desserts, cook this under-30-minute vermicelli payesh and end your Navami on a sweet note.
Ingredients:
Roasted vermicelli: 200 gm
Full fat milk: 2 litres
Milk soaked raisins: 10
Chopped cashew: 10
Chopped pistachios: 10
Chopped almonds: 7-8
Saffron: 1 teaspoon
Powdered sugar: 5-6 tablespoons
Milkmaid: 1 cup
Salt: ½ teaspoon
Ghee: 2 tablespoons
Recipe:
In a deep vessel start boiling the milk
On the other burner, add ghee to a nonstick pan and lightly toast vermicelli on low flame for 3-4 minutes and keep aside
When the milk starts to thicken and has reduced about 40% in quantity, add the vermicelli and cover. Turn the flame to low and allow the vermicelli to cook
Now, add sugar and cook for 3-4 minutes and then add milkmaid. Cook for 6-7 minutes
When the vermicelli payesh is of the near desired consistency, add the dry fruits, salt and give a good stir
Cook for another 2-3 minutes and turn off the flame. Serve warm or cold