Valentine's Day is just round the corner. How about planning a day with delicious goodness for the special someone, as your romantic playlist adds a special background score? You can start your day with pancakes, spend the evening sipping daiquiris and wrap up with some chocolate cake and a classic romantic film — a perfect plan, promising a lot of quality time. So get that apron on, pour yourself a drink and try out these recipes to surprise your bae with or to cook together on V-Day...
Strawberry pancakes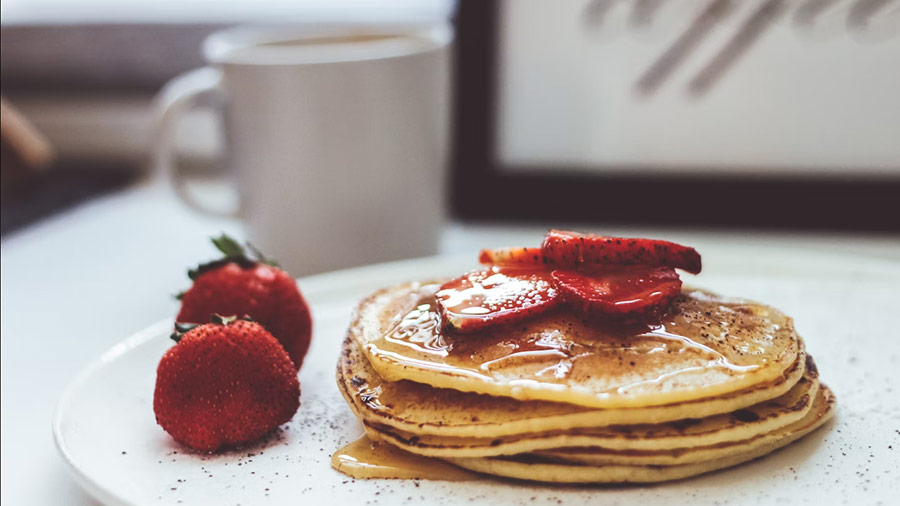 Strawberry pancakes
Unsplash (Representational Image)
Start the day with surprising the beloved with soft pancakes, with the surprise bites of strawberries, topped with maple syrup and some more heart-shaped strawberries.
Ingredients:
Flour (Maida): 1 large cup
Baking powder: 1 and ½ teaspoons
Eggs: 2
Full fat milk: 1 medium cup
Powdered brown sugar: 6-8 tablespoons
Salt: 1 small pinch
Finely chopped strawberries: 5-6 tablespoons
Whole strawberries cut with heart-shaped cookie cutter: 8-10 pieces
Butter: 3-4 tablespoons for batter, 10-12 tablespoons for cooking
Recipe:
Sieve maida and baking powder
Add powdered sugar, salt, melted butter and eggs. Mix well into a no-lumps batter, adding milk in small amounts
Now, add chopped strawberries and give a quick mix
Brush butter on a non-stick pan and heat well. Turn the flame low and add a dollop of the batter and spread
Cook for 3-4 minutes each side or until each side is golden brown
Serve with maple syrup and garnish with heart-shaped strawberries
Tip:
You can also serve with whipped cream along with maple syrup
You can add choco chips or grated chocolate in the batter if you like
Heart-shaped salami with poached eggs and bacon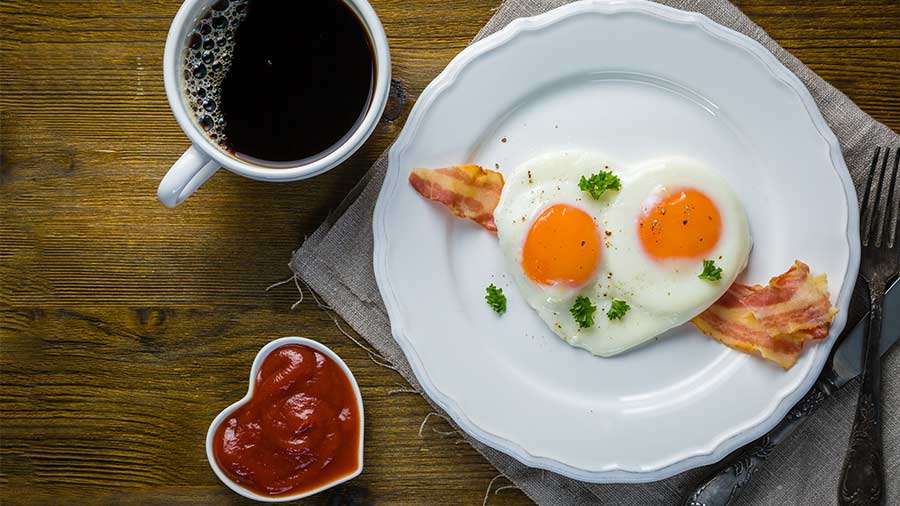 Heart-shaped salami with poached eggs and bacon
Shutterstock (Representational Image)
Let it rain some more hearts on the plate. Add some eggs (but with a twist), salami and bacon for brekkie or if you are planning to cook a brunch.
Ingredients:
Eggs: 4
Avocado: 2
Lime juice: 1 tablespoon
Black salt: 1 teaspoon
Chilli flakes: 1 teaspoon
Back pepper powder: 1 teaspoon
Salami: 10 pieces
Bacon strips: 12 pieces
Olive oil: 2 tablespoons
Cheese slices: 5
Salt
Recipes:
For the base
Scoop the avocados and mash well with a fork
Now add salt, black pepper powder and lemon juice and mix
Take a spoonful and add it to a plate. With the help of the back of the spoon, make an asymmetric bed of almost-guacamole
For the eggs
Add water in a saucepan and bring it to a boil
Now crack one egg and drop lightly into the water, or you can also crack the egg in a big, lightly greased ladle and lower it into the water for less chances of the yolk breaking
Turn the flame medium to high and cook for 1 minute
Take a strainer and carefully take out the eggs with a strainer
Carefully place the egg on the avocado bed
Repeat the process of water poaching with the remaining eggs
Sprinkle some salt and chilli flakes on the top
For the salami
Add one tablespoon of olive oil in a non-stick pan and heat
Place five salami pieces and put one cheese slice each on the top. Add the remaining five salamis making a salami-cheese-salami sandwich
Cover, keep the flame low and cook for 45 seconds to a minute
Cut them with a heart shaped cookie cutter
Plate on the side of the eggs
For the bacon
Add olive oil to the same pan in which you cooked the salami
Place the bacon strips and cook until it's crispy
Strain the excess fat and add to the plate
Tip:
Store the bacon fat for later use
You can also cook the bacon without adding any oil. The fat it it melts easily
Easy charcuterie board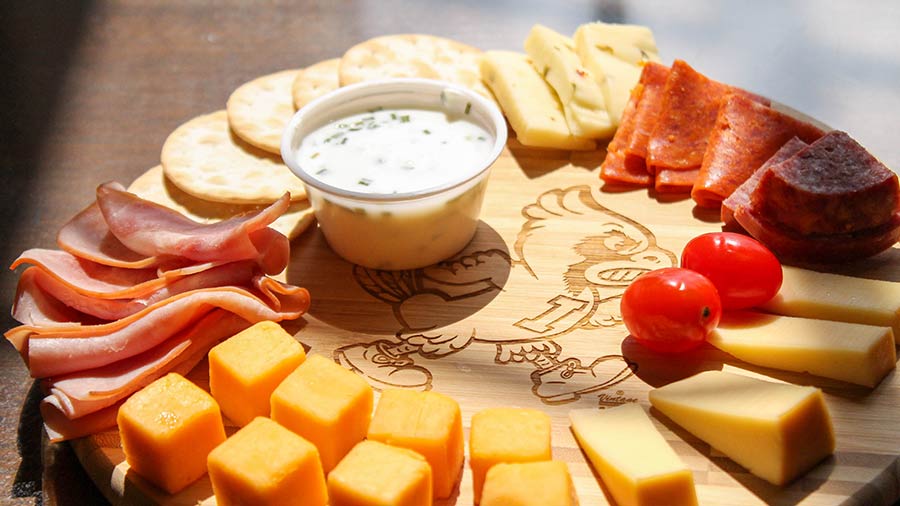 Easy charcuterie board
Unsplash (Representational Image)
Go for some daiquiri (scroll down for the recipe) and music in the evening. Here's a fancy looking but easy-to-make charcuterie board to go with it.
Ingredients:
Crackers: 6-8 pieces
Green/Black olives: 6-8 pieces
Cherry tomatoes: 6-8 pieces
Sliced kiwi: 6-8 pieces
Feta cheese: 100gm
Cheddar: 100gm
Gouda: 100gm
Cashews: 50gm
Dates: 50gm
Grapes: 10-12 pieces
Salami: 100gm
Bacon: 100gm
Ham: 100 gm
Pesto: 1 small bowl
Mayonnaise: 1 small bowl
Hummus: 1 small bowl
Honey: 1 small bowl
Tomato salsa: 1 small bowl
Recipe:
Place all the ingredients on the charcuterie board and enjoy
Tip:
You can cut down on the ingredients and keep just cheese, meat, one dip and a fruit if you like
Daiquiri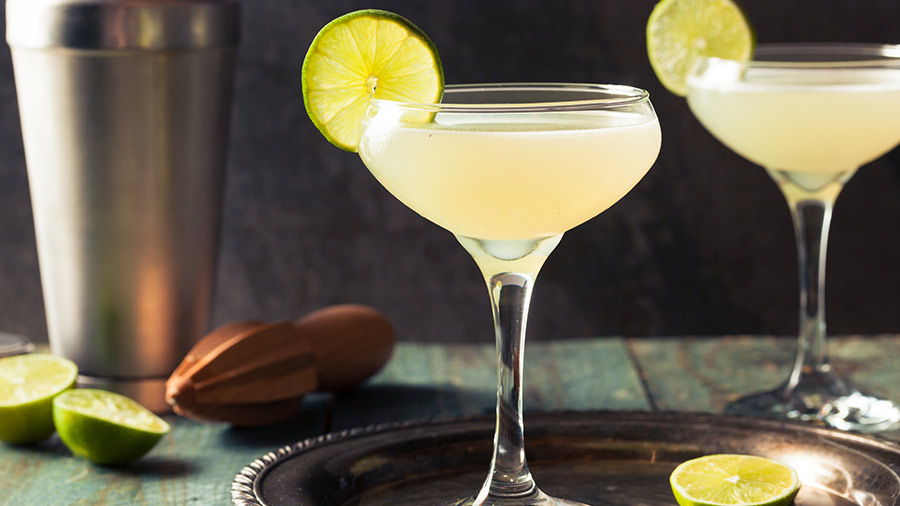 Daiquiri
Shutterstock (Representational Image)
Add another special touch to surprise your beloved…
Ingredients:
Rum: 60ml per glass
Lemon juice: 30ml per glass
Sugar syrup: 1 and ½ tablespoons
Lemon slices: 1 per glass
Ice
Recipe:
Add all the ingredients in a shaker and shake very well
Take a cocktail glass and put a round lemon slice
Strain the daiquiri and you are ready to sip
V-Day special chocolate cake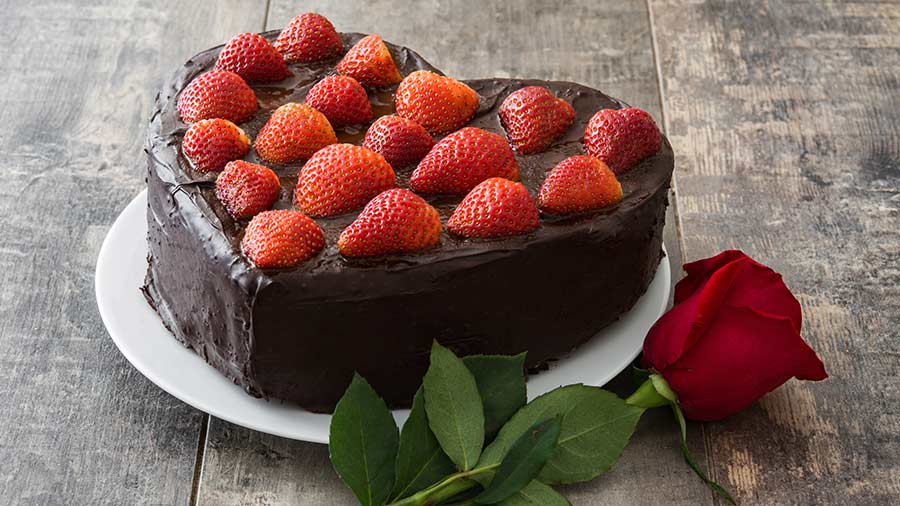 V-Day special chocolate cake
Shutterstock (Representational Image)
Round it up with some gooey heart-shaped chocolate cake.
Ingredients:
For the cake
Flour (maida): 1 medium cup
Eggs: 2
Full fat milk: 1 small cup
Salt: 1 small pinch
Brown sugar: 1 small cup
Cocoa powder: ½ of a small cup
Chocolate chips: ½ of a small cup
Baking powder: 1 teaspoon
Baking soda: 1 teaspoon
Butter: 200gm
For icing
Grated chocolate: 100gm
Condensed milk: 50gm
Water: 1 small cup
Icing sugar: 1 small cup
For garnish-
Kit kat- 10
Fererro rochers-20
Strawberry- 1 large
Recipe:
For cake
Sieve maida, salt, baking powder, baking soda and cocoa powder
Beat the eggs well and add butter and sugar. Beat until light and fluffy
Add the egg batter in the maida bowl. Now, add chocolate chips
Fold, adding milk in smaller amounts to make a thick batter
Grease the heart shaped mould and put a butter paper
Pour the batter and tap lightly to release air bubbles
Preheat the microwave for 10 minutes
Put the mould into the microwave, set the temperature for 180°C at convection mode and bake for 30-40 minutes
Check the cake with a toothpick. Once ready, take the mould out of the oven and allow it to rest for 10-12 minutes before demoulding
For garnish
Take a non-stick pan and add water. Boil some water
Now take a deep bowl
Add chocolate, condensed milk and icing sugar in the bowl and place it on the non-stick pan with water
Hold the bowl with the tong (saransi) and keep mixing all the ingredients in the bowl until it forms a thick, smooth frosting. Keep the flame low
Turn off the heat when your are satisfied with the mix
Making the cake
Demould the cake and cut it into two halves horizontally
Add a dollop of the chocolate icing and cover the surface
Place the other half of the cake atop and pour the chocolate frosting in small quantities, spreading well, covering the sides and the top. Smoothen with the back of a ladle
Add a few Kit kats and Ferrero Rochers to garnish and then place the strawberries
Put it in the refrigerator for minimum 2 hours