The way someone likes to cook and eat dal tells you a lot about that person. It's that one culinary preparation that's eaten across the subcontinent, and yet, in every state, district and household, you'll find that it indicates a palate and a voice that are unique to that specific location, community and family.
But while, in daily cooking, there are thousands of subtle variations of phoron, tadka and souring agents – and even a preference for specific varieties of dal – that diversity has rarely made its way to restaurants. In professional kitchens, there is really only one dal that rules them all – Dal Makhni or Kaali Dal. The way this preparation is handled has not only made or broken countless dhabas and restaurants across the world, but has also created legacies and institutions. Think Chef Manish's Dairy Dal; think stack after stack of Dal Bukhara packages across the world's supermarket aisles. Around the globe, this has pretty much come to be the standard by which an 'Indian restaurant' worth its salt is measured.
But this, strangely, is not the case in Kolkata or Bengal – not even at a dhaba.
A critically endangered species
In the past, I've written about how this region has always had a very unique – sometimes even contrarian – approach in the way it eats. Take the case of chaat. Across the country, it is most often a balance of chatpata (sweet-salt-sour-spicy). But here, we like our phuchka to be tok-jhaal, rarely mishti. Outside south Kolkata, it's hard to find a phuchkawala who serves mishti jol.
Another very particular regional preference in which we vary not just from the rest of the country, but probably from most of the world, is our love for chhoto maachh. Quite often, the smaller and bonier the fish, the more coveted the catch. And then there's the culinary eccentricity that really took some time for me to get used to: the first commandment and progression of meals – beginning with tneto or bitter vegetables.
But the one thing I am yet to reconcile with, especially having grown up in Dilli, is that in this part of the country, a good Dal Makhni or Kaali Dal is a critically endangered species.
'Biuli'r Dal is everything that Kaali Dal is not'
Now, the city is dotted with numerous restaurants and dhabas, all of which include Dal Makhni on their menus. But a lot of them never get it right. Quite often, it's too sweet and creamy. Most of the time, it feels pressure-cooked, not slow-cooked over embers. I'm particularly partial to the ones made by Bachan's Dhaba and Trincas, and I'm sure everyone has their favourites, specifically on Park Street and in central Kolkata and the hotels. But when it really comes down to eating dal, especially while eating out, I think this city and region rather like to zag, not zig.
Kaali or chhilke-wali urad dal is just not part of the Bengali way, really. In fact, it's rarely the preferred choice of dal at home, the restaurant or the bajaar, where yellow moong or orange masoor rule the lunch and dinner table. And that's the other thing to note here: in Bengal, we very rarely eat dal with the skin on, with an exception being made for north Bengal, where they make the Himalayan-style Thakali Dal.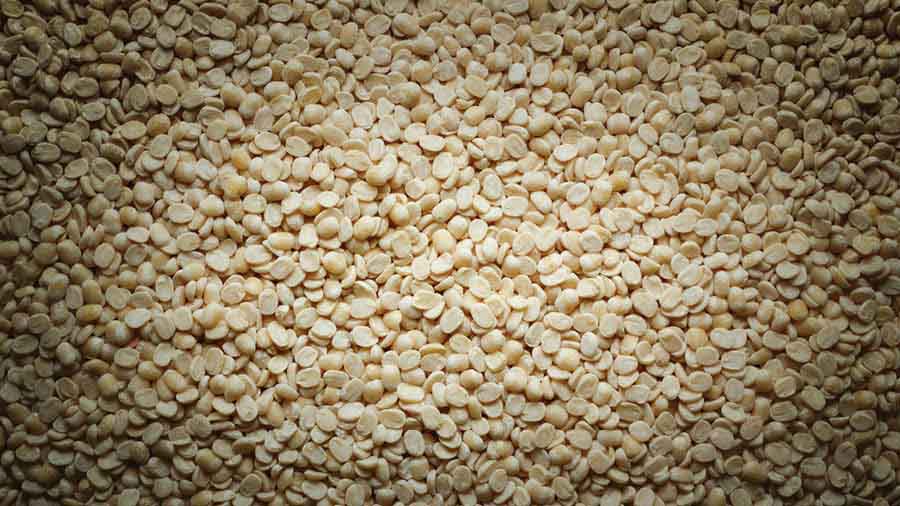 In Bengal, we mostly love our dals peeled, especially urad, which is best prepared with just a hint of ghee, ada and mouri
iStock
Up in the north of the country, everyone loves their Maa Ki Dal. On the western and southern coasts, there is an abundance of green moong. But in Bengal, we mostly love our dals peeled, especially urad, which is best prepared with just a hint of ghee, ada and mouri. The dish, Kolai'r Dal or Biuli'r Dal, is starkly white, as opposed to the deep and dark hues of Dal Makhni. Biuli'r Dal is everything that Kaali Dal is not.
It's all about the tarka
The only real exception to the above rule is also a personal favourite, and a dish I've never seen outside Eastern India. The same Punjabi restaurants and dhabas that serve Dal Makhni also prepare it. That is also where the dish gets its lineage. Over the years, this other, apex dal has come to be sold and prepared at pretty much every street corner of the city. It is what I think is Kolkata's real favourite – Dal Tarka or Egg Tarka.
This dish truly is one of the city's culinary gems, up there with biryani or the Kati Roll, but rarely spoken about in the same way. This is probably because it's most often a Plan B meal – picked up on one's way back home from work, and eaten with rotis on a night when one wants to eat well but doesn't want to cook or spend too much. But, when made well, this dish is a magical mix of green moong with some chana dal that's been dal-fried on a smoking pan, quite often over glowing coal, with a deem or two scrambled in.
The really, really good places always add a splash of the day's mutton or chicken jhol and rendered fat to it. The best offer variations, with additions of keema and mangsho. The shrewdest even have vegetarian options. While I'm partial to the Bachan's Kaali Dal, I prefer their Tarka. Always. Other favourites include Jai Hind and Nebulal's, especially for their meaty variants. The latter's chefs really know how to make their Tarka sing with just the right dose of chorbi and jhol.
Better than the best Dal Gosht
If Tarka is all about dinner, then lunch is almost always about moong and masoor. In the East, we are particular about even the kind of peeled masoor and moong we eat. The grains are much smaller and rounder, and, when cooked, far more aromatic. Every day you'll see these dals cooked across the city's homes and bhaat-er hotels with a halka phoron and paired with the day's bhaaja.
And sometimes, when an indulgent mood takes over or when a large maachh has been procured from the bajaar, you make Muro Diye Dal, glistening with the rendered tel and collagen from the fatty carp-head and redolent with ghee and freshly ground gorom moshla. When made well, I choose this dal over even the best Dhansak or Dal Gosht. It's also the one thing I always order when I'm at Sidheshwari Ashram.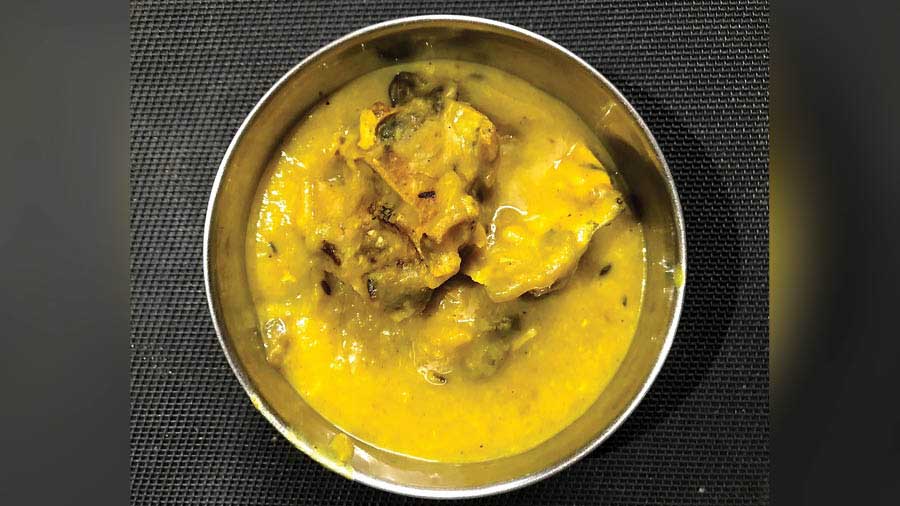 Maachher Matha diye Moong Dal
Wikimedia Commons
'Our community's subtle but important rebellion'
Last but not least, I'd like to wrap up this article by talking a little bit about why I thought it important to write about this regional quirk. In my opinion, it's our community's way of demonstrating a rather subtle but important rebellion: one against the 'generific-ation' and gentrification of the subcontinent's regional ranna and kitchens. It's bad enough that the FMCG and Food Court mafia have hijacked and reduced the craft of cooking Rasam and Sambhar to a mere packet of masala. There's also the fact that so many traditional dal varieties available to buy today are just perfectly homogenised and extremely polished seeds that have been genetically modified.
And here is what breaks my heart the most, and is a crime even I, as a chef, have been guilty of committing in the past: today, contemporary and cutting-edge restaurants serve Kaali Dal with truffle oil or with a dollop of artisanal cheese, rather than actually putting in the effort to innovate or be inspired by another style of dal.
I started this article by saying that you can tell a lot about somebody by the way they prepare and eat their dal. Well, it's about time we as Indians, and especially chefs, take pride in that fact, and celebrate our regional identities and the humble dal with each other and the entire world. After all, there really would be no greater shame than this culinary chapter being slowly and gradually painted black.
A copywriter by training, a Delhi-ite at heart and a probashi Bengali by blood, Auroni Mookerjee used to make ads for a living. A few years ago, he gave up his copywriter's job to cook and feed people full-time, and moved to the deliciously joyous city of Kolkata. Now, he is executive chef and head of the kitchen family at the Sienna Store & Cafe.