Living in Kolkata means having a very specific preference for roll. Dry or oily, with onion or without chilli, sauce or no sauce, the queues outside roll shops are enough to tell you just how seriously we take this street food. In fact, it's not even really street food anymore. Rolls are frequently packed by the dozens and unwrapped at home to be savoured slowly with a chilled beverage on any Saturday evening. And yes, we might argue about Nizam's versus Aminia, but have you tried some of these lesser-known shops? Or, for that matter, these lesser-known favourites at the old haunts? My Kolkata rolls out some choices before you step out this evening…
OLD CHOICE, NEW SPOTS
Chicken Roll at Calcutta Pi
At the corner of Jodhpur Park and Prince Anwar Shah Road, Calcutta Pi gained popularity in the neighbourhood for its Bengali snacks. Rest assured, the chicken roll is one of its best offerings. The paratha is dry and wrapped tightly around the chicken. If you like the heat of green chillies, opt for this if you're in the area.
Double Mutton Roll at Nawab Snacks Bar
You might not look twice at this quaint little shop at Gariahat crossing. But it'll stay with you once you've tasted their mutton rolls. What makes this mutton roll memorable is that the meat is a delicious paste in the roll, making every bite succulent. If you usually avoid mutton because it tends to be chewy, then here's your delicious solution. 
Veg Roll at Veerji Malai Chaap Wale
In Kolkata, we love our meat and for most of us, a roll is a non-vegetarian affair. But Veerji in Sector 1, Salt Lake, gives us a reason to eat green. With a variety of chaap rolls, the soya filling comes with a choice of sauce and marination. Think malai, achari, lemon, or even Peri-Peri. Your vegetarian friends now have more than enough reason to gloat.
[Video courtesy: Vedant Karia]
Chef Alladin
This little shop at New Garia shot to fame for offering, what is considered to be, the longest chicken egg roll in the world. Made with four lachha parathas, this roll is four times that of an ordinary roll, at almost 26 inches. It is stuffed with a variety of meat – chicken seekh kebab, mutton kebab, chicken shammi kebab and mutton shammi kebab. There's also paneer tikka and soybean chunks, while the garnishing includes cheese and mayonnaise. So, round up your friends and rip into this one, because you're definitely going to need help even if you don't like sharing food!

[Video Courtesy: Ritagnik Bhattacharya]
NEW CHOICE, OLD SPOTS
Fish Roll at Campari
Many a weary shopaholic has dragged her feet to Campari in Gariahat to end the day with a fish fry. Weekend house parties have felt incomplete without these famous chicken rolls. But as most of us were lining up for the chicken rolls, another star was lurking in the corner. The fish roll in Campari is just as succulent as its fowl counterpart. The parathas are rolled around tandoori fish fresh from the oven, lending every bite a smoky flavour. If you're tired of the maacher jhol, give your mother a break and order in a fish roll instead. Win-win. Or should we say fin-fin?
Brain Roll at Zeeshan
It's a no-brainer to head to Zeeshan when you're craving biryani. But a brain roll? That's right. When you're bheja-fried from your busy day, opt for the bheja-fry wrapped in a paratha. You'll feel a lot better, immediately!
Fat Free Rolls at Jai Hind Dhaba
Binge-eating at midnight is increasingly being frowned upon. But the lure of a juicy roll long after dinner, when we're up late with the gang, is hard to resist. Jai Hind Dhaba can whip up a fat free version of their rolls, veg or non-veg. Gone is the oily paratha. The kebabs (or any other filling of your choice) are wrapped into a thin casing of roomali roti, making this a lot lighter on the stomach.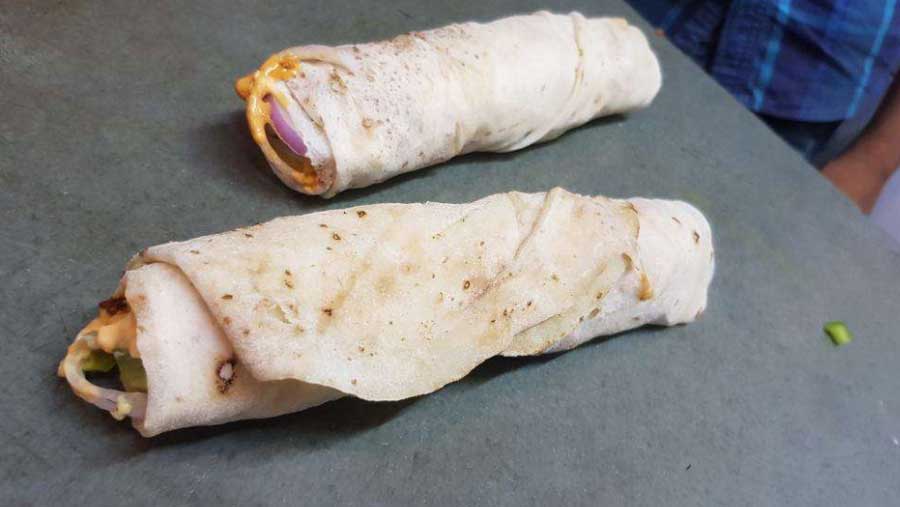 Fat Free Roll from Jai Hind Dhaba
Zomato
Double Beef Roll at Zam Zam
Meat lovers often find chicken rolls a compromise, albeit a delicious one. With its main outlet in Park Circus, Zam Zam has always been known for their beef biryani, but the beef rolls are just as satisfying. The malai beef wrapped in paratha will melt in your mouth. The compact single roll might leave you craving more, which is why we suggest you order the double. If you're going to go for the red, might as well do it right!
If you are a roll fanatic like most of us then do visit these spots to eat tasty variations of this iconic street food and if you are not a fan, then these are good places to start!