Have you wondered what your favourite Bollywood star's cheat meal is? Or which places they have on speed dial for days when ghar ka khana is a no go? And then there's the travelgram that might leave you curious about what was on their plate. 
Thanks to social media, and the stars sharing their everyday moments when at home or travelling, you can scour and pin recommendations. Anushka Sharma has a go-to place for south Indian food, Ritabhari Chakraborty has a favourite eatery in Kolkata, Kareena Kapoor Khan and Karan Johar love a certain London restaurant. 
Here's a peek into Bollywood-approved food joints in Kolkata, Mumbai and overseas for you to etch into your where-to-eat list.
Banana leaf platters and eastern delights with Anushka Sharma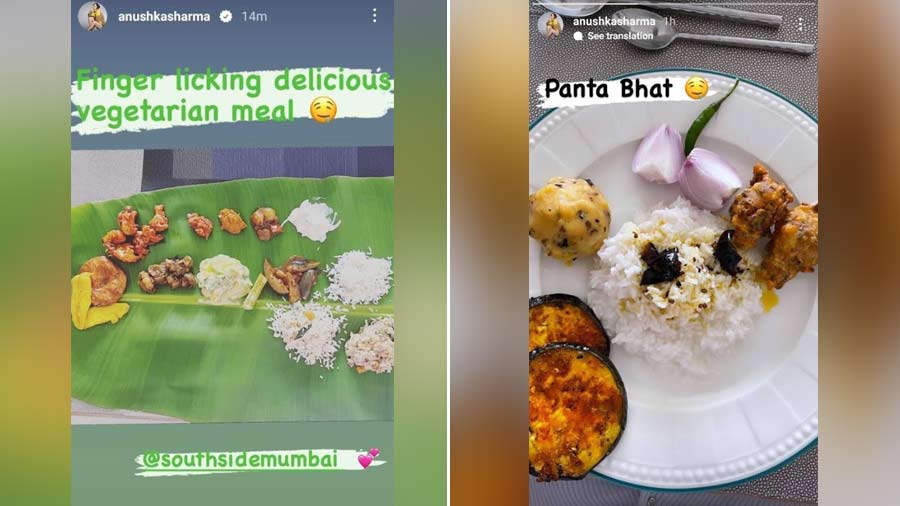 @anushkasharma/Instagram Stories
From a bite of a creamy cake to a Parisian croissant, Bengali and Odia staple Panta Bhaat to a "finger licking delicious vegetarian meal" from South Side Mumbai, Anushka Sharma has the best recommendations for vegetarian foodies. The actress often shares her food sagas on her social media handles, giving a shout-out to the eateries as well.
If you are in Mumbai and craving some south Indian fare, the place that the Chakda Express actress swears by is South Side Mumbai, which is run by home chef Sarada Krishnan. So, if you are eyeing Anushka's banana-leaf platter, order it when you're in Mumbai.
An "Assamese lunch" that was "divine to say the least" — Anushka's Assamese food fest was the result of a suggestion from Little Things actor Dhruv Sehgal. With dal, steamed rice, kaskol pitika (mashed raw banana), pickle and more, it looked like the perfect summer lunch. Clearly impressed, the actress placed a repeat order and posted a photo showing love on her IG stories. If you're in the mood for Assamese or other northeastern goodness when in Mumbai, Anusha recommends Gitika's Pakghor. It is run by Assamese girl Gitika Saikia, who is upholding her heritage through food.
Ritabhari Chakraborty's much-loved Kolkata food joint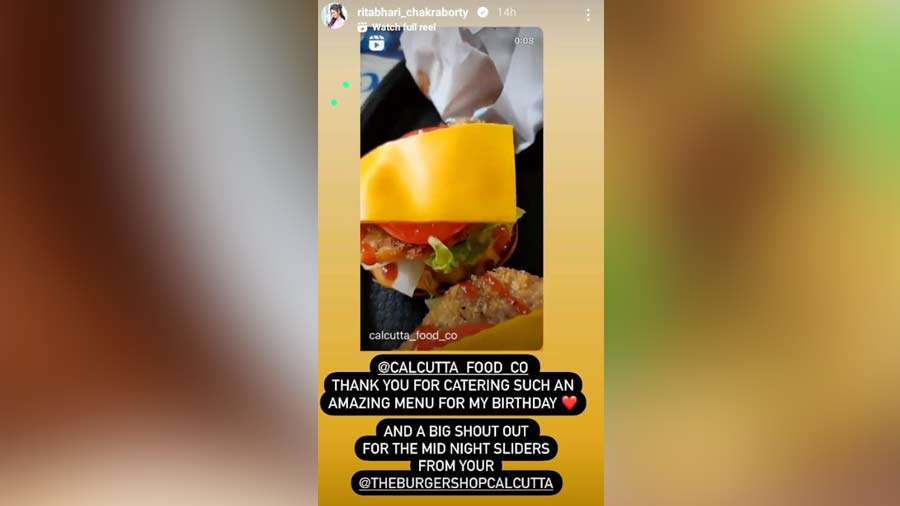 @ritabhari_chakraborty/Instagram Stories
Located at Rashbehari Avenue, Calcutta Food Co is one of the favourite food haunts of popular actor Ritabhari Chakraborty. The Brahma Janen… actress, who will be soon seen in Fatafati, fangirled on 'the midnight sliders' from The Burger Shop Calcutta, part of  Calcutta Food Co. She also gave a shout-out to the restaurant for "catering such an amazing menu" on her birthday bash, sharing a reel by Calcutta Food Co with glimpses of the spread. The Instagram handle of the food label is sure to make you salivate with their delectable and varied spreads — there's bekti, baked jacket potatoes, morich mutton, shepherd's pie and more. Pencil in for your next soiree?
Riddhima Kapoor Sahani's London views and Italian pleasures
Kapoor scion, entrepreneur, yoga enthusiast and sibling to papa-to-be Ranbir Kapoor, Riddhima Kapoor Sahni is Bollywood royalty in her own right. And she loves her fitness mantras as much as she loves her food. Riddhima's recent London vacay snaps are from the Alto Rooftop Bar at Selfridges. The spot is popular for its Italian spread (including gelato desserts), sun terrace, Italian garden, spectacular decor and a great bar. An outdoor meet-up when the London sun shines or an intimate indoor affair — here's a place to bookmark and visit for a slice of luxury and a view of the city.
Kebabs with Karan and Kareena in London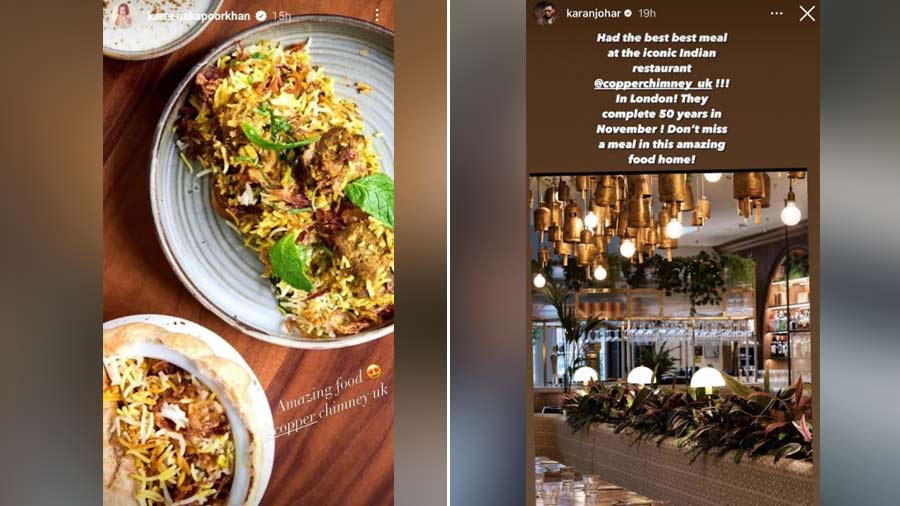 @kareenakapoorkhan/Instagram Stories, @karanjohar/Instagram Stories
Kareena Kapoor Khan's recent London holiday involved chilling in style rocking a Rolling Stones t-shirt, twinning with husband Saif Ali Khan and Taimur, admiring rainbows with little Jeh and a visit to Saif's boarding school. Fit and fab Bebo also had her share of some delicious food. Among it was Indian fare at Copper Chimney. Founded in 1972 and serving for more than four decades, the award-winning restaurant's London chapter has biryani, samosa, tandoori platters, Grilled Burrah Chop and much more to savour. Don't forget to check out their chai spread for the 100 per cent desi feels in the middle of Westfield, London.
Not just the Laal Singh Chaddha actress, but Karan Johar too recently expressed his love for the "amazing food home" and his "best best meal," sharing a click of the eatery on his Instagram story.
Kareena's Kalimpong delights
@kareenakapoorkhan/Instagram Stories
Bebo also gave a rave recommendation much closer to home, in Kalimpong. When shooting for Sujoy Ghosh's next, she gave a shout out to Neena's Kitchen, declaring that she had "Travelled the world only to find the best tiramisu in Kalimpong!" Now named after her, the 'Kareenamisu' is one of the most popular items from Neena Pradhan's home kitchen. If you're planning a getaway to the popular hill station, this tiramisu is too famous to not try. Tiramisu lovers unite!
Parisian foodie love with Malaika Arora and Arjun Kapoor
Their Paris travelgram features oodles of love, great fashion moments and cute camaraderie and had netizens going 'aww.' Celebrating a birthday (Arjun Kapoor's, in the couple's case) with burgers and fries for brekkie at fine-dine eatery Coco Paris, known for its spectacular brunch menu, is definitely one for the travel wishlist. If Paris is on the cards, you now know where to go to indulge in a sumptuous breakfast!
The power couple also stopped for a chocolatey dessert at Palais De Tokyo at the Art Centre during their stay. The spot gives visitors modern and contemporary art and great food — a combo that's too alluring to miss.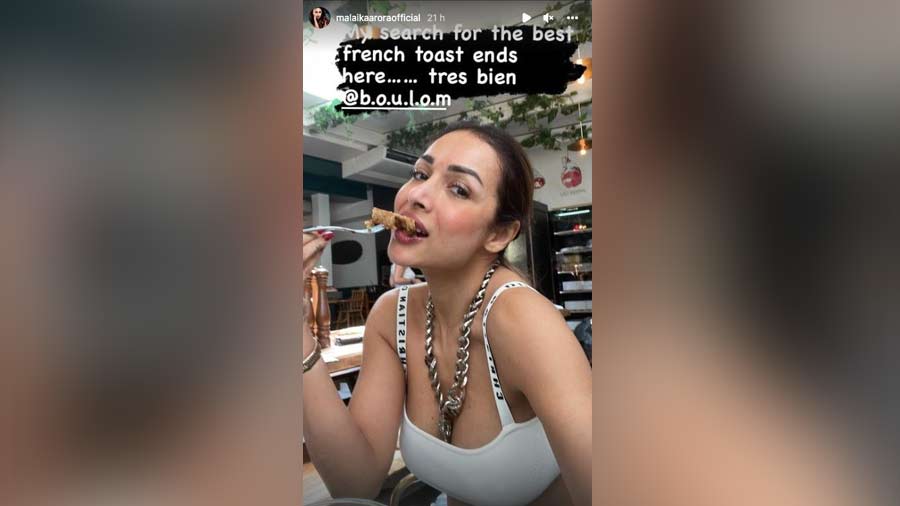 @malaikaaroraofficial/Instagram Stories
And if you are a french toast lover who blisses out with a perfect bite, don't forget to stop by the Malaika-approved B.O.U.L.O.M. A popular bakery in Paris that put an end to Malaika's "search for the best french toasts" has to go on the travel itinerary, doesn't it?