Sustainability has become relevant and more important than ever in every sphere of life. Not only has it taken over the fashion world big time, it is slowly taking over the F&B industry too. On World Environment Day, t2oS caught up with five chefs across star hotels who believe that a sustainable life starts from the kitchen, hence zero-waste cooking is the need of the hour and should be slowly imbibed in our lifestyle in every possible way. Here are five dishes that they rustled up using every bit of their chosen ingredient that you too can make at home.
Roast aubergine tartare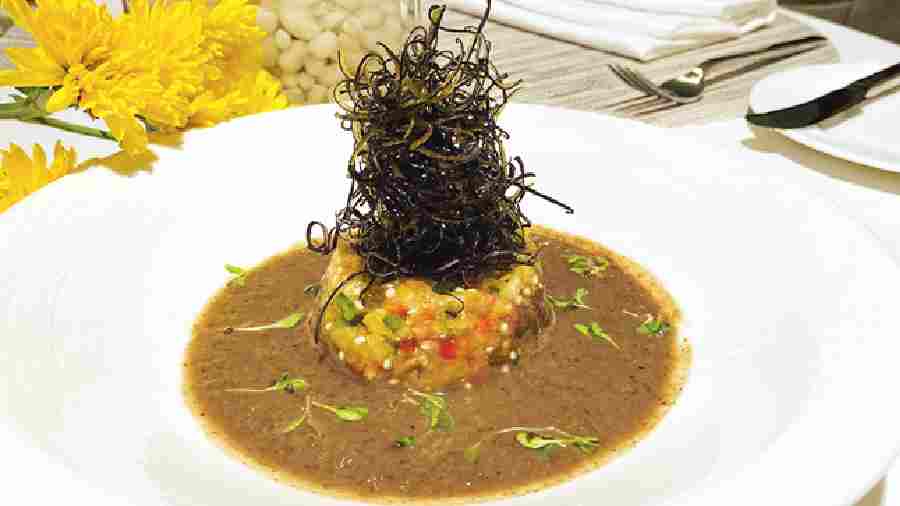 Ingredients
• 1 cup roast aubergine
• 2g capers
• 5g pickled onion
• 20g chopped bell peppers
• 2g coriander roots
• 1 lemon
• 1 whole green chilli
• 2g chopped garlic
• Salt, to taste
• Sugar, to taste
• Black pepper, to taste
• 2 green chillies
• 1tsp olive oil
• 2g chopped parsley
• Microgreens for garnish
Method
1.Peel the aubergine, apply some oil and put it for roasting.
2.After roasting, finely chop the aubergine. Keep some roast aubergine aside for the dressing.
3. Now add chopped capers, garlic, pickled onion, green chilli, bell peppers and coriander roots.
4. Add sugar, salt, chopped parsley, olive oil and mix it well.
5. Take a plate and a round mould, put the mixture on it and pat down to spread evenly.
6. Now, put the aubergine dressing around the tartare.
7. Garnish with aubergine crisps and microgreens.
8. For dressing: puree the roast aubergine with olive oil, add salt, sugar, black pepper and lemon.
Eggplant tempura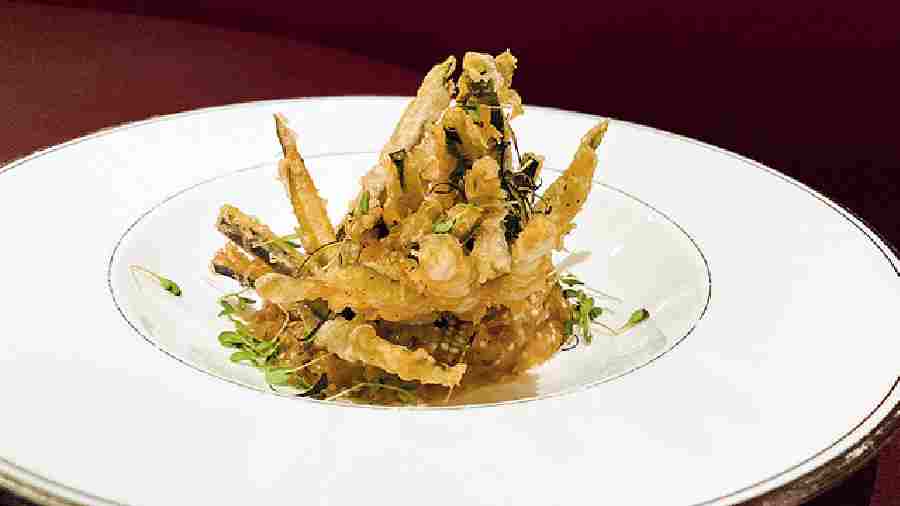 Ingredients
• 1 cup eggplant peels that was kept aside
• 1 cup tempura flour
• 1g togarishi powder (spice mix)
• Refined oil for frying
• Ice cubes for making batter
Method
1. To begin making eggplant tempura, use the  eggplant peels and cut into wedges evenly.
2. For tempura batter: Take tempura flour, add water, ice cube and make a thick batter as coating consistency.
3. Now take a plate with some tempura flour, add eggplant wedges and dust it well.
4. Then put the wedges in a batter, coat it well and deep-fry it.
5. Once frying is done, sprinkle some torgarishi and enjoy crisp eggplant tempura with choice of your sauce or dip.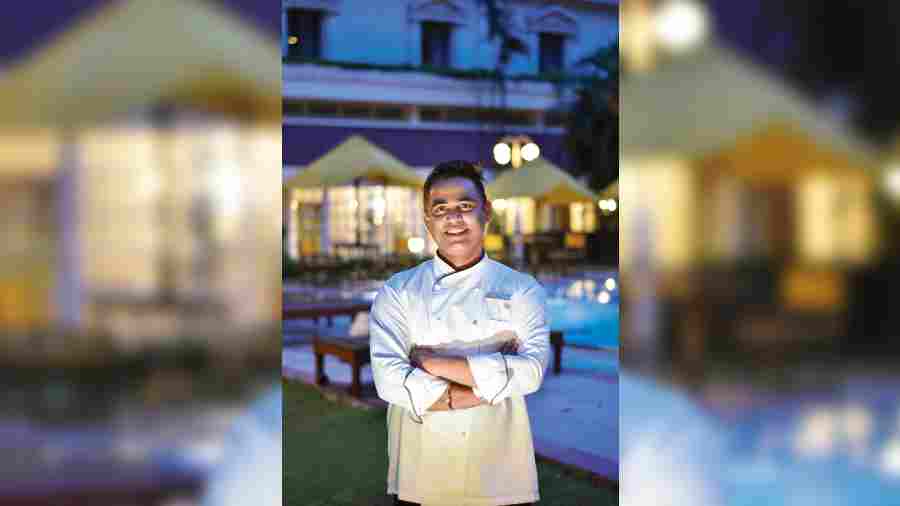 "I feel a conscious effort to minimise the wastage of our resources is the first step to a better environment and better tomorrow. Think green, go green, be healthier," said Pappu Singh, executive chef, The Oberoi Grand, Kolkata.
Cucumber & Parsley Soup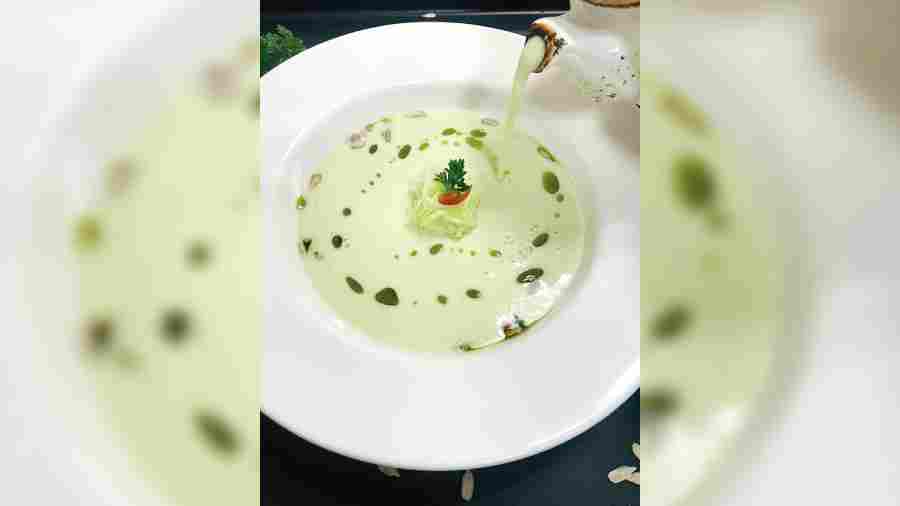 Ingredients
• 1kg cucumber
• Salt to taste
For Cashew yoghurt:
• 200g cashew nuts
• 50g parsley
• 20ml white wine vinegar
For garnish:
• Sunflower seeds
• Parsley oil
Method
1. Peel the cucumber for garnish and slice them lengthwise to get noodle cuts. Add a small pinch of salt to the cucumber noodle to make it soft. Save all the cucumber leftovers for juicing, including the peels. Boil the sunflower seeds for two hours until they are soft, strain them, rinse and keep in the fridge. 
2. Juice the cucumbers for soup with all the cucumber leftovers from the previous step and run the cucumber pulp through the juicer twice to get the most out of the juice. 
3. Measure the amount of cucumber juice and add about 10g of salt, store in the fridge. 
4. For the yoghurt, boil cashewnuts for 45 minutes and let it cool in the liquid. Add 20ml of white wine vinegar and blend to make a smooth paste. This paste would resemble the consistency of yoghurt. To this paste, add finely chopped parsley. 
5. The soup is ready to be served. Pour in a cup and garnish with toasted sunflower seeds, cucumber noodles and parsley oil.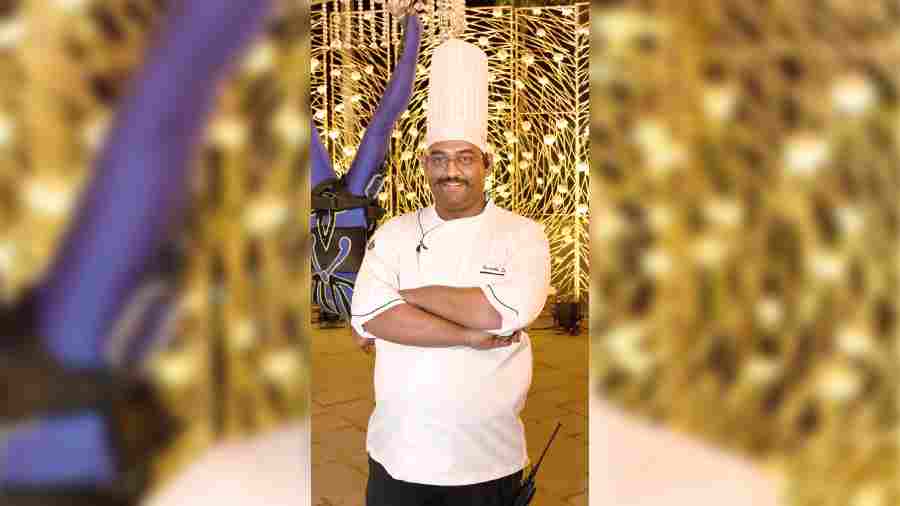 "Food waste is a societal issue. We have developed it, and we are the only ones who can get rid of it. The real remedy is for us to modify our behaviour, which will eventually lead to systemic change. Reducing food waste is not a race to see who can come up with the most innovative ways to use odd bits and leftovers. The idea is to find a method to put the strange components to good use and prevent them from going to trash. It is better to reduce our food waste by half than not to reduce it at all," said Neelabh Sahay, director of food and beverage, Novotel Kolkata Hotel & Residences.
White Pumpkin Musallam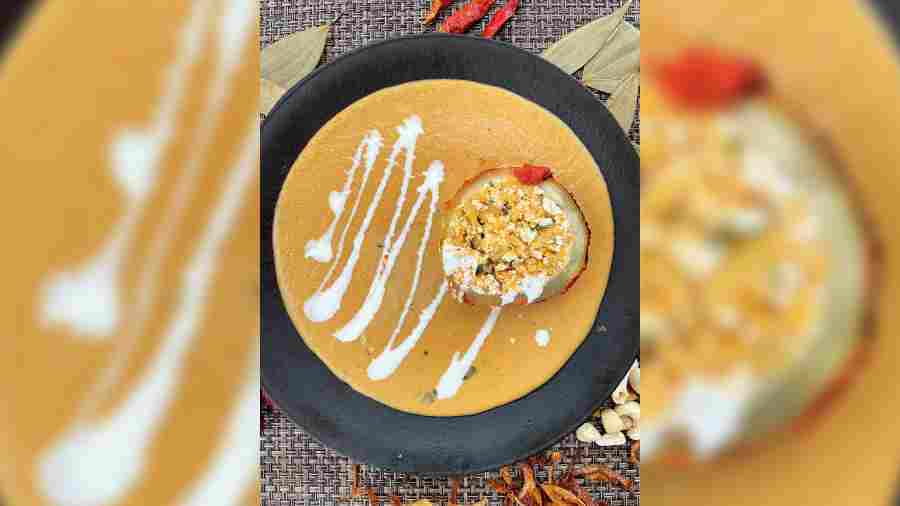 Ingredients
• 150g white pumpkin
• 20g ginger-garlic paste
• 5g bay leaf
• 5g cloves
• 5g cinnamon stick
• 50g brown onion 
• 50g fried cashew nut
• 3ml kewda water
• 3ml rose water
• 5g garam masala 
• 10g salt
•  5g sugar
• 5g ghee
• 5g butter
• 5g cream
• 20g Kashmiri chilli powder
• 20g hung curd
• 30ml oil
• 10g potatoes
• 20g cottage cheese
• 5g coriander
• 5g green chilli
Method :
1. Blanch and fry the white pumpkin.
2. Stuff it with a mix of potato, cottage cheese, green coriander chopped, green chillies chopped, salt and chilli powder, together with the rest of the pumpkin skin and the flesh from the inside of the pumpkin.
3. Heat the oil in a skillet, then add the Indian spices, ginger-garlic paste, rose water, and kewda water, followed by the brown onion and fried cashew nut paste, and cook everything together.
4. After 2-3 minutes, add salt, sugar, ghee, butter, cream, Kashmiri chilli powder and hung curd and cook for 15 minutes.
5. Garnish the pumpkin with fresh green coriander along with fresh cream and butter.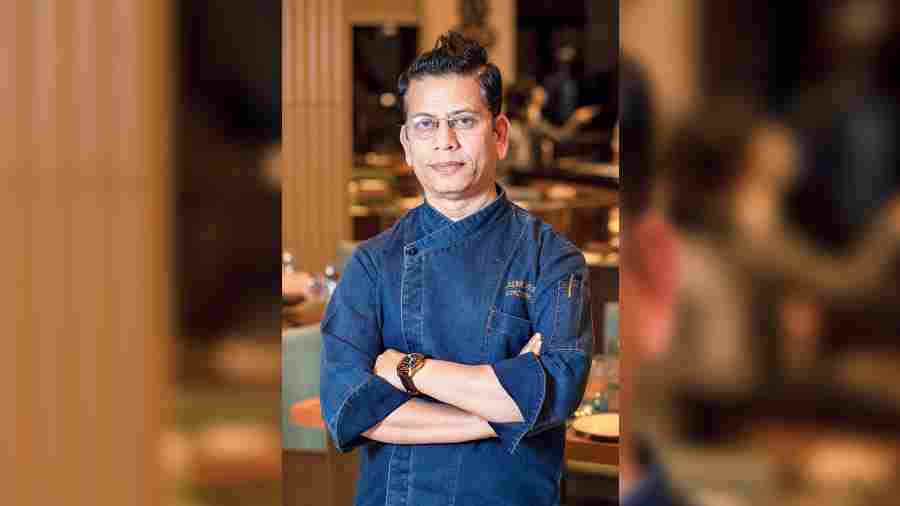 "Everyone is talking about sustainability, and it's the only way we can offer life to future generations. Wastage is a major threat to sustainability, so everyone should do their part to design zero-waste menu items. Marriott International is fully committed to this, and they are implementing a variety of initiatives to train Marriott team members around the world," said Arabinda Seth, executive chef, Fairfield by Marriott Kolkata.
Thai watermelon rind curry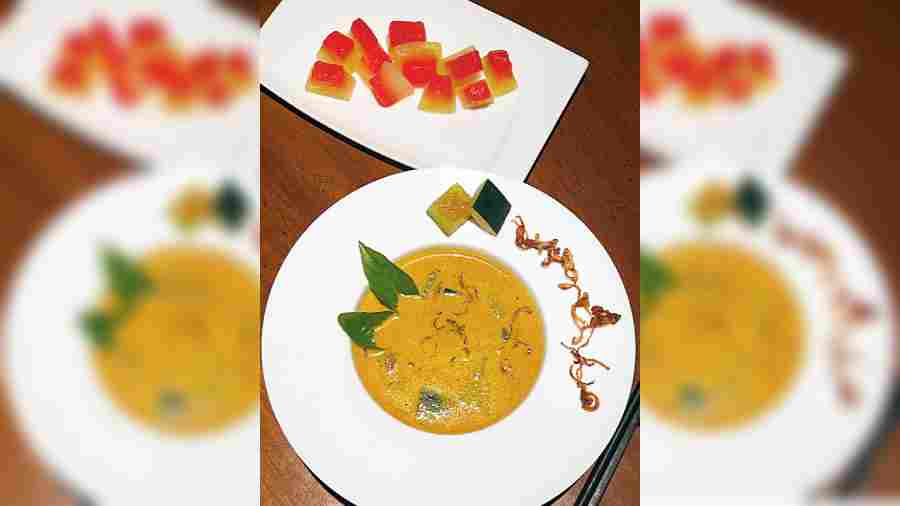 Ingredients
•  50g yellow curry paste
•  200ml coconut cream
• 20g red chilli
•  20g kaffir leaves
•  20g sweet basil leaves
•  20-25ml light soy
• 20g sugar
• 30ml cooking oil
• 30g onion
• 120g watermelon rind
• Keep the watermelon cubes and seeds aside
Method:
1. Cut the watermelon rind in square shape, blanch and keep it aside.
2. Cut onion slices and crisp-fry and keep aside.
3. Take a Thai wok, pour cooking oil and cook the curry paste for one minute in slow flame.
4. Add kaffir lime leaves, red chilli and then add coconut cream and cook for 3 minutes on medium flame.
5. Now add the watermelon rind and  check the seasoning
6. Finish it with basil leaves and garnish it with fried onion, fresh watermelon cubes  and roasted watermelon seeds.
Note: Try to keep the curry on the thicker side, it will taste better. A little bit of red skin in the watermelon rind is ok, which adds sweetness to the curry. Serve hot.
"Zero-waste cooking is the future because it is sustainable. The so-called waste like peels, stalks, seeds etc can be used in many innovative ways and mostly are full of nutrients," said Balpreet Singh Chadha, executive chef, The Park Kolkata
Dudhiya Kofta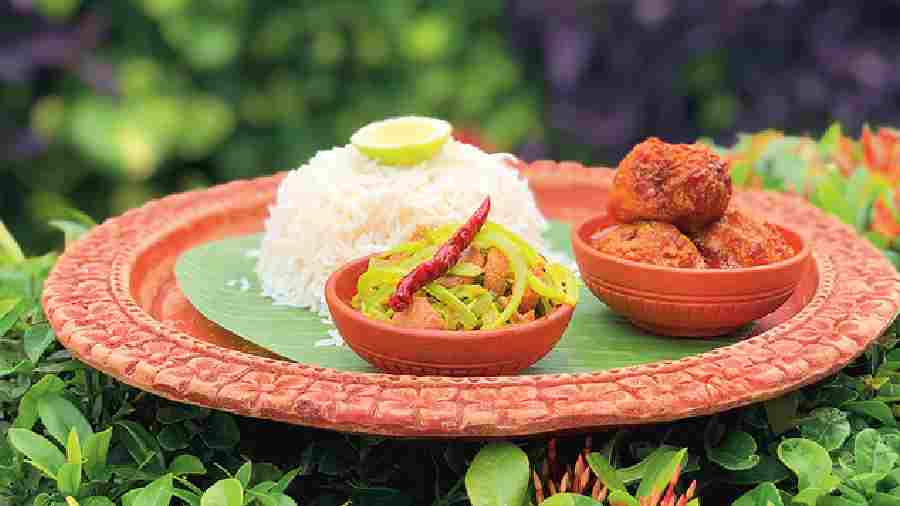 Ingredients
For Kofta
• 700g bottle gourd
• 1tsp chopped ginger
• 1tsp chopped chilli
• 1tsp roasted cumin powder
• ½ cup besan
• Salt to taste
For the Gravy
• ½tsp cumin seed
• 2 bay leaf
• Paste of 4 fresh tomato
• 1tbsp chopped ginger
• 1tsp chopped green chilli
• 1tsp cumin powder
• 2tsp coriander powder
• A pinch of sugar
• Garam masala powder a pinch
• 2 tsp ghee
Method:
For Kofta
1. Peel and grate the bottle gourd (keep the peels separate).
2. Squeeze out the excess water from the bottle gourd.
3. Add chopped ginger, chopped chilli, roasted cumin powder, salt and besan as per requirement.
4. Make it into roundels and fry them.
For the Gravy:
1. Take ghee, temper it with bay leaf and cumin seeds, chopped ginger and green chilli.
2. Add all the dry spices except salt, and saute.
3. Add the fresh tomato paste and cook until the fat separates.
4. Add just the seasoning. Add in the koftas and simmer for a while
5. Finish with chopped coriander and garam masala powder.
For the crispies:
Ingredients
• 2 cups bottle gourd peels that we had kept aside
• ½tsp nigella seed
• 3 dry red chilli
• 10 to 12 bori 
• Salt  to taste
• ½tsp sugar
• 2tbsp ghee
Method:
1. Cut the bottle gourd skin into juliennes.
2. Blanch the skin and keep aside.
3. Fry the boris in ghee, until golden brown.
4. Temper the ghee with nigella seed, dried red chilli.
5.Add the blanched bottle gourd skin to the ghee.
6. Adjust the seasonings. Add the fried bori to it and mix well and serve hot with steamed rice.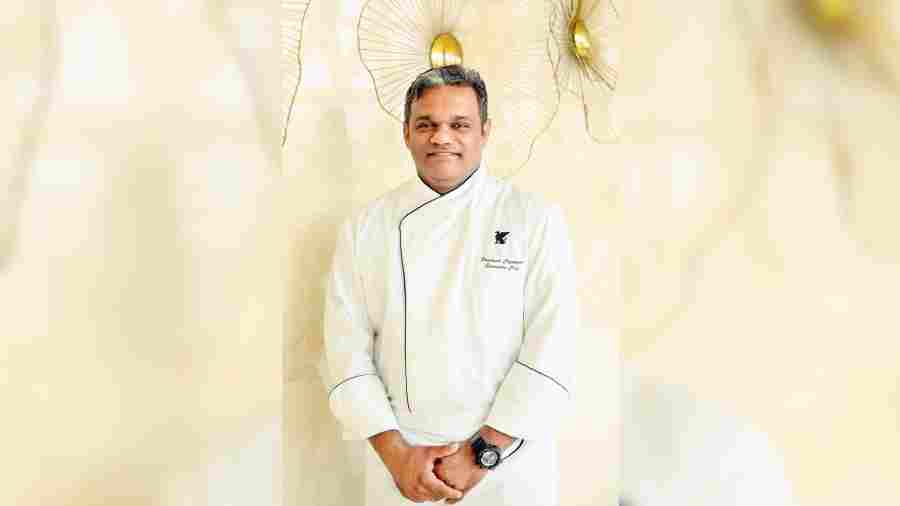 "Zero wastage is an extremely important pillar of sustainability and is key to mitigating the environmental damage we see today. We as a part of Marriott International are implementing various projects and policies to lessen the environmental impact of our operations. We aim to minimise food wastage to the best of our abilities and use local produce wherever possible," said Prakash Chettiyar, executive chef, JW Marriott Kolkata.