What do chef Avinash Martins and cricket commentator Ajay Jadeja have in common? They both love Goa and food!
The former Indian cricketer, who has a house in Aldona, a picturesque hamlet in south Goa, often hops over to the beach capital of India to escape Delhi's city life. He is also a regular at Avinash Martin's restaurant Cavatina Cuchina in Benaulim, which serves "reimagined" Goan dishes like Prawns with Raw Mango Ambotik, and Pulled Jackfruit Sorpotel with Homemade Toddy Sannas.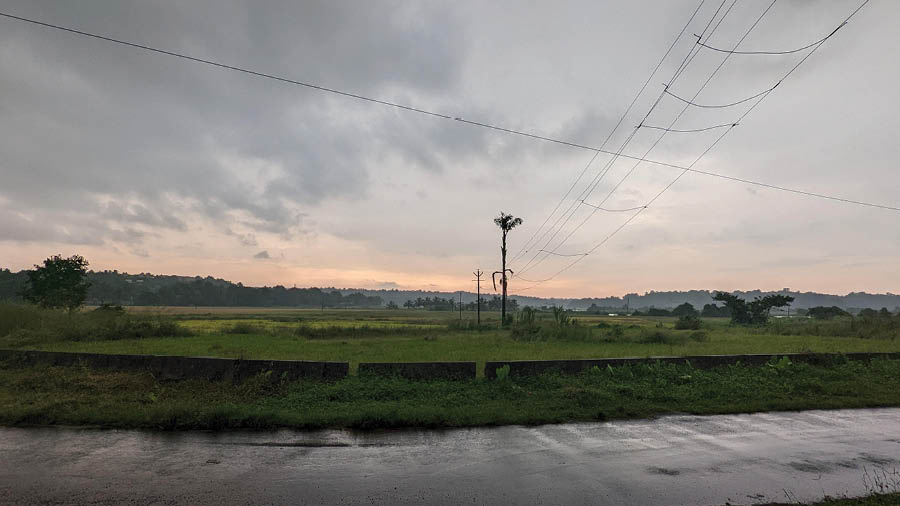 Pastoral Aldona on a rainy day
Karo Christine Kumar
"He's a really down-to-earth, humble and very people-friendly person," says Martins about Jadeja. "He supports a lot of local people around him in Goa where his house is. He blends in seamlessly with the local Goan culture!" adds the chef. 
Recently, the chef and the cricketer had an impromptu cookout at Jadeja's home in Aldona. The star ingredient? Moringa or drumstick flowers, or what we know in Bengal as shojne phool. These white Moringa blossoms can be made into fritters, sabji or bhaji, curry and even dropped into tea. Shojne phooler bati chorchori, tarkari, bhaja and bora are often made in Bengal during the onset of spring and the season for it is rather short-lived. In Goa, the Moringa or drumstick tree grows in abundance including in Jadeja's backyard.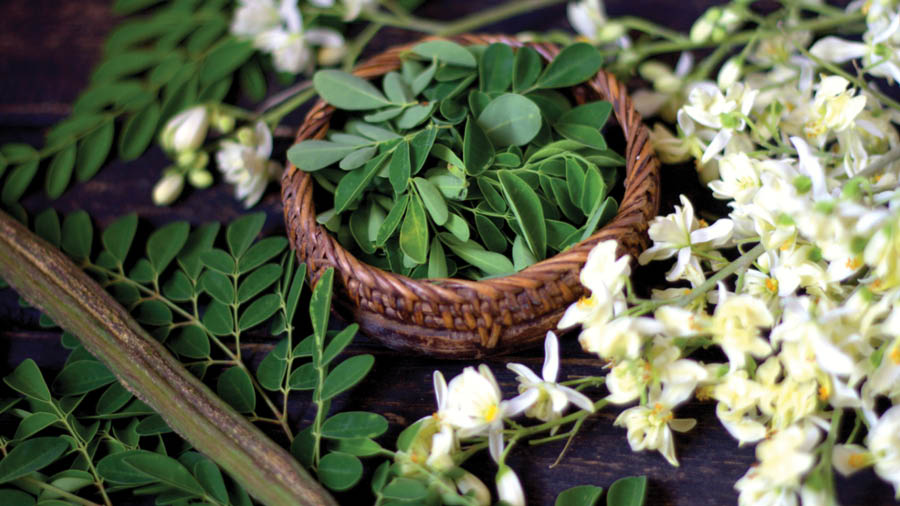 Considered a superfood, moringa is a great root-to-tip plant and all parts of the moringa plant are beneficial for health
Shutterstock
"Moringa is called the miracle plant. Every part of the plant is meant to cure some ailment or nourish the body. After the drumstick pod, the next most utilised part are the moringa leaves, with which you can make soup or just saute in ghee and add it to your rice," says Martins, who champions fresh, local, sustainable and seasonal produce. For example, in his restaurant Cavatina, he serves a version of the Greek filo-pastry Spanakopita made with the locally-grown tambdi bhaji (red amaranth) instead of spinach.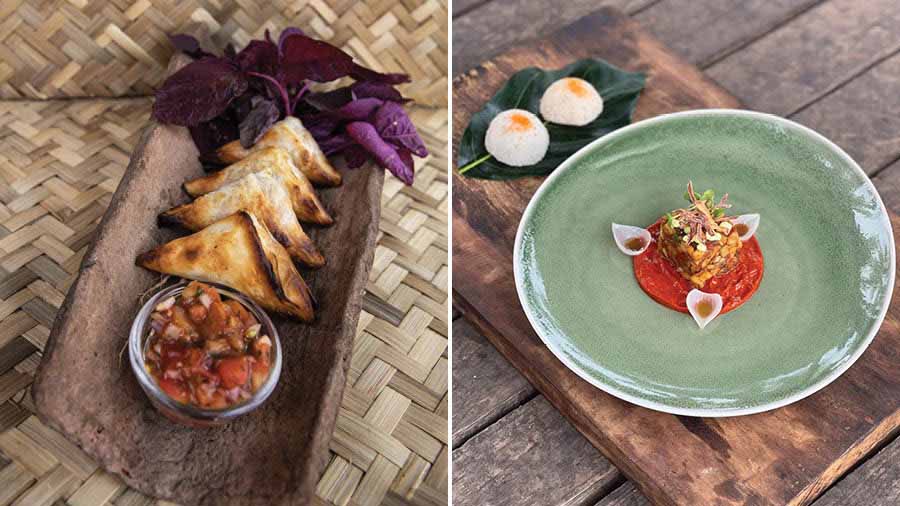 Greek filo-pastry Spanakopita made with the locally-grown tambdi bhaji or red amaranth and (right) pulled jackfruit sorpotel with homemade toddy sannas at Martin's Goa restaurant Cavatina
Martins's restaurant Cavatina and his farm-to-form experience C'est L'avi - Table in the Hills are frequented by several celebrities, including Indian cricketers like Sachin Tendulkar and Ajay Jadeja.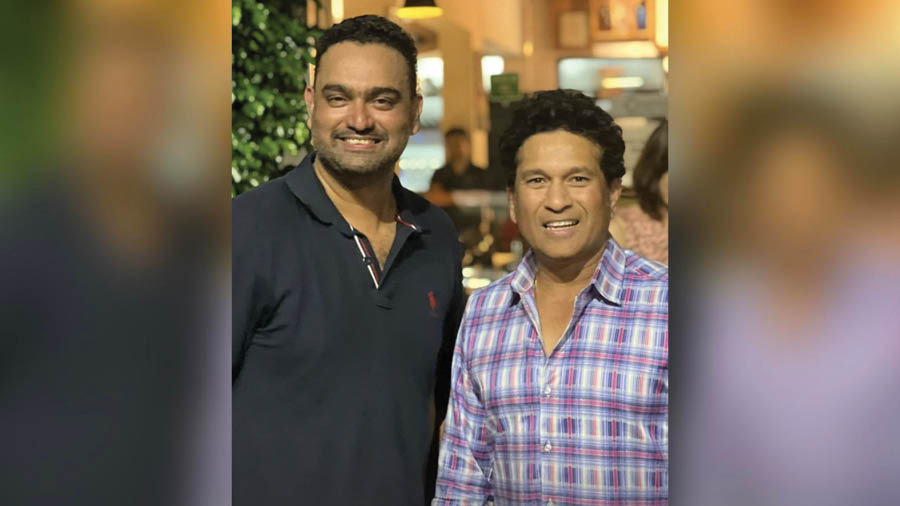 Martins' Goa restaurant Cavatina is a favourite with many Indian cricketers including (right) Sachin Tendulkar
Instagram
Martins is completely hands-on with his social media account, which has, over time, become a beautiful archive of stories that trace the history, origin and making of a dish.
For this cookout too, he and Jadeja played the cameraman in turns to capture the making of Moringa Flower Bhaji (in Goa, sabji is called bhaji), the complete video of which is available on the Highlights section of his Instagram account. Martins shares the "easy four-minute recipe" with My Kolkata readers.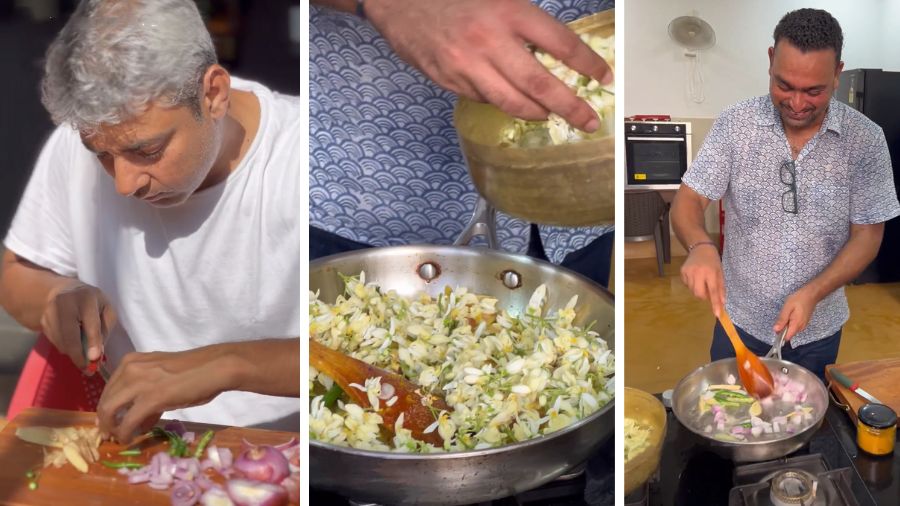 Ajay Jadeja plays sous chef to Avinash Martins at the ex-cricketer's home in Aldona, Goa
Instagram
MORINGA FLOWER BHAJI
Ingredients
Moringa (drumstick) flowers 400g, de-stemmed, washed and dried
2 medium-sized onions, chopped
3 green chillies, sliced open
1-inch ginger, sliced lengthways
Half tsp mustard seeds
Half tsp cumin seeds
A dash of hing
1 tsp turmeric powder (haldi)
Chopped coriander leaves
Gur (optional)
Vegetable/ coconut oil to cook
Salt to taste
Method
Heat 2 tbsp oil in a pan
Add the mustard and cumin seeds and wait till the seeds start to splutter. Add a hash of hing (asafoetida)
Throw in the green chillies and ginger followed by the onions, and saute. "Pretty much like most sabjis, you create the flavours and taste first," says Martins
Add some salt at this stage so that it releases water and speeds up the cooking process. "We don't want to cook it too much because we want the crunch. Remember, it's not a gravy we're making, it's a stir-fry," says Martins
Add the haldi and stir some more
Now put in the moringa flowers and stir-fry for around 4 minutes
Add a handful of chopped coriander leaves
Add a small piece of gur for a dash of sweet
Serve hot with rice or roti