The 7th World Food Competition was inaugurated on February 21 at the Guru Nanak Institute of Hotel Management under the aegis of the JIS Group. The three-day event will celebrate the culinary richness across the globe with around 30 countries showcasing their gastronomic delights through 160 participants. Twelve judges from across the world will decide the winners.
Along with India, countries like Australia, Netherlands, Austria, South Africa, Bangladesh and Uganda are participating. At the inaugural function, the participants and their mentors were welcomed amid dhunuchi naach and the traditional beats of dhaaks.
Speaking on the occasion, Sardar Simarpreet Singh, director, JIS Group, said, "The World Food Competition gives prospective chefs a platform to demonstrate their skills and originality. It allows them to learn from expert cooks and evaluators. It makes them acquainted with the newest cooking trends and methods. Additionally, it gives foodies a chance to know and learn about new tastes from around the globe. We try to organise this event annually which in turn helps our students to get a huge learning experience."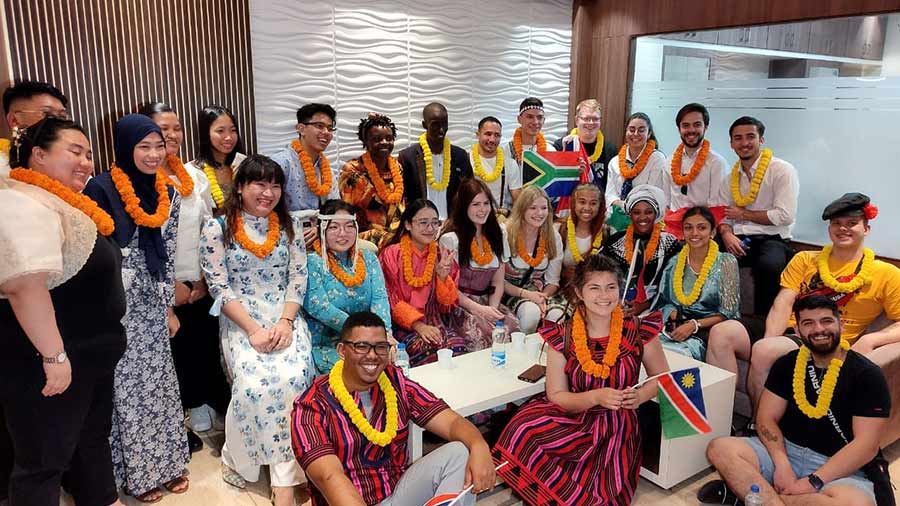 Participants from various countries pose for group photo
The Guru Nanak Institute of Hotel Management is one of the primary institutions which imparts state-of-the-art education and infrastructures to budding chefs. The competition provides young talents a platform to not only represent their countries and its unique flavours but also to taste and understand the global food diversity. Over the next three-days, the participants will be fighting for top positions. They will be judged by well-known cooks, food critics, reviewers and business professionals.