The two-day Harbour Jam will begin on December 24, 2022, at Rabindra Bhavan, Diamond Harbour.
On the first day, professors from Jadavpur University and Fakir Chand College along with local environmentalists will discuss the problem of rising sea levels and the effects of climate change on Diamond Harbour.
On the second day, local journalists and historians will discuss the historical and archaeological importance of the area. 
The two-day event will witness about 20 live music shows; photo exhibition on Diamond Harbour collected from archives; panel discussions on climate change; history and relics of Diamond Harbour; workshop with children on pollution & how to combat the same; eco-corner; live-painting; poetry slam by local poets; bookstall to promote local writers, poets and publishers.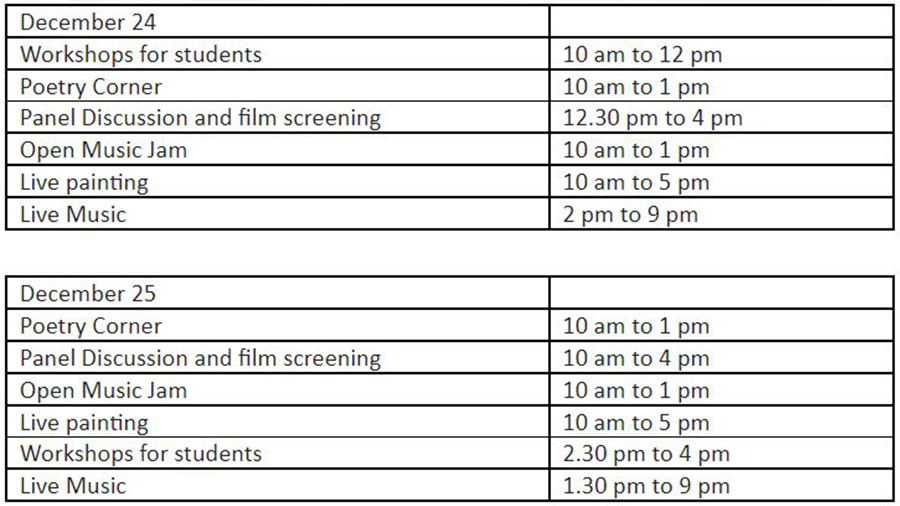 Schedule for Harbour Jam, 2022
Purpose of Harbour Jam
The event is being held to promote a sustainable lifestyle and protect the cultural and natural heritage. Harbour Jam aims to create awareness through songs, various art forms, workshops and talk-shows about the degrading and brittle ecosystem, the breaking coastline, the vanishing tree lines and the accumulation of filth.
Harbour Jam also attempts to create a niche for independent artists of the region.
How it started
Harbour Jam debuted on July 27, 2018. A group of artists (members of the band Dot3, Suddhasatta and Dipanjan) from Diamond Harbour had joined hands and performed at South Bengal Museum, Diamond Harbour.
Since then, three sessions of Harbour Jam have been held. Harbour Jam has enriched itself over these years.
"This year, Harbour Jam has grown bigger and is being held at Rabindra Bhavan, Diamond Harbour," said Anik Bhattacharya, a musician and a founder member of Harbour Jam.
Apart from the local artists of Diamond Harbour, Pathar Pratima and South 24 Parganas, musicians from Kolkata and Siliguri have also been invited. "They aren't charging us and have agreed to support our cause," said Bhattacharya.
"We have collected photos from local journalists, photographers and from Jadavpur University's archives. We want to showcase how this town has changed over the decades to create awareness," Bhattacharya said.