On March 12 and 13, every inch of the Ganges Art Gallery was coloured with creativity as the city's young entrepreneurs set up shop at The Art Cart's fourth pop-up — Flea-कर Borshoboron Edit, 2022. The event showcased 26 city businesses.
The Art Cart is an initiative that helps small businesses and young entrepreneurs by hosting pop-ups that provide a platform to showcase their uniquely curated products. "We noticed that the pandemic has given rise to a number of small businesses and that these enterprises need a platform. That's why we began hosting the pop-up series Flea-कर," says Sanwayee Datta, who runs The Art Cart along with Subham Das.
My Kolkata spent the evening of March 13 lost in the world of handmade 'cheesecake' soaps that look good enough to eat, felt-tip pens that open into mini-umbrellas, and batik-fabric pouches that roll into cute clutches. Here's what (and who) caught our eye… 
Dos Sistas Soaps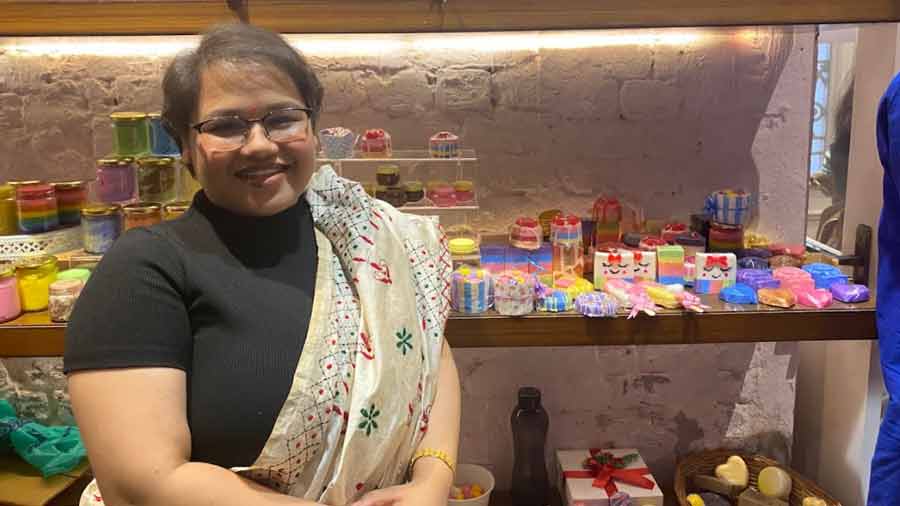 Namrata Ghosh of Dos Sistas Soaps
Lygeia Gomes
The sister duo — Namrata and Soumita Ghosh — set up Dos Sistas Soaps in 2020 and effortlessly took soap bars from boring to ingenious by adding an artisanal touch.
At Dos Sistas Soaps, one will find soaps that look like ice cream bars and mini cheesecakes, edible lip scrubs that most mistake for cotton candy, moisturisers that stir up a hankering for frosting, and body scrubs shaped like doughnuts! "I am a huge foodie, so I try to bring an edible aspect to my work as well!  Dos Sistas Soaps is all about fun. We want you to leave the boring soap bars behind and try something fun," says 20-year-old Namrata Ghosh.
All their products are organic, eco-friendly and biodegradable —  making it all the more impressive.
Hayaal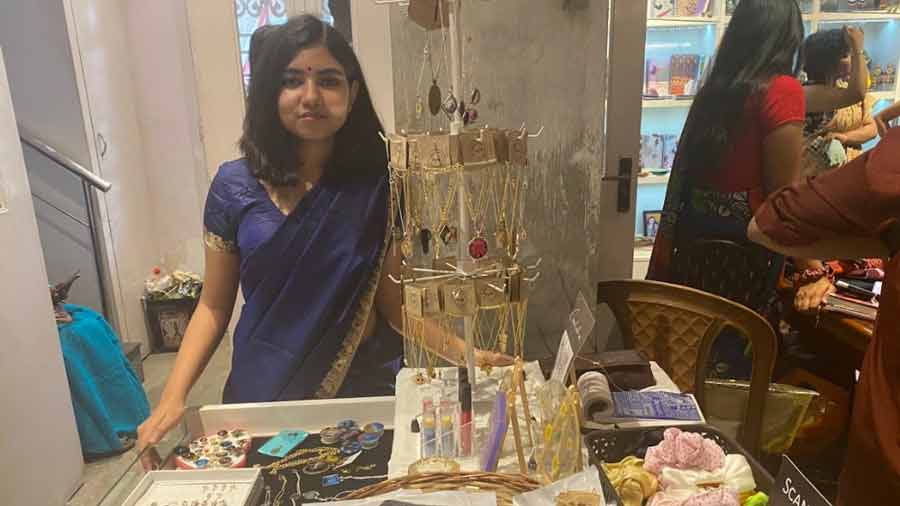 Aneesa Parvin of Hayaal
Lygeia Gomes
Twenty-year-old Aneesa Parvin started her venture Hayaal with resin jewellery in 2020. One-and-a-half years later, Hayaal sells handmade soaps, scented candles, scarves, masks and quirky scrunchies. Parvin, however, has a special place for resin. "I make all sorts of resin jewellery from moon pendants to earrings and rings. I love resin because it's a fluid art, which allows you to be as creative as you want," she says. 
With dozens of Instagram stores cropping up, resin has taken the city by storm, but Parvin managed to carve a niche for Hayaal by maintaining an affordable price point. "I want people my age to be my customers and the only way that happens is if my collection is priced well," says the solopreneur, who's a second-year student at St. Xavier's College.
Chique It Up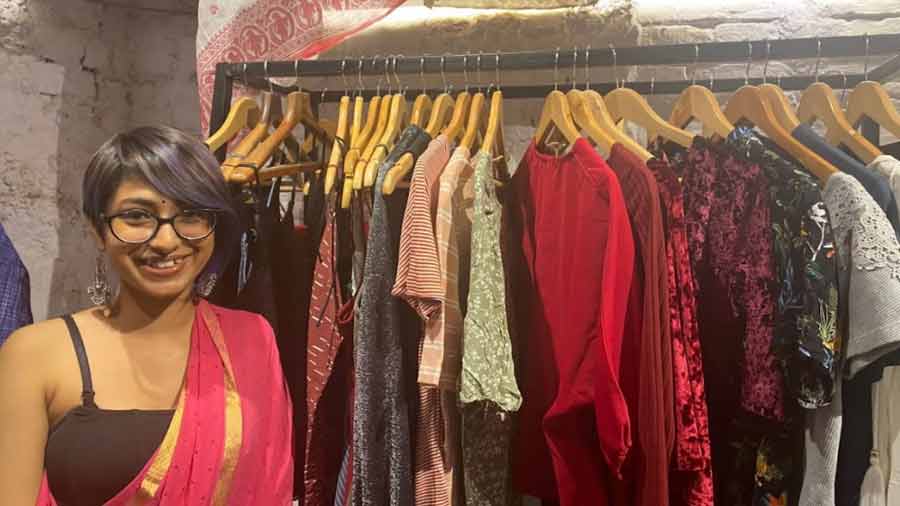 Debanandini Bal of Chique It Up
Lygeia Gomes
Chique it up is a thrift store like no other. Debanandini Bal, the 19-year-old at its helm, curates unique collections that are both size and gender inclusive. "I started this thrift store because I wanted to become more independent and earn my own money. There aren't many thrift stores in the city that sell gender-fluid clothing, so mine stands out. I make sure that everyone can purchase my garments," says Bal, a sociology student at Jadavpur University. 
The apparel at Chique It Up is inexpensive and has Rs.1,000 as a ceiling. All garments are sourced from family, friends and Bal's own wardrobe. "I love clothes and have a lot that I don't wear anymore. So, setting up a thrift store was a natural idea. I think my store does well because the collection is unique," Bal says. 
All sourced garments are of top quality and thoroughly disinfected.
Green Parrot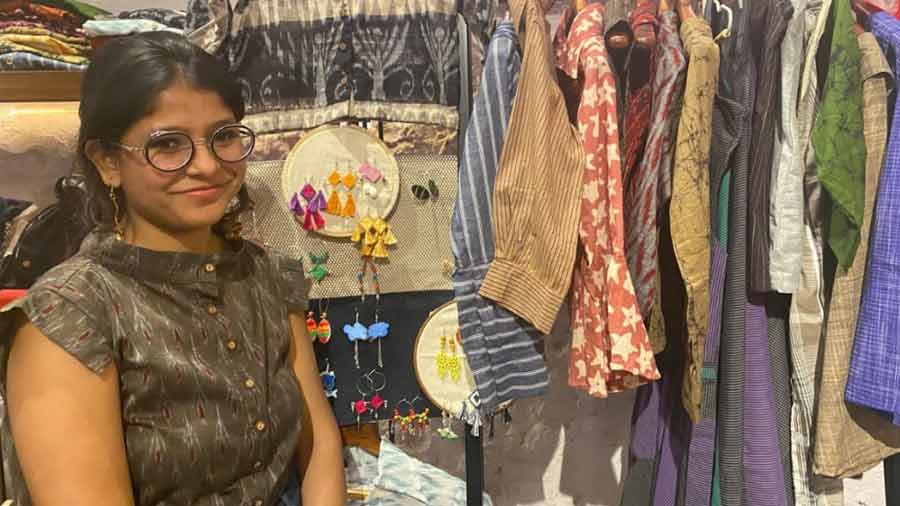 Sritama Hazra of Green Parrot
Lygeia Gomes
Green Parrot has seen success ever since 25-year-old Sritama Hazra set up shop in October 2021. The small business sells handmade clothes, bags and jewellery using traditional textiles like ikat and batik. She makes trendy crop tops, tunics, overgrown shirts, roll-out makeup pouches, bags and scrunchies – all in colourful hues and patterns, courtesy the textiles. 
"We make all our products from scratch. I source the ikat directly from our weavers and the batik from Santiniketan. The embroidery on our clothes, the patchwork on our bags and even the jewellery is all done by hand," beams the proud entrepreneur. 
Akashlina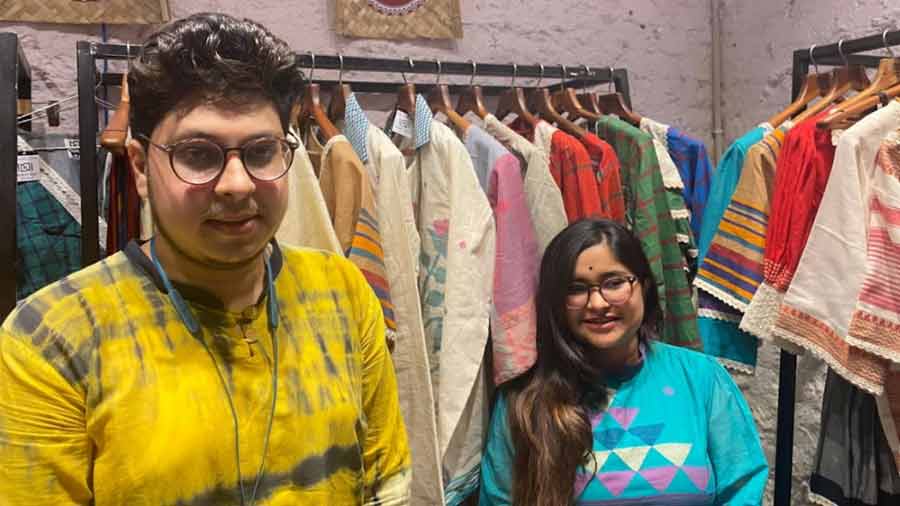 Sudipta Dutta and Moumali Banik of Akashlina
Lygeia Gomes
Akashlina is a biz creating a buzz in Bengal. 
The trio currently helming the business – Moumali Banik, Rocky Biswas and Sudipta Dutta – has a love for handwoven jamdani gamchas and set up an enterprise around it. At Akashlina, one will find something as unique as detachable collars made from upcycled fabric to an everyday gamcha crop top. "We collect raw fabric and upcycle it so we can help weavers too. We make sure that prices are affordable, so college-goers can afford our clothes," says 23-year-old Banik.
Akashlina has a physical store in Shyamnagar, so hop on over. if their picturesque Instagram feed (with an impressive 10,000-strong following) doesn't reel you in. 
Chickles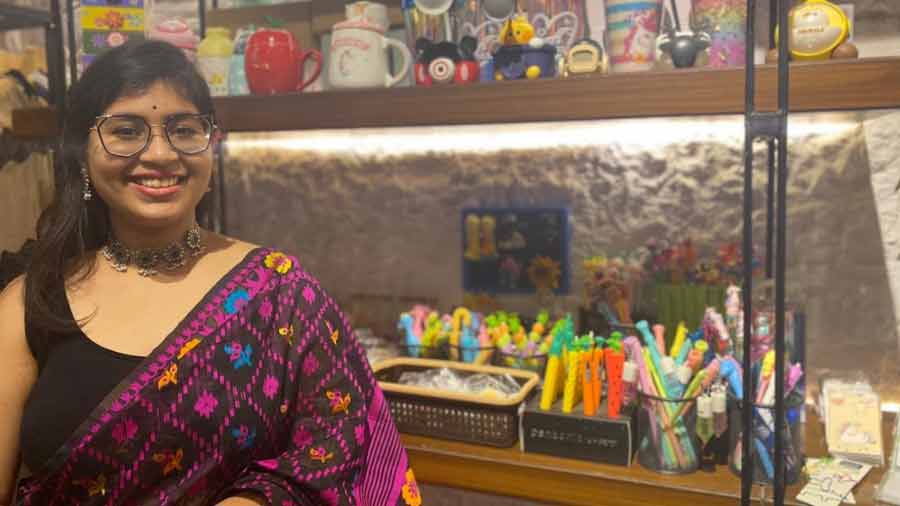 Prerana Saha of Chickles
Lygeia Gomes
Chickles' USP is their quirky stationery. You'll find pens shaped like watermelons, trendy table lamps, mini-highlighters inside macaroons and felt-tip pens that open into mini-umbrellas! If you're looking for a journal with some classic cover art, Chickles will customise it for you. 
For 23-year-old Prerana Saha, who runs Chickles, entrepreneurship has always been in the cards. Saha dabbled in her family business when she was younger and set up two thriving ventures before embarking on her journey with Chickles. "I have always wanted to be an entrepreneur. Before starting Chickles, I ran a jewellery business and an art-and-craft business. But I love stationery and hope to expand this business, " says Saha.
Hukomuko'r Hijibiji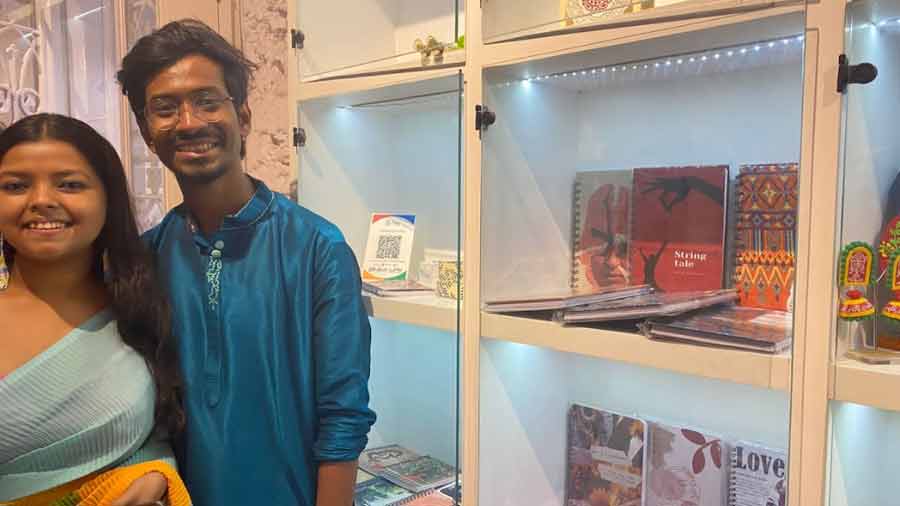 Sanvi Dutta and Shubham Das of Hukomuko'r Hijibiji
Lygeia Gomes
Hukomuko'r Hijibiji, which came to life in January 2021, is the brainchild of 19-year-olds Sanwayee Datta and Subham Das (who also run The Art Cart). They sell exquisite handmade journals and coasters, along with a few digital art prints – all inspired by Bengali literature. 
"We love Bengali literature, so it was only fitting that our business revolved around it. Our portfolio is slowly growing and we're incorporating other literature and cultures as well. But our focus will always be on Bengali literature," says Dutta.
The next edition of 'Flea-कर' will be held in the month of May. Stay tuned!