There's now a valid reason for you to have cake in your bath, thanks to Devyani Mehta's label Soapy Secret. Her artisanal dessert-themed soaps can turn your bathroom into an Instagramable haven of wonder and relaxation.
Mehta shares that she was in pursuit of a creative outlet when she was working a 9-to-5 job and chanced upon a YouTube video about soap making.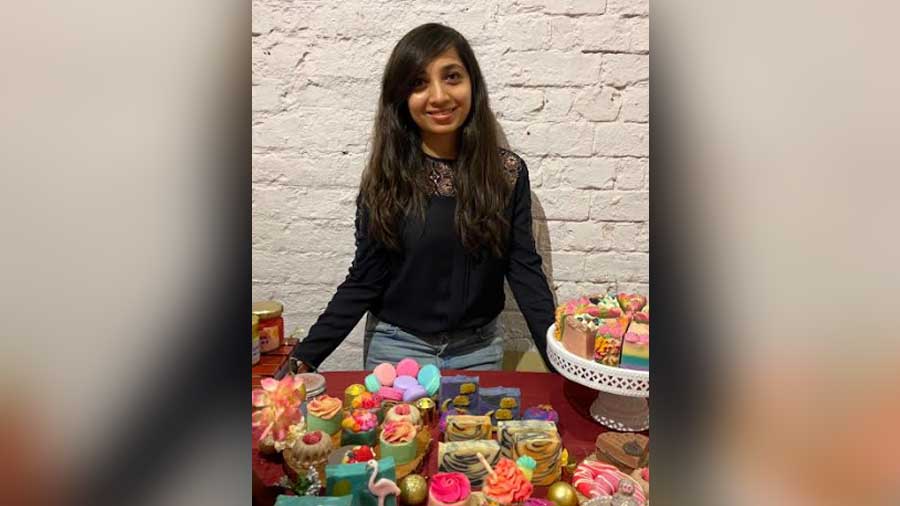 Devyani Mehta with some of her creations
"I randomly came across soap-making videos on YouTube. That's when it struck me — why not bring back the old forgotten hero — soaps? I began practising soap-making with the very basics and I found it therapeutic. That's when I knew that I wanted to take up this hobby and turn it into a venture," Mehta tells us.
Soapy Secret offers popsicle soap, cupcake soap, panna cotta soaps and even some really chic macaron soaps. They are not just designed to be aesthetically pleasing, but they're also safe and healthy to use. Mehta sources organic ingredients for her soaps from all over India as well as from the United States. Some of her soaps use coconut oil, olive oil, sustainable palm oil, sweet almond oil and skin-safe mica.
Devyani says, "We use the finest butters and oils which are good for the skin. We want people to look forward to their bathing experience every morning and that is why we came up with pastry soaps, donut soaps, cupcake soaps in so many designs. Not only do these soaps look good, but they are SLS and paraben-free. Soapy Secret ensures that along with a pretty-looking soap, you get a luscious and creamy lather, which will leave your skin feeling fresh for hours."
Gen-Z has turned bathing into a wellness ritual and it only makes sense that they'd want to spend some me-time around their favourite sweet treats. In fact, Mehta's own sweet tooth inspired the line-up for her label. "I had started with soaps that resembled basic bars. But I wasn't really enjoying that idea because so many people were already doing it. My love for desserts made me think, 'Why not create soaps that look like desserts?' It would add a fun element to your daily bath," explained Mehta.