Poetry will meet calligraphy as Arthshila Santiniketan hosts an exhibition titled Embracing Incompleteness: Poetry & Calligraphy of Nilanjan Bandyopadhyay between January 25 and March 11, 2023.
The idea of writing Bengali with brush struck Bandyopadhyay during his frequent visits to Japan. "Use of calligraphy is popular in Bengal for decorative purposes or in graphic designing as commonly seen in posters, book covers, billboards and so on. In most cases, such calligraphic works are primarily meant to be read by viewers as beautifully or creatively written words. Abstraction in Bengali calligraphy is rare. My calligraphic works are difficult to read," said Bandyopadhyay, who has interacted closely with several masters of Japanese Shodo, which in Japanese means 'the way of writing'.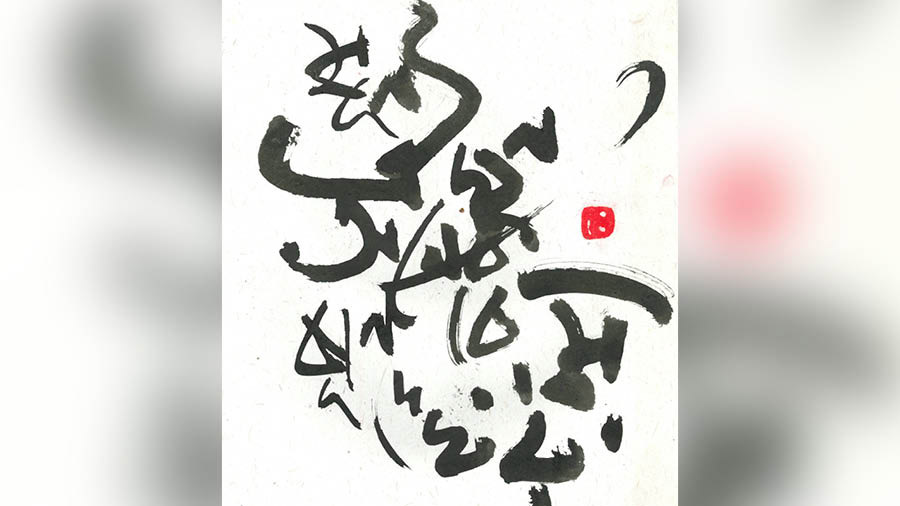 An artwork by Bandyopadhyay
Bandyopadhyay is fond of using traditional Japanese writing accessories such as kami or hanshi (paper), shitajiki (supporting pad), sumi (ink), suzuri (ink stone), fude (brush), suiteki (water dropper), bunchin (paperweight). "It is customary to sign calligraphic works along with one or multiple rakkans (seals)," he said. 
Speaking about his art and poetry, Bandyopadhyay said, "In Japanese calligraphic practices, it is important to transmit one's life force and energy (ki) into writing in a situation of freedom and joy. This is exactly what I have been trying to practise without being much concerned about its success or failure. While poetry comes to me as butterflies come to flowers, they are short, simple, imperfect, incomplete and free like my life. All I see seems like poetry."
Ruchira Das, artistic director, Arthshila, said the exhibition was inspired by Rabindranath Tagore's appreciation of all things Japanese.
The exhibition curated by Subhojit Chowdhury and embellished with translations by Arunava Sinha will remain open to the public from 11am to 7pm.