This year's Durga Puja might be long over, but the festivities are back at Kolkata Centre for Creativity with Durga Festival – Intangible Cultural Heritage of Humanity being held from November 19 to November 25. The event, which has been organised to mark World Heritage Week, is a week-long exhibition put up in association with Paschimbanga Sangrahalaya Samiti (West Bengal Museum Association), Centre for Studies in Museology, University of Jammu and Vedic Studies Department, Rabindra Bharati University.
Durga Puja was recognised by Unesco as an 'intangible cultural heritage' in December 2021, hence the choice of the theme for heritage week celebrations. The event was inaugurated on November 19. Present at the inauguration were Swami Suparnananda, secretary, Ramakrishna Mission, Golpark; Reena Dewan, director, Kolkata Centre for Creativity; and Sachindra Nath Bhattacharya, president, Paschimbanga Sangrahalaya Samiti.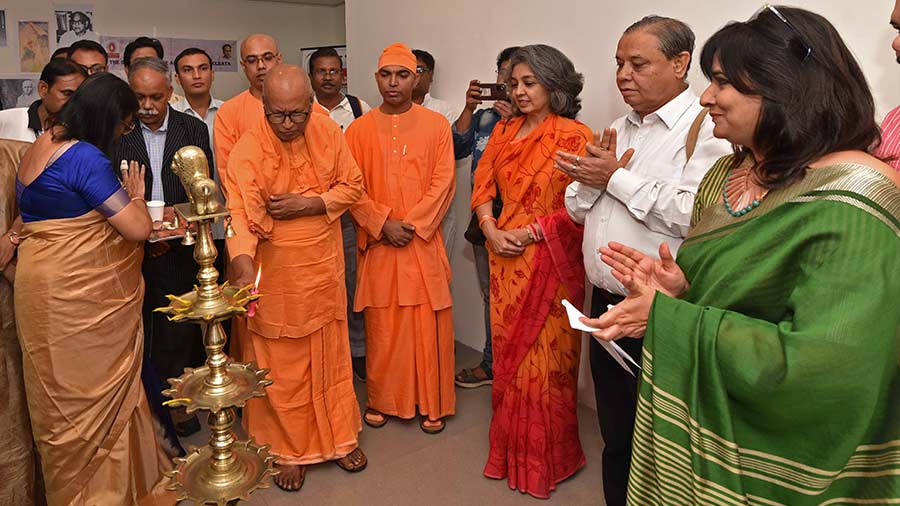 Swami Suparnananda lights the lamp at the inauguration ceremony
Several museums, individual collectors and organisations, including Sheikh Nooruddin Noorani Museum of Heritage, University of Jammu; Vedic Museum, Department of Vedic Studies, Rabindra Bharati University; Ramkrishna Mission Institute of Culture, Golpark; and the Centenary Heritage Zoological Museum, Department of Zoology, University of Calcutta. 
Wood carving work by Rabi Bhaskar, folk artwork by artisans from different parts of West Bengal curated by Durga Hut and alpona collection by Rabi Biswas are also on display.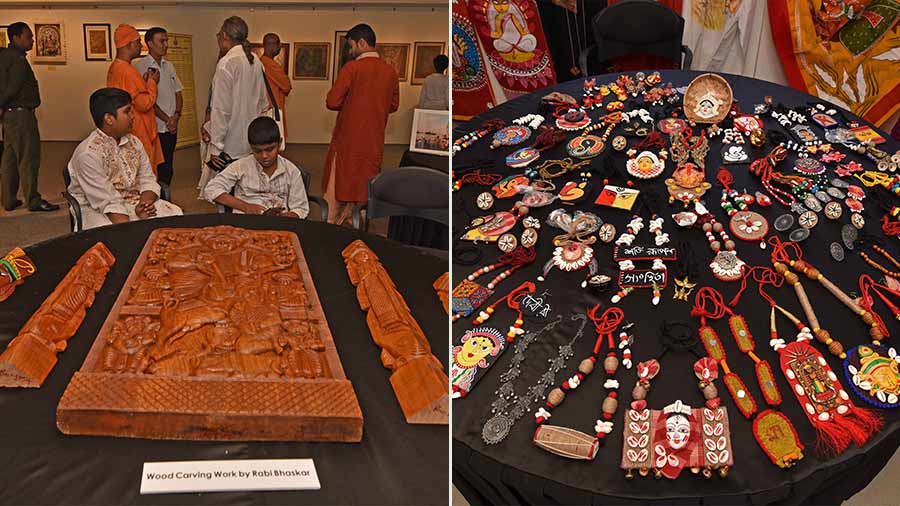 Woodwork by Rabi Bhaskar and folk artwork by Bengal artisans curated by Durga Hut on display
Visitors can also check out miniatures from Swarup Bhattacharyya's boat collection including the Dholai, Petnai or Berli boats.
The Kumartuli Museum has displayed terracotta artefacts and children's toys found during an archaeological excavation.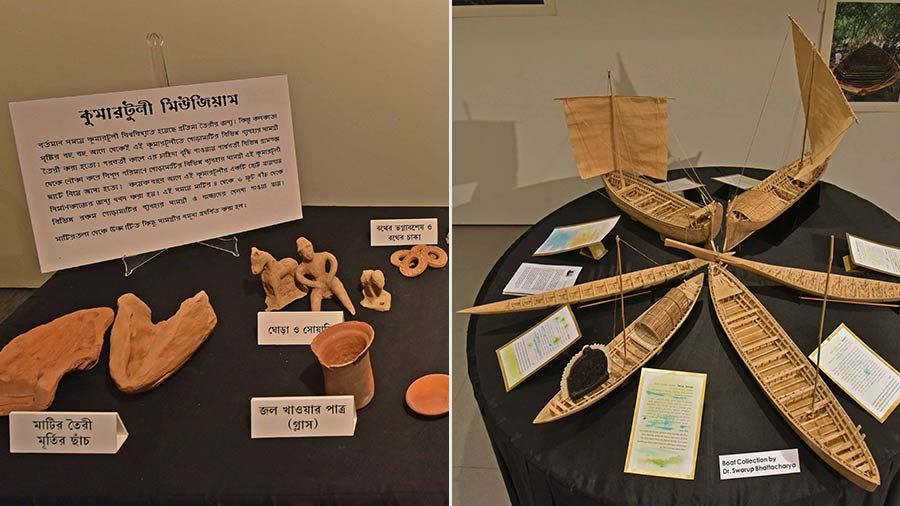 (Right) Artefacts contributed by Kumartuli Muserum and (left) Swarup Bhattacharyya's miniature boats and
Talking to My Kolkata about the vision behind the event, Reena Dewan, director, Kolkata Centre for Creativity, said, "The curation was based on the fact that we wanted the museum objects or archives to be brought out to the public to help them see the festival of Durga Puja in a different light as we often associate Durga Puja celebrations only with the artistic pandals that we see. But here our whole idea was that people should know there is a history and cultural heritage behind the puja. Our intention was to reach out to the smallest of museums, and of course the more prominent ones. Sometimes the smaller museums have things that are much more important but we don't get to know about them due to the lack of promotion."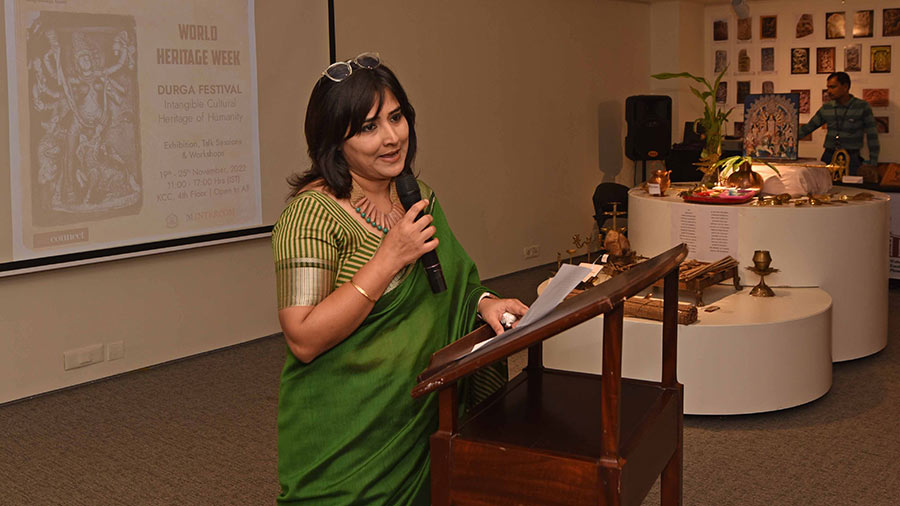 KCC director Reena Dewan addresses visitors at the event
The exhibition has also very uniquely tried to bring together the two domains of science and culture through its exhibits and contributors.
"We also connected with BITM [Birla Industrial & Technological Museum, a unit of National Council of Science Museuems], a science museum, because science connects us to a lot of things which are beyond our understanding. This is not about religion, it is also about science. Our history has been made by intelligent people who were very progressive. We also have the Skywatchers [and the Zoology Museum] as part of the curation," Dewan said.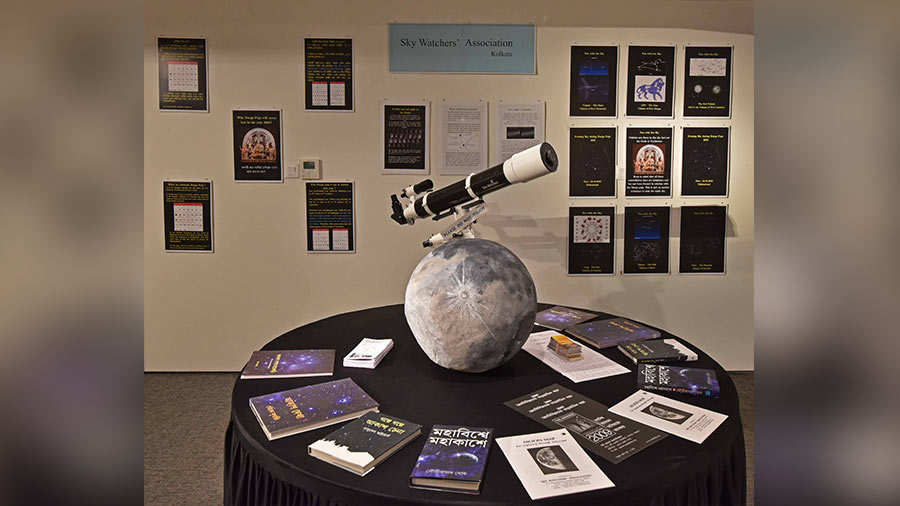 The Sky Watchers' Association's corner displays books, models and a telescope
One of the major attractions of the exhibition is a special installation — a sensory sound wall — that allows the visitors to experience the unique sounds typical of a Durga Puja. Contributed by the Birla Industrial and Technological Museum (BITM), the main idea behind the installation was to recreate festive fervour by recreating the sounds that are instantly reminiscent of the festival.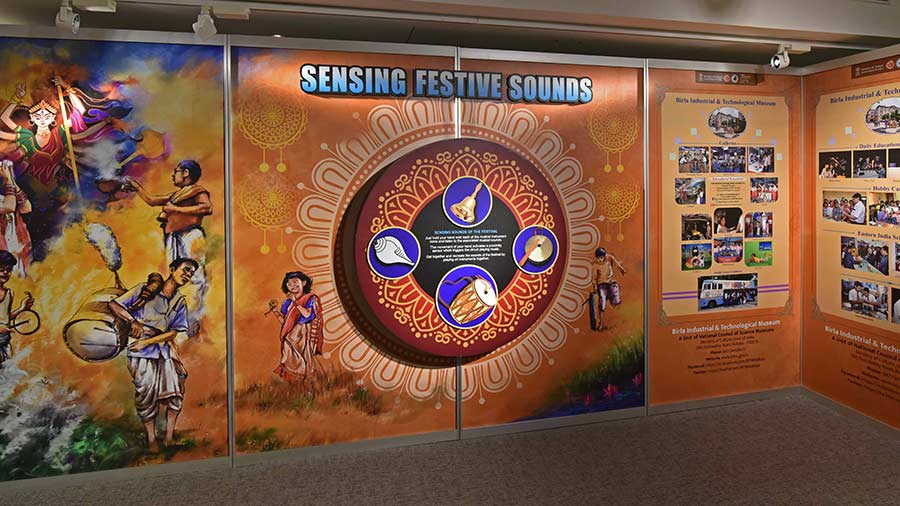 BITM's sensory sound wall installation allows visitors to listen to different sounds unique to Durga Puja festivities
"Sensing Festive Sounds is BITM's presentation at KCC's Durga Festival. The proximity sensor-mounted wall plays the iconic sounds of the festival — the beat of dhaak, the chime of ghonta, the reverberations of kashor and the familiar hum of the shonkho — all at the wave of a hand. We attempted to celebrate the spirit of pujo by relying on our expertise of making inanimate objects, like these musical instruments, come to life through technology. We invite every onlooker to try their hands, this time literally, at playing a festive beat and join in this true celebration of science, art and culture," BITM curator Rajib Nath said.
The exhibition is up for public viewing till November 25, 12pm to 5pm, every day on the 4th floor of Kolkata Centre for Creativity.