India's discovery of wine has been fairly recent. In the early 2000s, the prospect of India becoming a wine-producing nation was a pipe-dream even for the few who imagined it. After all, it was a challenge in the 1980s and 1990s for the country's fledgling wine companies to convince a whisky-drinking populace to buy local wine. Moreover, imported wine was prohibitively expensive owing to steep import tariffs and domestic taxation; this meant that there was little to no yardstick against which the quality of locally-made wines could be judged.
But the nation's interest in drinking and, crucially, producing wine has been steadily growing, as is evident from the flourishing vineyards of Nashik, Nandi Hills and Hampi. And among those leading the charge has been Grover Zampa Vineyards, one of India's oldest wineries.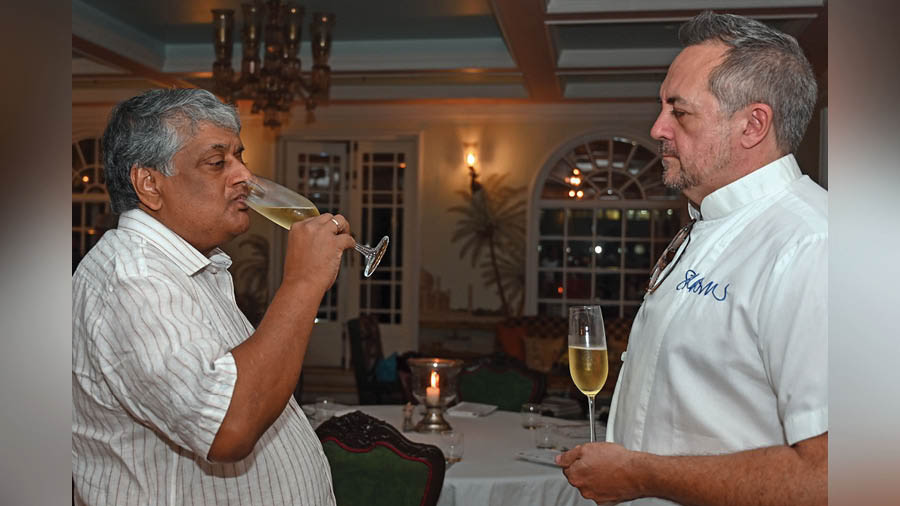 The chairman of Grover Zampa wines, Ravi Vishwanathan, with Chef Shaun Kenworthy at the Glenburn Penthouse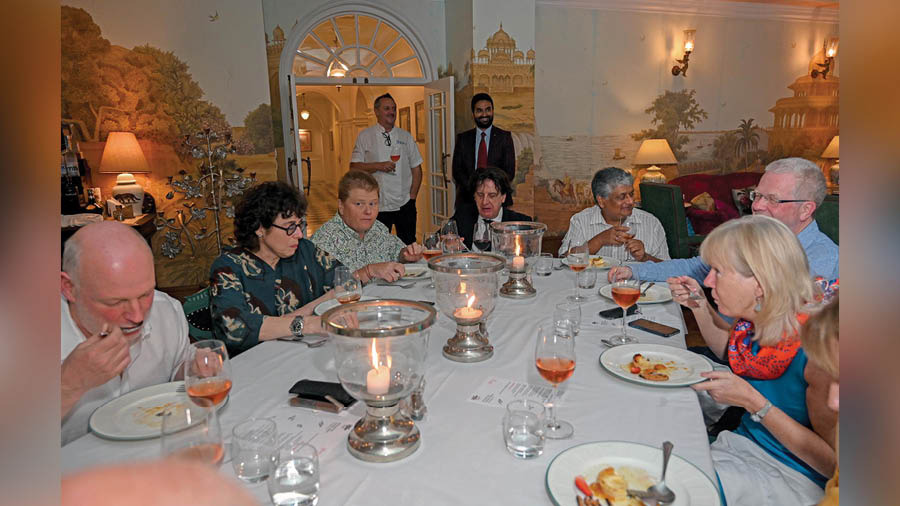 Guests partake of Chef Shaun Kenworthy's menu
Wine for friendship, wine for love
Originating in the unique friendship between the father of Indian viticulture, Kanwal Grover, and George Vesselle, former technical director of Champagne Mumm Vineyard, the first vines of Grover Vineyards were planted in 1988 in the Nandi Hills of Karnataka. After Vesselle's retirement, the story was taken forward by the famous Bordeaux-based enologist and wine consultant, Michel Rolland, under whose aegis they produced award-winning wines. Grover Zampa was born when Grover Vineyards merged with Vallée de Vin in 2012.
But crucial to this success story has been a former banker of Indian origin – Ravi Vishwanathan, the present Chairman of Grover Zampa Vineyards. A story often told about the soft-spoken Parisian maverick investor involves his gift to his wife on their 10th wedding anniversary – a bottle of vintage Veuve Clicquot champagne, discovered in a shipwreck in Finland, that he bought for €30,000 (about Rs 23 lakh at the time). And yet, equally fascinating is his vision for the company – on his watch, Grover Zampa acquired three more Indian wineries, Charosa, Myra and Four Seasons, to become the nation's second-largest wine producer (behind Sula Vineyards).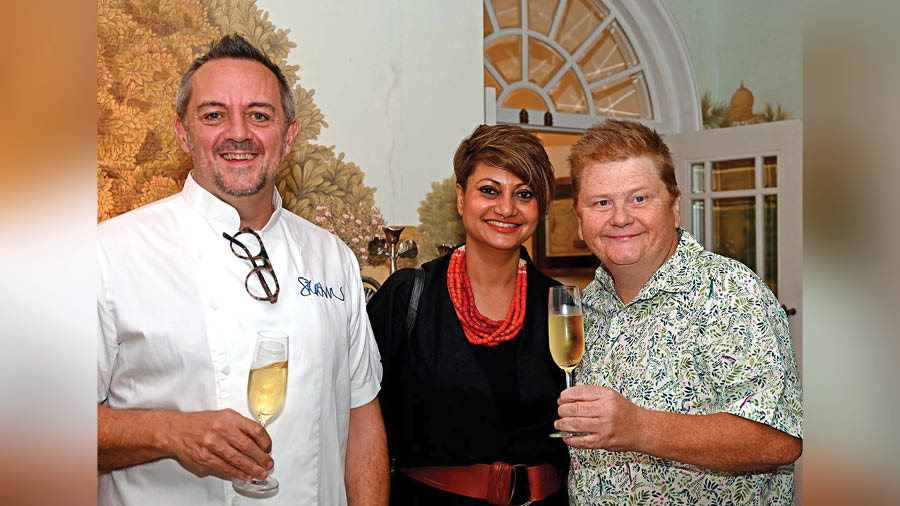 Chef Shaun Kenworthy with wife Pinky and founder of Jungle Crows rugby foundation, Paul Walsh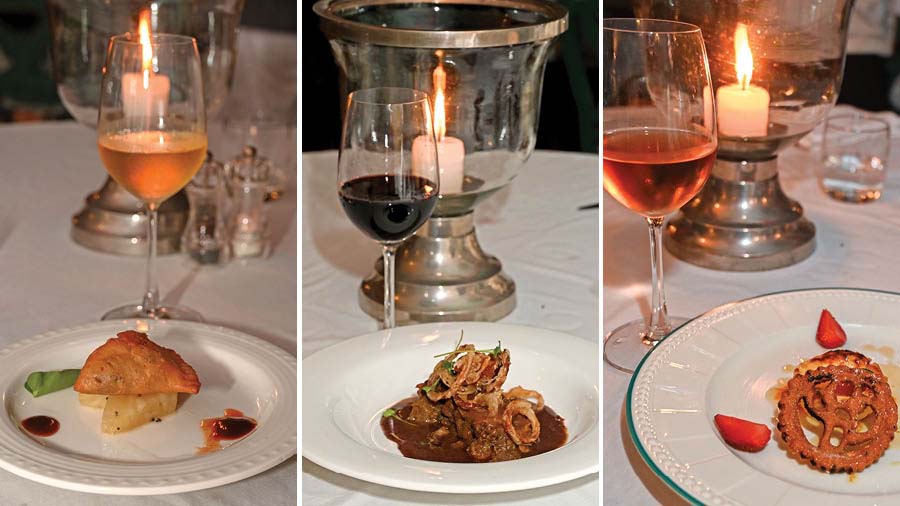 Glimpses of the Glenburn tasting menu with the wine pairings
Game-changers in wine tasting
These, and many other stories about India's relationship with wine, were shared at a memorable evening at the Glenburn Penthouse, where guests enjoyed a stunning tasting menu curated by Chef Shaun Kenworthy and paired with Grover Zampa wines. The first was the Grover Soiree Brut Magnifique, with its crisp notes and golden straw hues, that guests sipped upon arrival. "While we are serving five wines tonight, Grover Zampa has a range of more than 40 wines in India, and we export to around 42 countries now," said Sumit Jaiswal, vice president, marketing and exim at Grover Zampa. "I hope everyone's experience today is such that wherever you go in the world, you remember Indian wines!"
Sumit also piqued the guests' interest when he spoke about a new French innovation by one of Ravi Vishwanathan's companies – an instant decanting device through which wine is poured to suit the drinker's decanting preferences with the press of a button. "This changes the wine-tasting experience completely," he said. "It's a game-changer."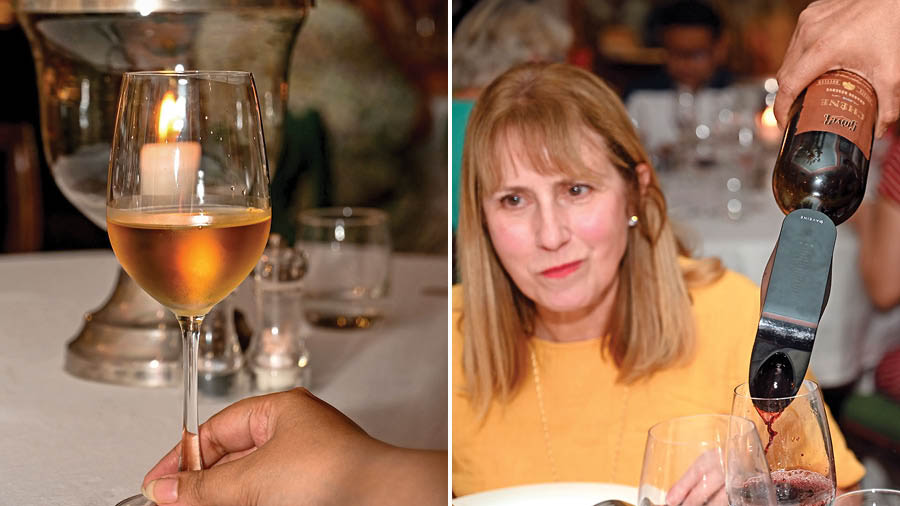 An instant decanting device can transform the experience of tasting Grover Zampa wines
From Bacchus to Varuni
Before the meal began, Ravi, whose favourite grape varietal is the pinot noir, held his audience rapt as he talked about wine – including the revelation that the bottle he gifted his wife is the only remaining bottle that was made by the 'Grande Dame of Champagne', Madame Clicquot Ponsardin herself!
"Dionysus is the Greek god of wine," said Ravi. "The Romans call him Bacchus. But there is also an Indian goddess of wine – Varuni. So there is a whole mythology about wine in India that started ages ago!" He went on to talk about the discovery of 3rd Century BC Roman amphoras (an ancient storage vessel historically known to contain wine) at an archaeological site near Puducherry – "during the wars between Hannibal and the Romans, there was trade of wine between Rome and India!"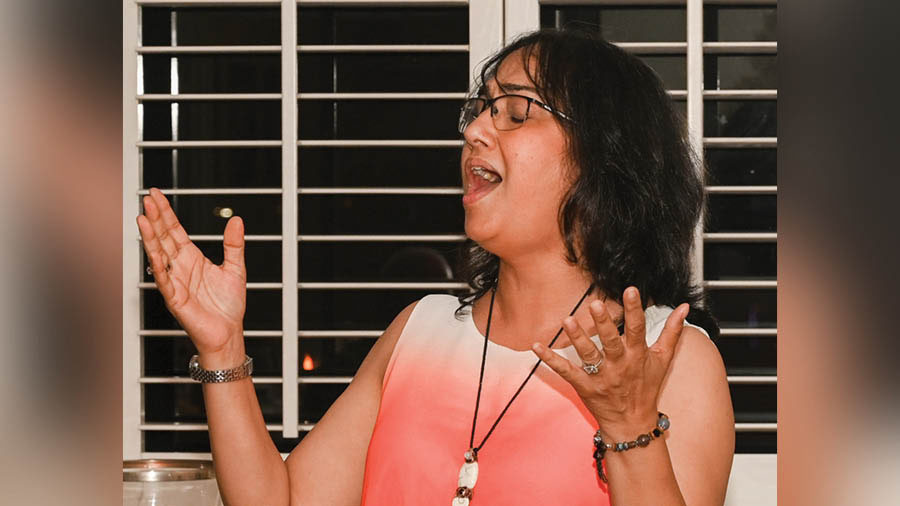 Ritika Sahni delivers an impromptu musical performance for her fellow diners
Clean notes, fruity aromas
The unique pleasure of gaining new facets of knowledge about India's wine history was augmented by Chef Shaun's menu, which began on a clean, fresh note with phuchkas filled with an avocado and truffle mousse and enhanced by a posto crunch reminiscent of posto'r bora. The highlights of the eight-course menu were the pulled rabbit singara (served in a jackfruit version for vegetarians), delicately paired with Grover Zampa's light La Reserve Icon Blanc, with its honey and pineapple notes, and the tender lamb (tofu for vegetarians), served with a velouté made with black rice and paired with the Chene Grand Reserve tempranillo red, with its dark fruity aromas.
Most delightful, however, was Chef Shaun's pairing of the Grover Art Collection Rosé with a Basque-style chhana and nolen gur cheesecake, served, rather ingeniously, with goyna bori. The strawberry jam notes of the rosé, just right for the cheesecake, were elevated by the hit of posto-encrusted bori. The dining experience was only enhanced further by an impromptu musical performance by Kolkata-turned-Mumbai girl and playback singer, Ritika Sahni, who sang an original composition as well as her song, Tumse Mili Nazar, from the 2003 film, Main Madhuri Dixit Banna Chahti Hoon.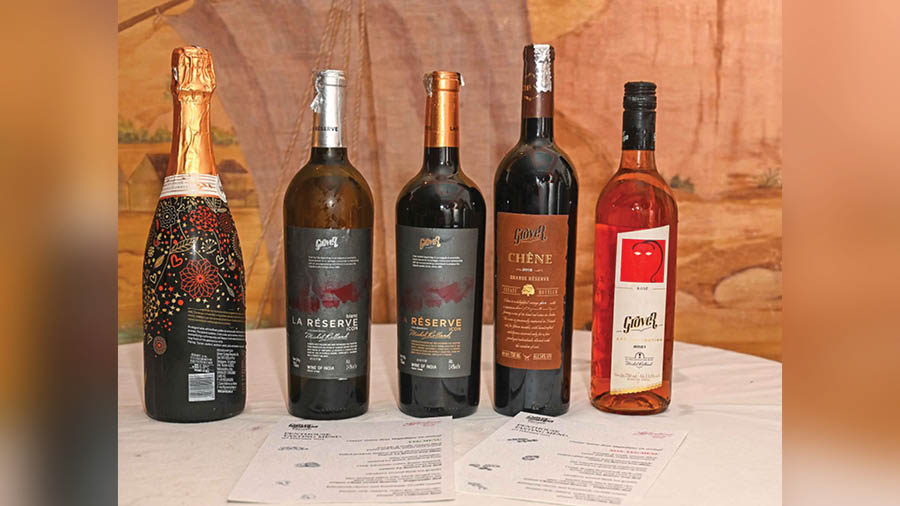 The five Grover Zampa wines that were paired with Chef Shaun Kenworthy's tasting menu
The image of Kolkata that is projected is far from reality: Ravi Vishwanathan
How did Ravi feel about his maiden visit to Kolkata? "I've been to many places in India for vacations and business trips, but for whatever reason, have never been to this city!" said the Parisian, who had left India at the age of one month. "Kolkata's image in the eyes of the world is that of a dying city, trying to hold on to its former glory; but the city is so much more cosmopolitan than I expected! The food is great, and I go back with the knowledge that the image of Kolkata that is projected is far from reality!"