Clear skies, a gentle breeze and green grass – the conditions were perfect for an afternoon of rugby at the Crow Field on the Maidan, on April 19. While young boys and girls from across the state train here almost every afternoon, Tuesday called for something special from the Jungle Crows players. The day marked the inaugural edition of the Rugby League Exhibition Matches, supported by the Australian government and the International Institute of Hotel Management (IIHM).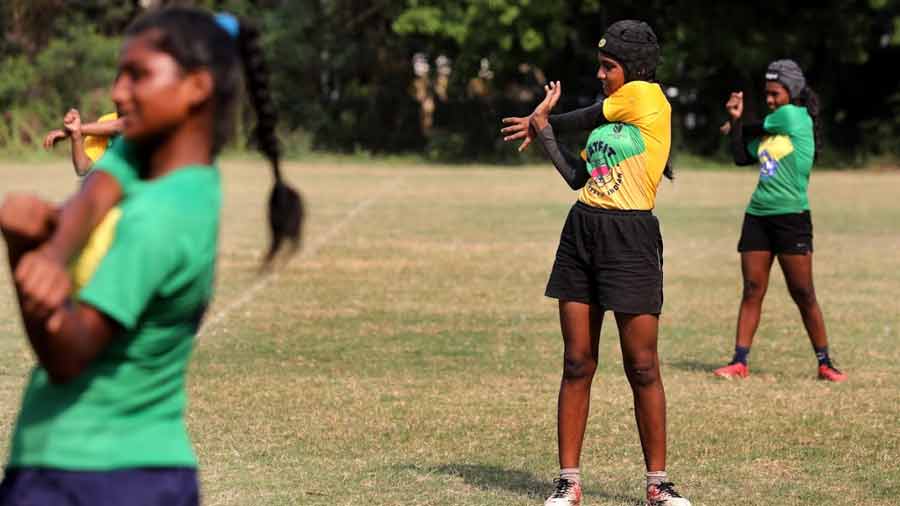 Players warm up
Photos by Arijit Sen
The Australian High Commissioner, Barry O'Farrell, reminisced about playing rugby as a child while seeing the games unfold. "Rugby League encourages people from different backgrounds and engenders to commit to self-discipline. It's great to see a sport I love so much come to Kolkata, and Australia is happy to embrace and support it." O'Farrell also chuckled that he would be happy to join the players if the rules around props and scrums from his childhood were reincorporated in the game, to which Jungle Crows founder Paul Walsh remarked, "We want Barry on the field!"
The players were divided into two teams, Panthers (green) and Leopards (yellow). The fixtures, which were contested under the Junior U-13s Tag, and Senior U-18s Boys and Girls categories, unfolded like a thriller.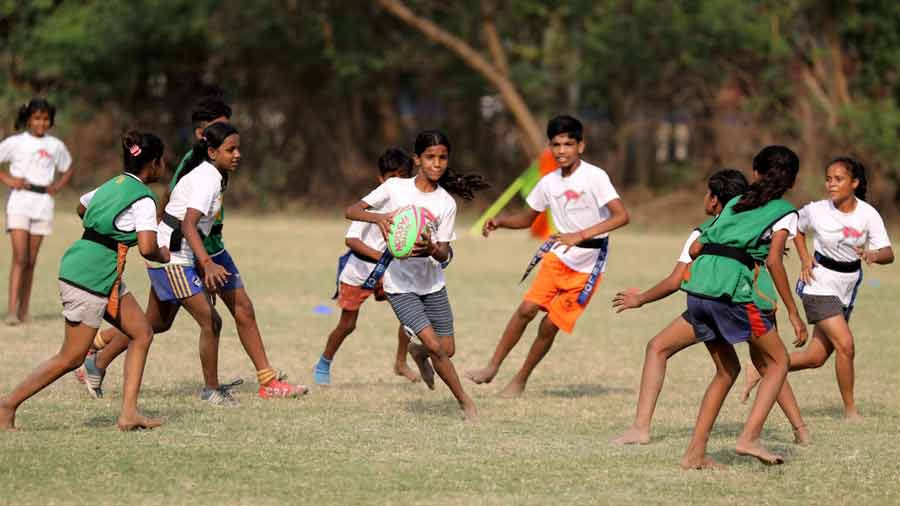 Vandana Shaw (with ball) impressed everyone with her blistering pace in the Junior Tag category
Amidst breathtaking goals, jubilant runs and aggressive tackles, the Panthers won the Senior Boys fixture with a score of 13-0. They clinched a double with their 10-0 victory in the Senior Girls category.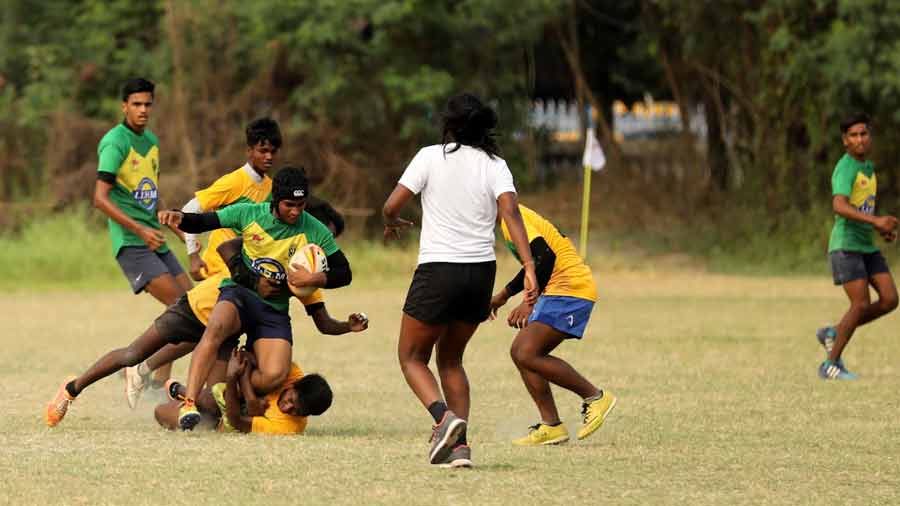 Panthers' Kedar Shaw (with ball) breaks through the Leopards defence
Seventeen-year-old Namista Oraon from Saraswatipur captained Panthers in the Senior Girls category. Despite incurring an injury during the game, she kept going till the game ended, chirping that the injury 'didn't matter'. "It was a really tough match, and the scorching heat didn't help. While the win feels great, we want to practice even more now and move ahead," she said.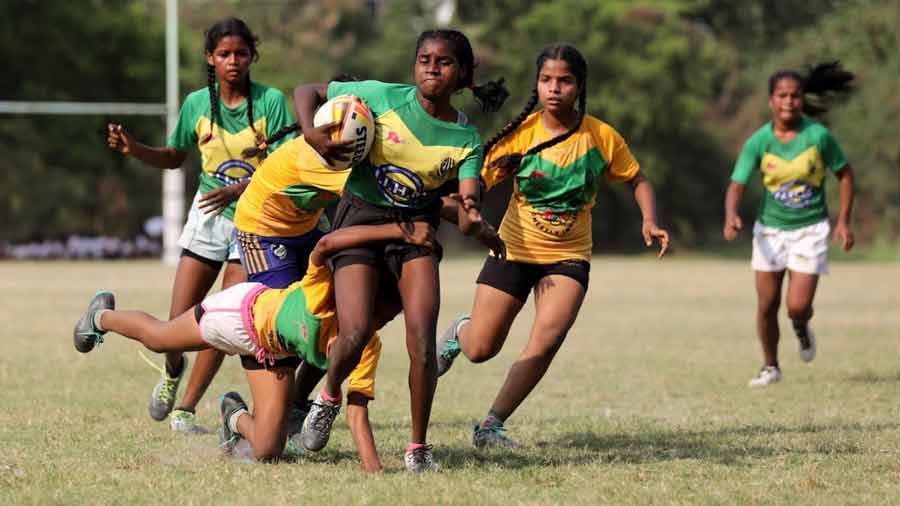 Despite an injury, Namista Oraon (with ball) captained the Panthers to victory in the Senior Girls category
Koyel Sona, her Leopard counterpart, wasn't deterred by the loss, confident of bouncing back. "Falling back was a challenge, but we will play more, get fitter and find ourselves in a better position," the 16-year-old said.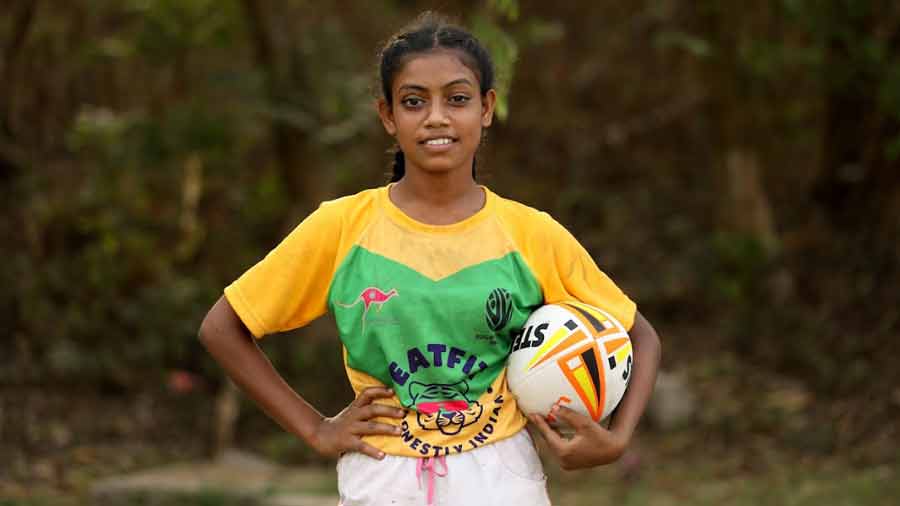 Leopards Captain Koyel Sona vowed to train harder for next year
All of 11, Ankit Sardar was the youngest player on the field. With two promising attempts to score, the Class VII student showed immense promise in the Junior Boys Tag category. "I've been playing with Jungle Crows since I was 8. This tournament was a major step up from the U-9 and U-11 games I have played," he said.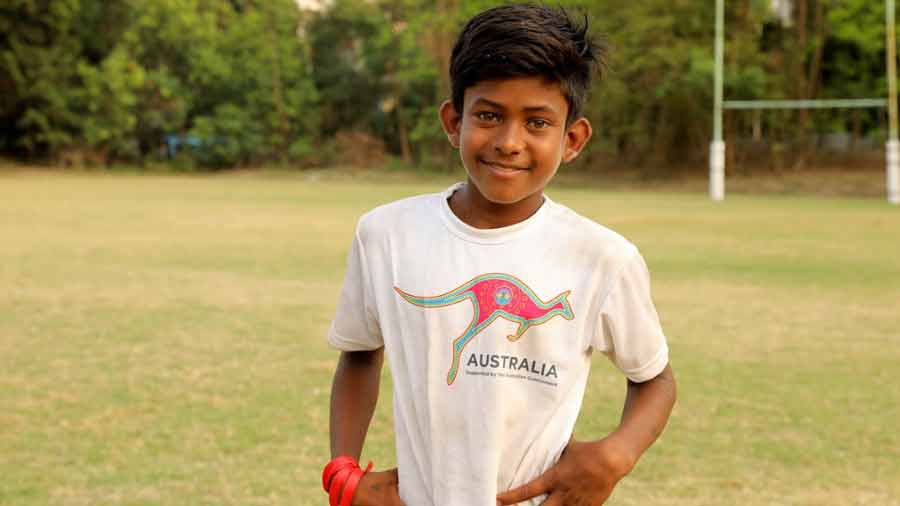 Eleven-year-old Ankit Sardar was the youngest player of the tournament
Restaurateur Shaun Kenworthy was also present and was seen animatedly dissecting the games with Walsh and O'Farrell. "Jungle Crows have been playing rugby in Kolkata for 18 years now. While many of these kids and I grew up playing the traditional form of rugby, we think Rugby Union could be a great new introduction for them. There's incredible camaraderie in this sport. As a kid, I remember playing rugby not because I wanted to win, but because I wanted to do well for my team," he said.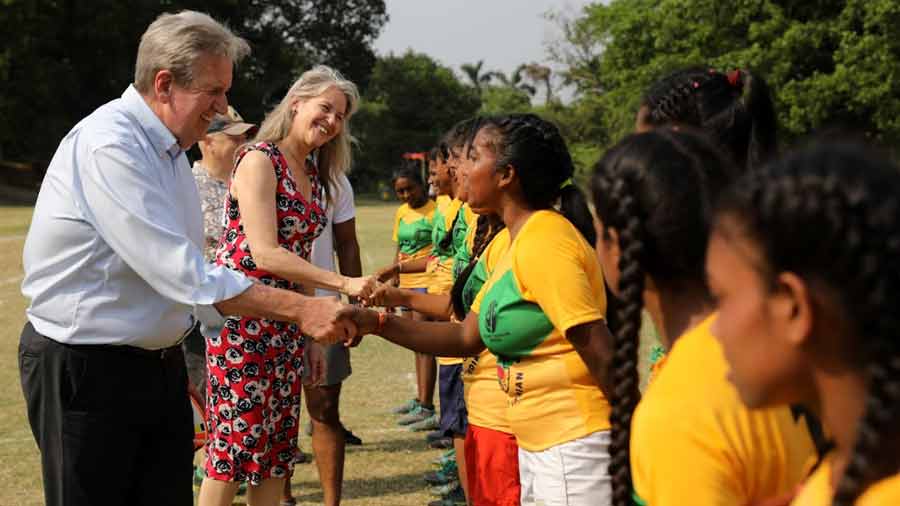 Australian High Commissioner Barry O'Farrell (left) and Consul General Rowan Ainsworth congratulate the Leopards Senior Girls team
Addressing the players after the prize distribution ceremony, Rowan Ainsworth, the Consul General of Australia in Kolkata, said, "It was lovely to see you play so competitively today. You were an inspiration. An inspiration to me, to each other, to your friends and your families. Congratulations on giving it your all."
Seeing the players jubilant after sweating it out in the ground was a proud feeling for Pritam Singh, mentor at Jungle Crows. Singh was a part of the 14-coach team that put their all into training the students over the past few weeks. "It was an amazing effort by both the boys and girls teams in bringing Rugby League to Kolkata for the first time. We want to take this event to even greater heights with more participants and more tournaments on a pan-India scale," Pritam said.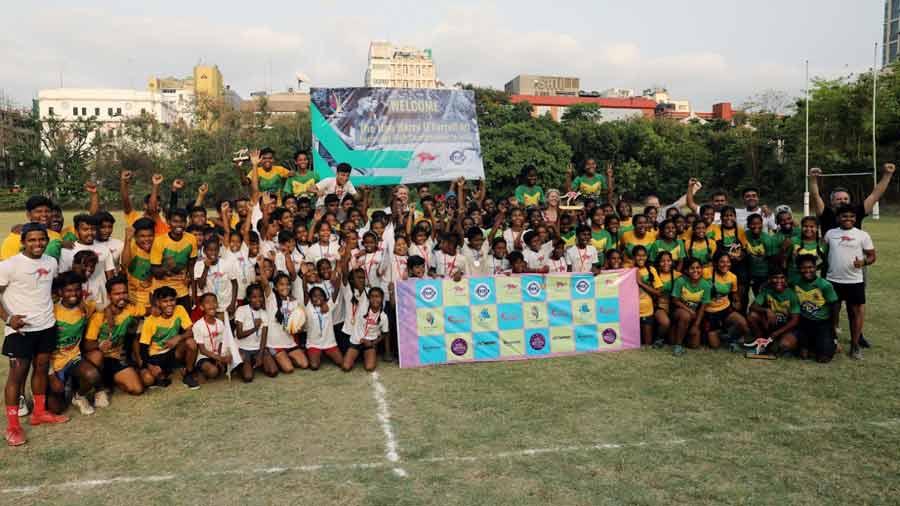 All the players pose for a group photo after the matches