Two rugby clubs from different ends of the world and of the rugby spectrum – Bristol Bears and Jungle Crows – are coming together to further enrich the communities they inspire through shared learning and connection. Both groups have been working on the long-term aim of shaping rugby at the global grassroots level.
Bristol Bears, a professional rugby union club based in Bristol, England, was founded as Bristol Football Club in 1888. They play in Premiership Rugby, England's top division of rugby.
"This will be a genuine partnership with opportunities for people involved in both clubs. I see this as two rugby clubs with one shared vision: to inspire their communities. We look forward to working together with the Bristol Bears players and staff," said Paul Walsh, MBE, founder of the Jungle Crows. 
Bears Chief-Executive Mark Tainton said, "We're pleased to form an innovative partnership with Kolkata Jungle Crows and commend Paul and his team for the incredible work he does in his community. Growing our brand and supporting charitable causes across the world is a fantastic incentive for Bristol Bears and our collaborative vision to inspire our community through rugby success."
This announcement comes days after Paul Walsh described his journey to My Kolkata, succinctly outlining his modus operandi as "Play rugby → teach kids rugby → teach more kids rugby → keep them in school". If you missed the story, read it here: 
Tainton revealed that the Bears did in fact have an old connection with Kolkata and its Crows. Over 2006, 2007 and 2008, a charitable trust brought the Bears' Junior Academy Manager, Gary Townsend, to India where he met with the Jungle Crows as well as other teams. In 2018, Townsend returned to Kolkata and worked with Paul. 
One of the key people to have facilitated this new association is Bristol actor and Bears' season ticket holder, Stewart Wright, who was inspired by the story of underprivileged orphan children from Kalinga Institute in Odisha, coached by Paul, going on to play in the International Junior Rugby Tournament held in the UK in 2007. When Wright, who played Paul Walsh in the film Jungle Cry, was filming in India in 2018, the seed of this partnership was sown. Later, when some of the Jungle Crows players were flown to Wales, where certain scenes for the movie were shot, Wright arranged for them to be brought to Bristol to watch a Bears game – that was the first step to this significant tie-up.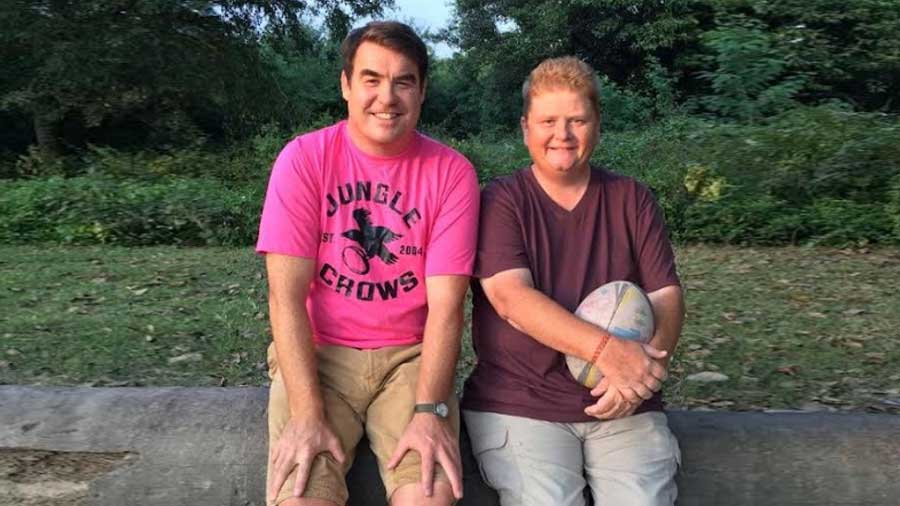 Stewart Wright (left) and Paul Walsh on the Maidan in Kolkata, 2018
"I'm very honoured to have played a small part in the history of these two inspiring clubs. Their partnership has enabled me to combine my first passion of rugby with my subsequent ones for India, youth development, acting and Bristol Bears. I am looking forward to watching this new relationship flourish," said Wright.
In 2017, the Jungle Crows sports-for-development project, Khelo Rugby, was awarded the Spirit of Rugby partnership by World Rugby. In its inception, this project took rugby to underprivileged children in various slums in Kolkata. It has now extended its wings to three other locations in India – Saraswatipur (a village in Jalpaiguri of north Bengal), Jharkhand and Bengaluru. What is truly inspiring about the Khelo Rugby programme is that it induces discipline and mutual respect through the ranks and fosters a feeling of fellowship amongst the players. 
On the other hand, The Bristol Bears Community Foundation is an award-winning charity which has a broad range of programmes focusing on four key areas: education, participation, health, and inclusion. The foundation works with over 8,000 people from the local community each year. Its youngest participant is five-years-old, while the oldest is 104.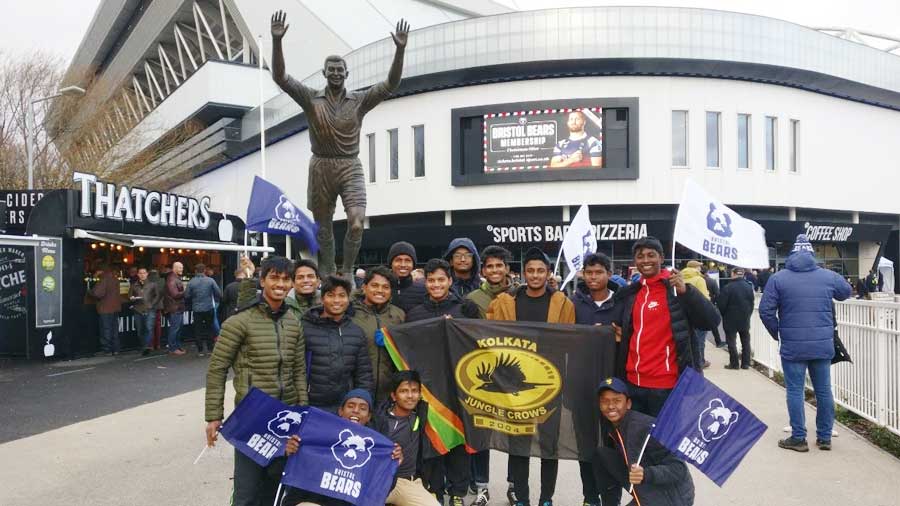 Some of the Jungle Crows kids in Bristol for a Bears match