With the FIFA World Cup 2022 up and running in Qatar, My Kolkata is back with our very own weekly felicitation of the bizarre and the brilliant and everything in between. If you had followed our Wrong 'Uns every Wednesday during this year's IPL, you know what you are in store for. While FIFA and every post-match show worth its salt recognise merit at the end of every game, we recognise the oddly memorable. Which is why we bring to you the Offside Awards, for nothing in football piques curiosity and challenges intelligence more than offsides, a not-so beautiful appendage of the beautiful game.
As part of our inaugural edition, we acknowledge political incorrectness as well as technological incorrectness (slightly more debatable) besides crowning the most attention-grabbing fashionista in Qatar and a whole lot more.
The Eric Cantona Award for Verbal Diarrhoea
Anyone who remembers Eric Cantona doing his version of a King Lear monologue at the 2019 UEFA awards understands what verbal diarrhoea in football is all about. You wish whoever is talking about things (other than football) they should not be talking about would just shut up, but they ramble on, each sentence more perplexing than the previous one. Inspired by the mercurial French forward, FIFA's president Gianni Infantino managed to 'feel' Qatari, Arab, African, gay, disabled and a migrant worker, all in one speech ahead of the opening game in Qatar. Ludicrous solidarity at best and outrageous appropriation at worst, Infantino clearly forgot to feel sensible before making unnecessary headlines on the eve of the World Cup.
The Davids XI Award for the Greatest Giant Killer
Most World Cup weeks bring at least one shock result, with an underdog or a rank outsider (often called David) upsetting the apple cart (denying the apparent birthright of Goliaths in the process). No doubt about who did so in the first few days in Qatar, with an all-guns blazing Saudi Arabia coming from behind to break Argentina's 36-game winning streak. Lionel Messi, who happens to be Saudi's global tourism ambassador, was reduced to a tourist himself in the second half, as the men in green left it all on the pitch to achieve the most historic result in their football history. So historic that their compatriots got to observe the day after their victory as a public holiday in Saudi Arabia!
The Activism Without Armband Award (presented by Real Courage *TM)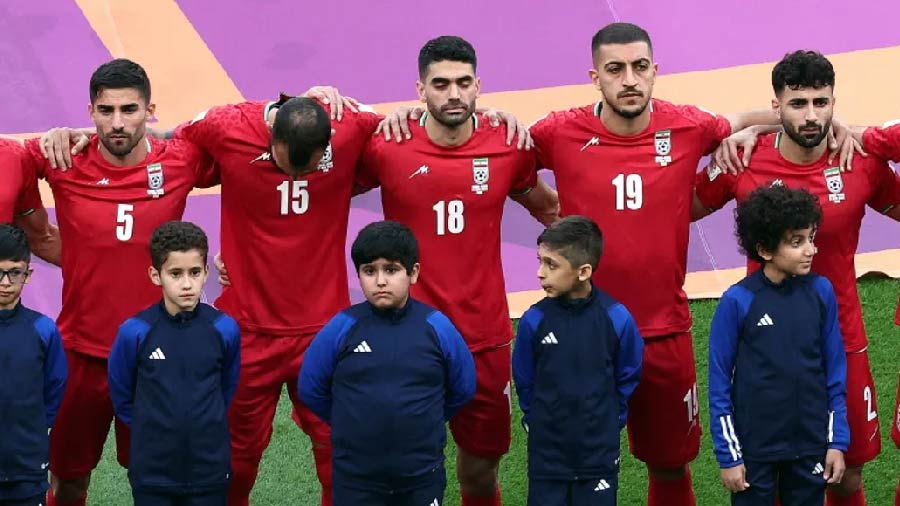 Iran showed the world the power of silence ahead of their match against England
FIFA
While European football's heavyweights decided against wearing armbands expressing support for LGBTQ+ individuals in queerphobic Qatar, lest their captains face the nightmarish prospect of yellow cards, the Iranian national team showed what true messaging looks like when they refused to sing the national anthem ahead of their World Cup opener against England. Hours after the FA had weaselled out of optical allyship that would have landed Harry Kane in the referee's book, the refusal to sing the national anthem from Iran's players drew even more headlines in relation to the protests that have rocked Iran ever since the death of Mahsa Amini. A special mention here for the Germans, who covered their mouths in their team photo-op (make what you will of the symbolism), before remaining just as quiet over the 90 minutes against a revitalised Japan.
Hard to Believe Hairdo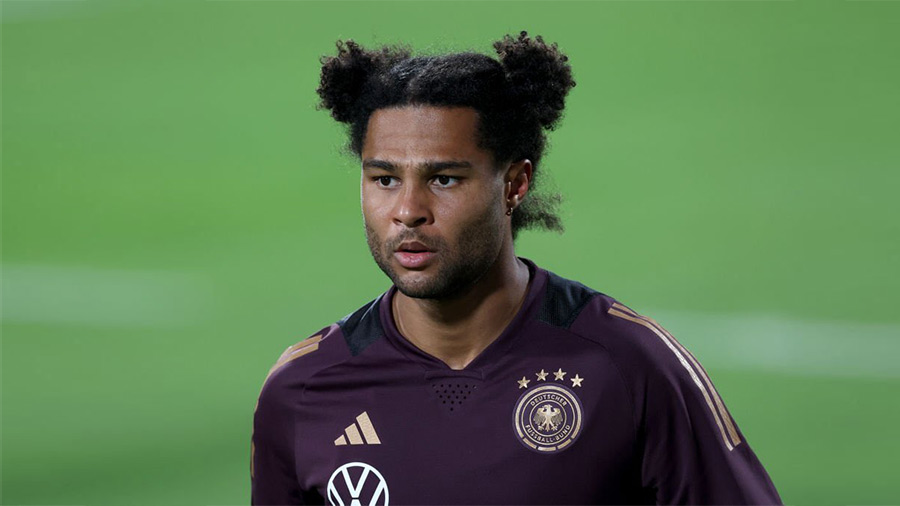 Gnabry's hairstyle has grabbed more eyeballs than his football in Qatar
FIFA
The World Cup is the stage where outlandish hairstyles generally become unforgettable, from Ronaldo's quasi-shaved look (which was redeemed only by winning the tournament) in 2002 to Paul Pogba's blonde mohawk in 2014 to David Beckham's spectrum of wild yet trendy makeovers at every single edition since 1998. In 2022, the honour of having the most attention-grabbing hairdo goes to German winger Serge Gnabry, with what seems like a demonstration of vegetation patterns on his head. Gnabry 1-0 common sense fashion.
'I could've scored it' Miss of the Week
Even at a World Cup, or especially at a World Cup, you are bound to observe world-class footballers squander the sort of chances that make you go: "I could've scored it." Topping this week's category of such misses is Kylian Mbappe versus Australia. Although France's main man had an exceptional game overall against the Socceroos, he horribly skewed his sliding finish into a virtually open net towards the end of the first half. Receiving a lobbed cross from Antoine Griezmann right into his path, Mbappe put too much pace and power on his shot, which went blazing over Mathew Ryan's goal.
When VAR Went Too Far
Too much technology ruins everything, more so when you think you have scored your first World Cup goal after choosing not to pass to an unmarked Messi in front of an unguarded goal. That was Lautaro Martinez against Saudi Arabia, when the Argentine forward seemingly beat the offside trap before delicately lobbing the ball over the onrushing goalkeeper to make it 2-0 for La Albiceleste. But then, Video Assistant Referee (VAR) intervened, overruling the goal on account of Martinez's shoulder being inches ahead of the last defender. In screenshots that have gone viral since, other offside trackers (not used by FIFA) seem to disagree. To make matters worse, Argentina fans have decided to rewrite the offside rule altogether. Their reframing reads: "It's only offside when Messi says so."
Best Example of Bitter Twitter
As a matter of course, such a prize would acknowledge reactions to players and teams on Twitter whose anger, resentment, even humour, qualifies as objectively appalling. And yet, this week's Bitter Twitter winners have everyone's sympathy. If you, too, have been watching the World Cup on JioCinema (instead of the good-old cable option of Sports18), feel free to count yourself in contention for this category. With Jio's servers buffering all too frequently during World Cup streaming, especially on the opening night on November 20, Twitter has been a riot all week long, overflowing with bitterness that is entirely believable.
Balloon d'Or (The Golden Balloon)
With one more vowel in its name than the most prestigious individual award in football, the Balloon d'Or will be handed out every week to whichever player's spirit needs the most uplifting (what else is a balloon good for anyway, golden or otherwise). While Messi was a close contender for the very first gong, we thought that he could use his seven Ballons' d'Or (the real thing!) to uplift himself. Keylor Navas was also in the reckoning after picking the ball out of his net seven times against Spain; but Navas, we felt, could only be lifted by an actual defence. Instead, we chose Robert Lewandowski (who should perhaps have one of Messi's seven Golden Balls) as the first recipient of our Balloon d'Or. Fitting recognition for a pedestrian performance for Poland against Mexico, during which RL9, who is his country's one-man attacking gameplan, also fluffed his lines from the penalty spot.