Fourteen matches. More than 1270 minutes. Zero goals. This is how the combined numbers for Lionel Messi and Cristiano Ronaldo stack up when it comes to knockout football at the FIFA World Cup. In other words, when the going gets toughest and the world is watching, Messi and Ronaldo struggle to get going. Heading into Qatar as two of only six footballers to be present at five different editions of football's biggest competition, Messi and Ronaldo are still chasing elusive World Cup glory. In spite of their unprecedented domination in club football — with 1396 goals and nine UEFA Champions League titles between them till date — the modern game's GOATs are yet to be truly inspired for their countries when it matters most.
Unlike Pele in 1958 and 1970, Johan Cruyff in 1974, Diego Maradona in 1986, the original Ronaldo in 2002 and Zinedine Zidane in 2006, neither Messi nor Ronaldo has truly set a World Cup alight so far. In Qatar, the two men have one last shot at changing the script, one last shot at the greatest prize they are yet to make their own.
Hope. Suffer. Fail. Repeat.
During the 2006 World Cup in Germany, football pundits had watchful eyes tracking the progress of a shy Argentine teenager with electricity in his boots and a mercurial 21-year-old from Portugal whose stepovers attracted as much attention as his antics. Ultimately, despite a few promising bursts here and there, neither of the two youngsters stepped up to the plate. Messi, on the bench with his boots off, was relegated to a miserable witness as Argentina were beaten by Germany on penalties in the quarter-finals, while Ronaldo and Portugal ran into the brickwall of France in the semis and crashed out. 
Four years later, in South Africa, the spotlight was firmly on (by then) the two best players in the world, who had enjoyed dazzling campaigns with Barcelona and Real Madrid ahead of the first World Cup in their prime. Once again, their individual brilliance was sacrificed at the altar of collective dysfunction, as Portugal were hypnotised by Spain in the round of 16, and Argentina, managed by a restless Diego Maradona, capitulated against Germany in the last eight.
Brazil 2014, on the surface, seemed like a study in contrast. Ronaldo was unable to get Portugal beyond their group whereas Messi went all the way to the final, before being denied by Germany (and a sliding Mario Gotze) for the third time in succession. And yet, neither icon had played anywhere near their best on South American soil. Exhausted, even exasperated, at the drop in quality of their supporting cast from club level, they could only offer a shadow of their superhuman selves. For Messi, that was still enough to be named (rather controversially) as the player of the tournament. 
Next time around, in Russia, Ronaldo came up with a clutch hat-trick against Spain in his opening game, but was peripheral as Portugal were outgunned by Uruguay in the second round. Argentina, who had barely made it to the World Cup in the first place, could barely make it out of the group, before being ripped apart by France, also in the round of 16.
Why have two of the most spectacularly consistent players in European club football repeatedly underperformed at the World Cup? Is it just a matter of being surrounded by inferior players? Or is it something more? Do Messi and Ronaldo feel bruised, perhaps bogged down, every time a World Cup rolls around? Is the hype, on overdrive in the age of social media, too much to take, especially when their legacies are at stake? Or is it that neither feels equipped enough to excel in a tournament where randomness and sheer luck frequently prevail over the force of skill and will? Whatever the reason(s), it has been established that Messi and Ronaldo need the World Cup much more than it needs them. For even after four cracks, the World Cup remains immune to being consumed by two demi-gods and the ecosystem-turned-empire that sustains them.
Now or never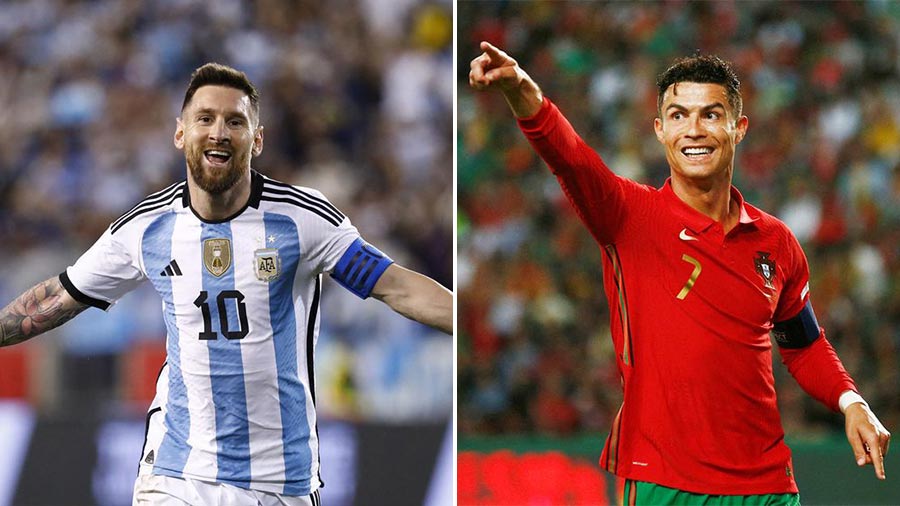 By the time the next World Cup rolls around in 2026, Messi will be 38 and Ronaldo will be 41
FIFA
Qatar 2022 will surely be the last World Cup for both Messi and Ronaldo. At 35 and 37, respectively, they are no longer the most potent attackers in world football. Having said that, one is in a far better position than the other.
Surrounded by a group of players that adores him as if he were an avuncular alien, Messi is set to go deep with Argentina, who have belatedly learnt to prioritise stability over chaos. Even though his mazy dribbles and inch-perfect shots now belong to the highlight reels, Messi is still capable of running a football match on his own, using his on-field intelligence to be a one-man creative hub for his side. With a fairly simple group to start off with, Argentina are second favourites (behind Brazil) to go all the way, with even EA Sports predicting success for La Albiceleste on December 18 (they have been right with predicting the winners at each of the last three World Cups!).
The conditions for Ronaldo, however, are anything but optimal. After a fiery interview with Piers Morgan, whose fallout will most probably be an ignominious exit from Manchester United in January, the all-time leading goalscorer in men's international football seems desperate to be relevant again. Unlike Messi, who has been instrumental for Paris Saint-Germain this season, Ronaldo has endured a torrid time at Old Trafford, scoring just three times since August. While Portugal are loaded with talent in all departments, Ronaldo (of all people) knows they lack Argentina's system and synergy, and will do well to go beyond the quarter-finals.
In what will be their last dance on the grandest stage, Messi's feet look more poised to thrill than Ronaldo's. The dream scenario, of course, is that Ronaldo somehow turns back the clock and the two win their first six games in Qatar, which would mean a seventh, decisive match in the final. Against each other! Whether that fairy tale comes to fruition or not, there is no taking away that Messi and Ronaldo need to deliver at this World Cup. 
Not because their millions of fans are crying out for it. Not because an inability to do so will ruin their GOAT status — after all, Brian Lara never won a cricket World Cup and Stephen Curry has never touched an Olympic gold medal. And certainly not because Adidas or Nike or any of the gazillion brands associated with Messi and Ronaldo will lose their minds (in a good, money-pumping way, of course) if they do. But because it is fitting, maybe destined, that these two players leave their mark on what is still the most hallowed turf in sport. Because the annals of the World Cup deserve a chance to immortalise Messi and Ronaldo.