"The exploratory and inquisitive part of childhood is vanishing and we're the reason why," said Vani Tripathi Tikoo, the author of Why Can't Elephants be Red?, at the latest session of An Author's Afternoon at Taj Bengal, organised by Prabha Khaitan Foundation, in association with Shree Cement Ltd, with My Kolkata as digital partner.
Tikoo, an actor, debutant author and the former national secretary of the BJP, was in conversation with veteran film director Aniruddha Roy Chowdhury, delving deep into the worldview of children and the crises threatening their fragile inner worlds of imagination and happiness.
A life among stories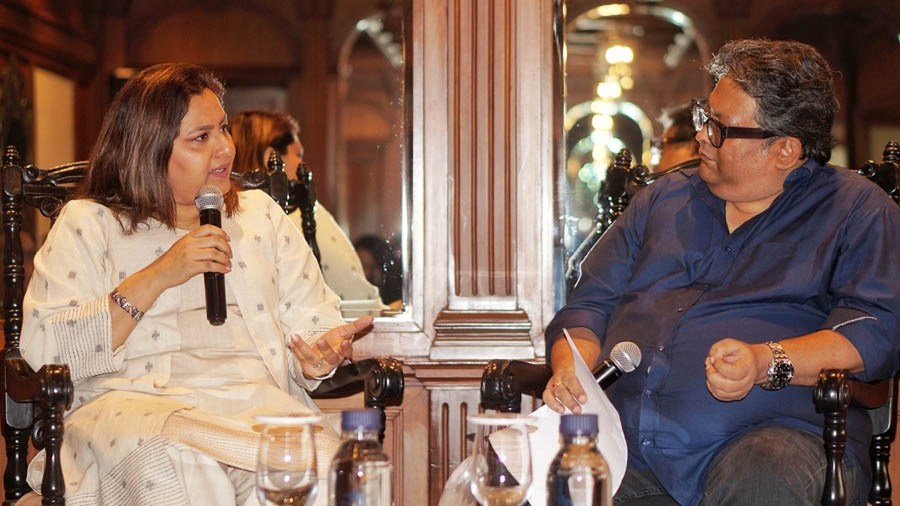 Tikoo in conversation with Aniruddha Roy Chowdhury
Being the child of parents who were literature professors, Tikoo grew up in a household that thrived on storytelling. At the age of 13, she explored storytelling by herself at the insistence of her father, after she had read most of the books that were available to her. "That was the time when I started professional theatre. I worked with Barry John, who was one of my gurus. This book is an ode to people like Barry, who spoke about theatre in India, making it a tool for education and learning. Moreover, in our household, theatre and cinema had equal existence. I think that also became a paradigm for me to understand storytelling," she explained.
Among children's stories that have left a strong mark on Tikoo, it is The Little Prince (by Antoine de Saint-Exupery) that she keeps revisiting in every decade of her life: "It's about the imaginative reality of a child's mind. Children have a deep sense of exploration of life and how they view it. My book is an exploration of my daughter's view of life. We have to start thinking about what the sense of childhood is for a child. In terms of writing, we should be creating a world for children that they'd be able to relate to."
A story born out of separation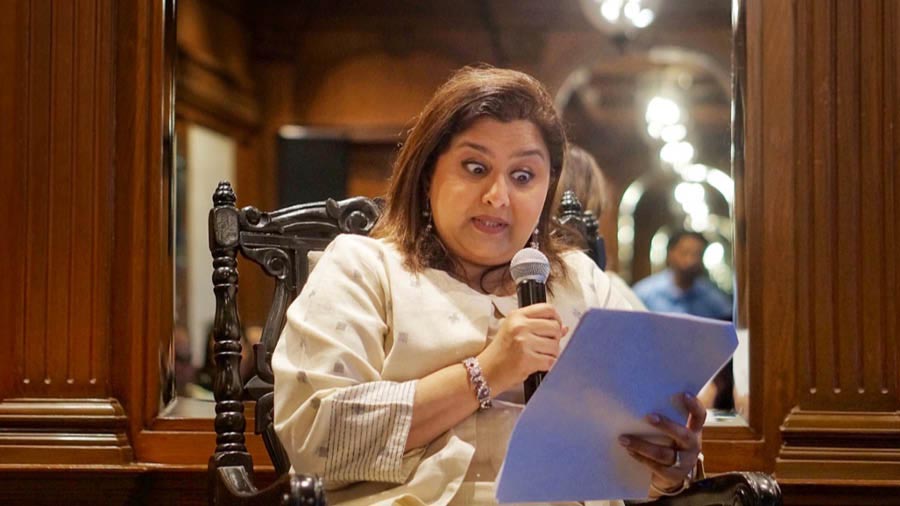 Covid-19 made Tikoo realise the fragility of human life
The book was conceived at a time when Tikoo was struggling emotionally to come to terms with the complications brought on by the Covid-19 pandemic. As the sole caregiver of her ailing mother, Tikoo had to stay in Delhi. Her daughter, who is also the protagonist of the book, stayed away in Singapore with her father and Tikoo's in-laws. For two years, Tikoo was unable to meet her daughter: "Those two years became the longest two years of my life. The 12 people featured in the book are my in-laws, who kept their lives on hold for her. Initially, when I used to talk to my daughter on the phone, I'd stay on mute because I thought it would be extremely traumatising for her. Then, after several weeks, when I got the courage to talk to her, she'd run upstairs thinking I was playing a prank on her. She would look for me throughout the upper storey of the house and come down and say, 'Mumma,where are you hiding?' Slowly. she started to realise that I had to be with her grandmother. I, on the other hand, was living in a terrible vortex in Delhi. Every day I was losing friends, family and relatives. I understood the fragility of human life in those two years. But I have tried not to take a morose look at things in this book because nothing was morose around my daughter. My in-laws kept her entertained."
Tikoo went on to add that her experiences with her daughter have made her understand that "children are tenacious and tolerant. We constantly have complexes in our minds about them. They are honest, blunt and pristine. Despite their stubbornness, they are wise".
'We have stopped having a creative relationship with our children'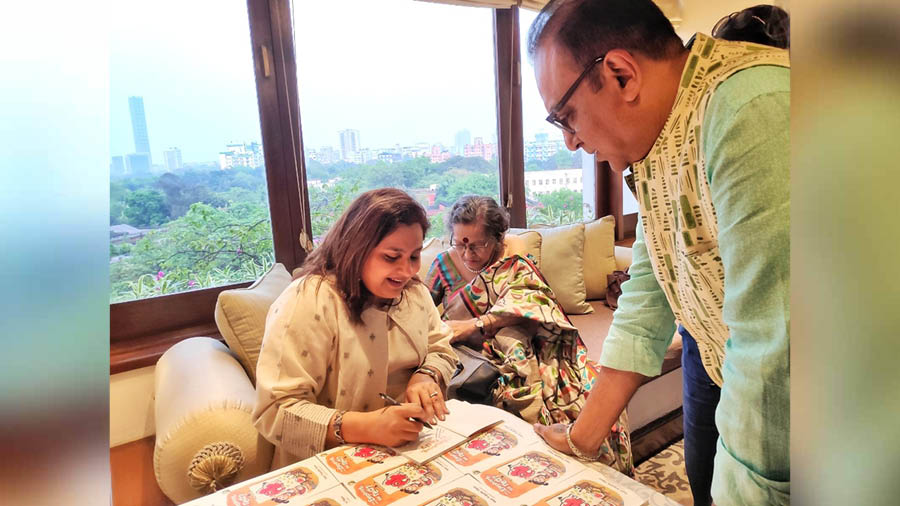 Tikoo signing copies of her book
Roy Chowdhury pointed out that the biggest threat to children's imagination lies in the gadgets that have taken over most forms of entertainment. However, Tikoo asserted that children are addicted to gadgets because it is parents who have encouraged that behaviour. "The problem is that we have stopped having a creative relationship with our children. We are busy people and we want to distract them. We're responsible for lazy parenting. We have to bring back spending time with our children creatively. Those immersive realities (of the gadgets) are addictive. This makes them disconnected from the real world — the sound of the rustling of leaves, the joy of playing football in the fields are things they will start forgetting. It's not their fault. It's what we let them create and what we create around them that matters."
Speaking about the response to her book, Tikoo said: "My editor's (Suchitra Ghosh) seven-year-old son read my book. He loved the book. A nine-year-old boy wrote to me saying that the book was exactly like his life. Some children have also decided what my next book should be because the last story is a cliffhanger! The adults, on the other hand, have analysed and written about the book. This is to highlight that the book is also for young parents, academics or people who work with children."
The event came to a close with Malika Verma, Ehsaas Woman of Kolkata, delivering the vote of thanks and Roy Chowdhury and Tikoo being felicitated by journalist, film scholar and author, Shoma A. Chatterji.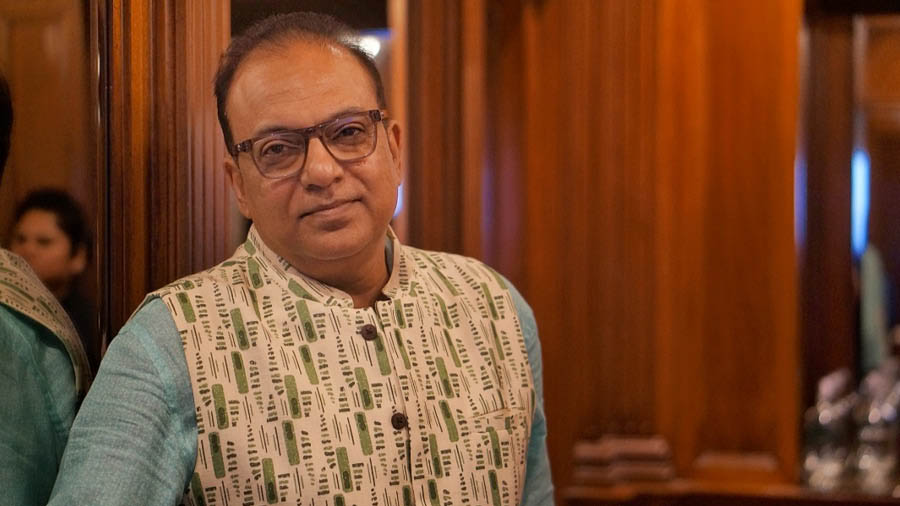 Arindam Sil
"It's been quite some time since I have met someone like Vani. She has an incredible clarity about and understanding of children, which is a very rare trait in adults. When she was talking about colours, I was thinking about how you could just walk into any drawing competition and find parents hovering over their children and directing them to colour correctly. That's exactly what Vani was talking about. It's been an eye-opening experience for me and I think she should take some classes with adults."
Arindam Sil, director and producer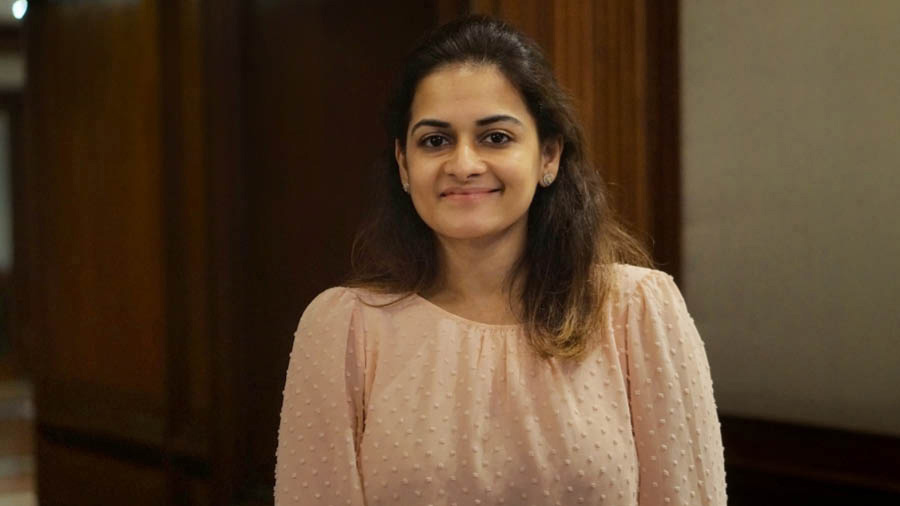 Shefali Rawat Agarwal
"I think it was very interesting the way she spoke. Being a young parent, I could relate to everything that she said. And she was right about how children nowadays are so much wiser than before. I have a four-year-old, and the answers I get from her are so similar to what Vani was saying. I'm looking forward to reading the book."
Shefali Rawat Agarwal, Ehsaas Woman of Kolkata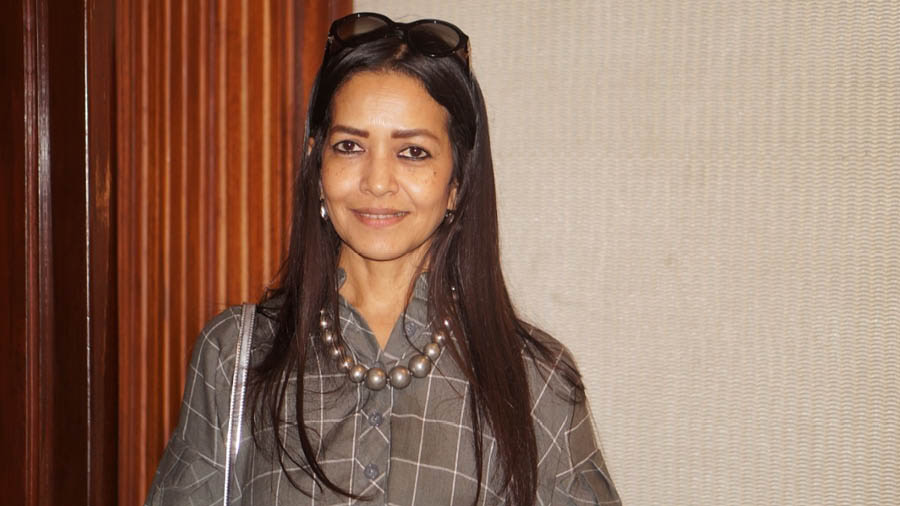 Esha Dutta
"I think the session was absolutely brilliant. She spoke from a mother's point of view and I could relate to every sentence that she said because this is exactly the way we brought up our children and the questions we received from them. I think there were so many life lessons about parenting and about children in what she said."
Esha Dutta, Ehsaas Woman of Kolkata: