What happens when the dullness of academia is countered by the thrill of Bollywood? What happens when the dire state of women's workforce participation in India is analysed through one of the biggest icons that Indian cinema has ever produced? The answer to both is Shrayana Bhattacharya's authorial debut Desperately Seeking Shah Rukh: India's Lonely Young Women and the Search for Intimacy and Independence, which was released last November.
Exploring all these questions and more with fellow conversationalist Mohua Chatterjee, Bhattacharya, an economist at the World Bank's social protection and labour unit for South Asia, kept the audience rapt in the latest session of An Author's Afternoon, organised by Prabha Khaitan Foundation at Taj Bengal, in association with Shree Cement Limited, with My Kolkata as digital partner.
Writing as a form of rebellion
Talking about her initiation into the world of writing, Bhattacharya admitted that she had written throughout her life as a hobby and never received any training for it. But when she realised that the academic method of research was hardly capturing the reality of women in India and was also excluding them from important conversations around the economy, writing became her tool to rebel against how economics is taught and written. Popular culture allowed her the window into the lives of women who had been worn out by the spuriousness of academic research and the subsequent inaction. "My grandmother was a very important influence in my life because she was surrounded with all these economists who were always men and who talked in a language about her life in a way that she could never enter the conversation. She would ask me: 'Why is it that the subject thrives on being absolutely inaccessible?' Economics isn't just about men in suits discussing the economic climate, the economy is actually all of us gathered here," said the author.
Shah Rukh Khan, the man and the metaphor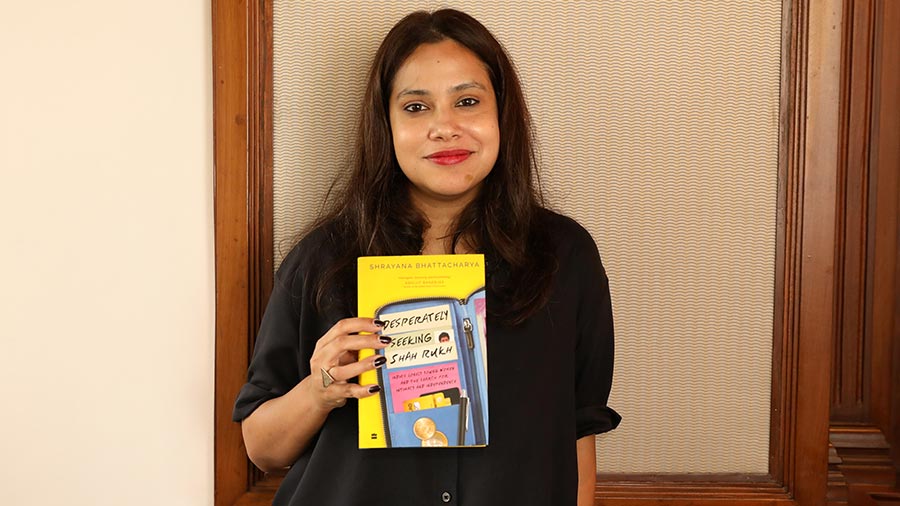 In Bhattacharya's book, Shah Rukh Khan is not just an icon, but also a prism through which women's lives are explored
It was while conducting a survey on women who were agarbatti and garment workers that Bhattacharya saw the lacunae in traditional research methodologies. The women were not interested in answering the same set of questions they had been asked to answer several times in the course of their lives. Instead, much to the author's surprise, they were interested in talking about Shah Rukh Khan. However, it was not just the actor that the women talked about. Khan became a metaphor for women aspiring for financial independence. Women from different strata of the society were not talking about marrying the actor. Instead they were talking about "looking for men who'd be reciprocal and supportive in building a family and society that would value the sort of work they do," observed Bhattacharya. In Bhattacharya's book, Khan does not remain an icon; he becomes a prism through which the author explores the lives of the women who are united in their aspirations and adoration for the actor.
The unaccounted for contributors to India's GDP…and how it all starts with men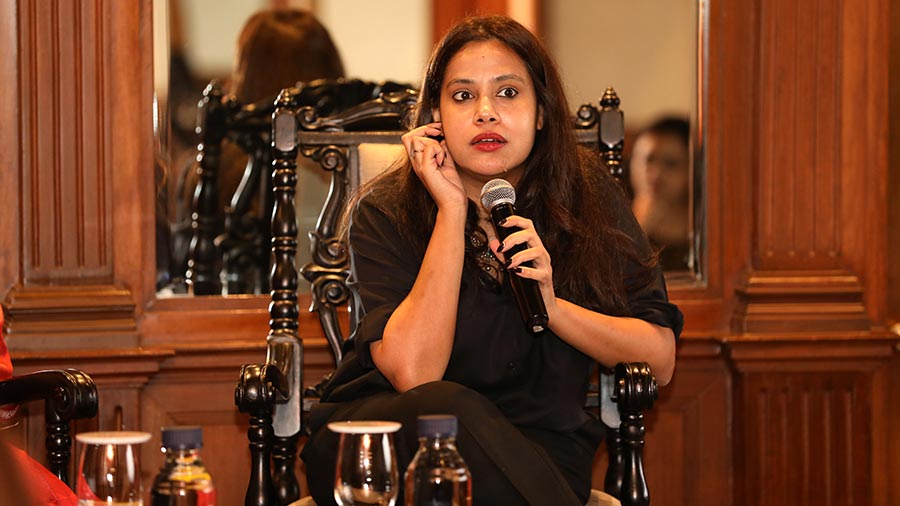 Women pay an emotional tax because of their gender roles, argued Bhattacharya
"There'd be no GDP without women. Who's raising our workforce? Who's feeding them and taking care of them? In India, 64% of women's work is unpaid," highlighted Bhattacharya. Elaborating further, she added that there are countries which value women's labour through infrastructure and policy, even if not monetarily. But India is miles behind when it comes to acknowledging women's work and that a significant chunk of the problem lies with Indian men. "When we start talking about women's issues, men become reluctant. They are also reluctant to help with household work, resulting in a world where women are stuck in low-paid or unpaid jobs at home…Women not only pay higher taxes for living alone but also pay an emotional tax because they are made to feel isolated and judged for desiring a life outside the home," explained Bhattacharya.
Discussing the importance of men's role in changing the plight of India's women workforce participation, Bhattacharya said: "We need to have very serious conversations around ideas of masculinity and how boys see themselves. Lots of men who read non-fiction, including stuffy history books, hear Shah Rukh and gender and think it's a girls' book. There's a dismissal of women's struggles and enthusiasm. That needs to change."
The anxiety of 'making it'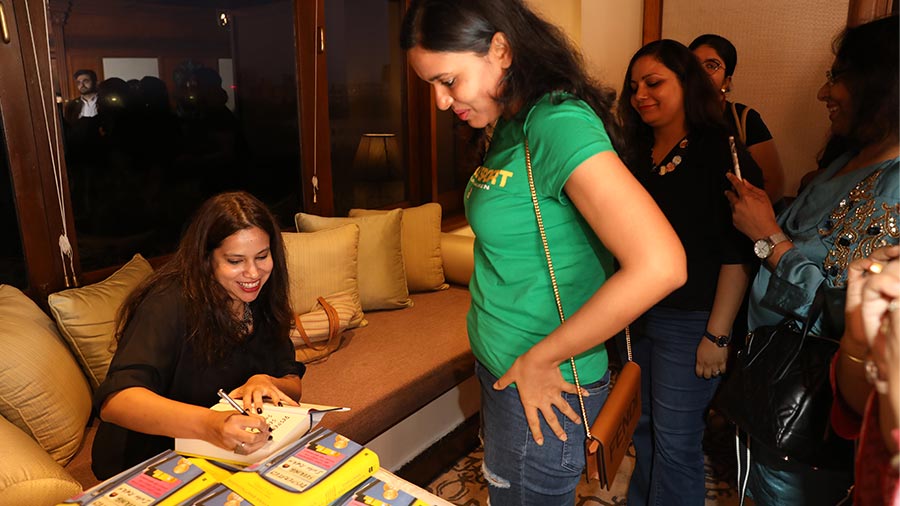 Bhattacharya signing copies of her book at the end of the session
Recounting the privileges of most upper-caste, upper-class women, the author pointed out that there are "many of us who come from the top 10 per cent of the population, who lead comfortable lives. But the difference between the top one per cent and the rest is very high".
The one per cent are propertied and the rest of the nine per cent are salaried, leading to a sense of anxiety among the latter to "make it in life". Shah Rukh represents that desire to "make it", that aspiration. "All the women in the book are all trying to own a home to have that sense of stability and none of them actually comes from property. SRK struggled with rentals and built Mannat, which is why all these women stand outside Mannat and stare at that house," said Bhattacharya.
The event came to a close with a question and answer session with the audience, followed by the felicitation of Bhattacharya and Chatterjee by Pooja Poddar.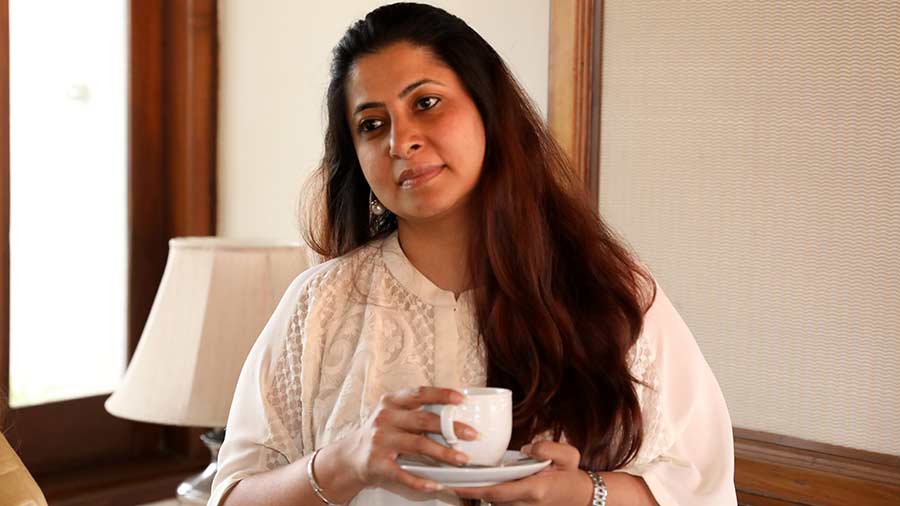 Pooja Poddar
"It's a topic which a lot of people have written about but the way she did her research work, writing about it and then relating it to Bollywood kept me enthralled. I have worked for nine long years and now I don't, so I have seen both sides of the coin. It's her passion which truly makes us engage with these conversations again."
— Pooja Poddar, a close associate of the foundation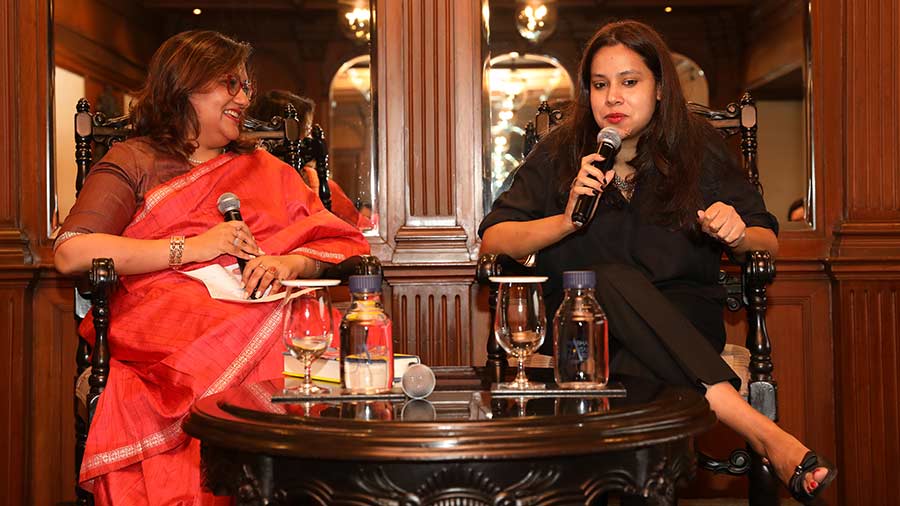 Mohua Chatterjee with Bhattacharya
"I really found the book interesting. The book is lucid and it didn't seem like something serious being shoved down the throat. Many of the characters and incidents resonate with you. I could relate to a lot because I saw a lot of it happening to me and to the women around me. And the way Shah Rukh Khan has been woven into it is extremely skillful."
— Mohua Chatterjee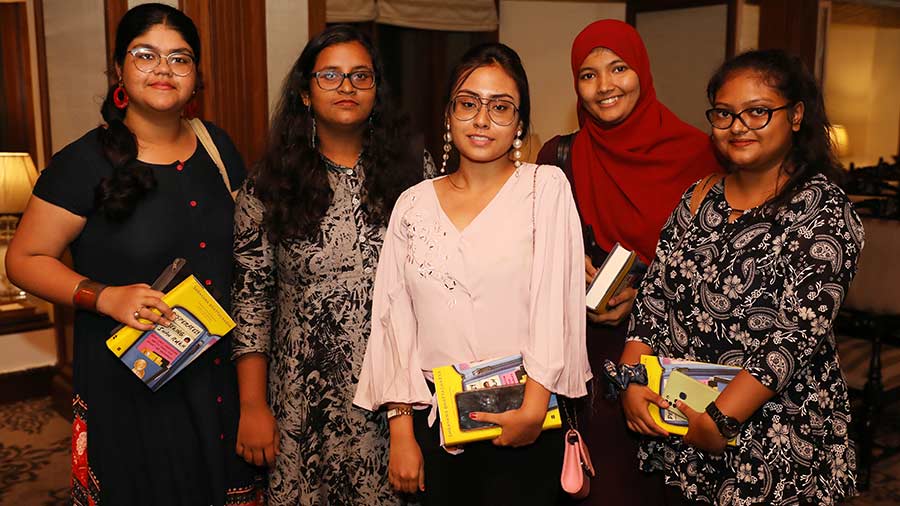 Qurratul Ayen Bushra (second from right)
" I enjoyed how Shrayana Bhattacharya spoke about the book and the issue. Women really should be encouraged to work."
— Qurratul Ayen Bushra, student of Loreto College, Kolkata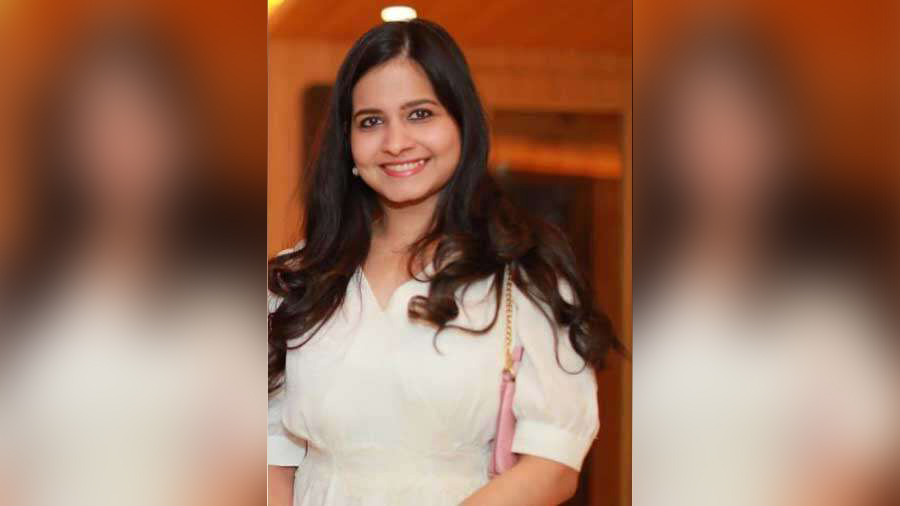 Manisha Jain
TT archives
"An Author's Afternoon with Shrayana Bhattacharya was one of a kind. Shah Rukh emerges as a metaphor for women seeking financial freedom. It was an eye-opener for one and all to realise how filmy fandom bridges the class divide. Truly quite a realisation how women across diverse groups and backgrounds in India treat each other on equal terms whenever they connect over discussions on their favourite Hindi film idol."
— Manisha Jain, Branding and Communication Chief, Prabha Khaitan Foundation