"I think there's nothing more intimate than reading and writing because you're getting deep into the personal space," said author Rituparna Chatterjee, who discussed her book, The Water Phoenix: A Memoir of Childhood Abuse, Healing and Forgiveness at the latest session of An Author's Afternoon, organised by the Prabha Khaitan Foundation at Taj Bengal, in association with Shree Cement Limited, with My Kolkata as digital partner. 
A former correspondent and columnist for The Economic Times, Chatterjee made her debut as an author with An Ordinary Life, a book on the life of the renowned actor Nawazuddin Siddiqui. Her second book, The Water Phoenix, won the United Nations Population Fund (UNPF) Laadli Award, which recognises gender representation across various media. In conversation with the author was Sreemoyee Piu Kundu, an author and columnist on gender and sexuality. 
Esha Dutta, Ehsaas Woman of Kolkata, introduced the guests for the evening and delivered the welcome note, setting the stage for yet another intriguing session of An Author's Afternoon. 
A book 'born out of a dark place'
When asked about what gave her the courage to write a story that is deeply personal, Chatterjee responded that she conceived the novel when she was suffering from severe postpartum depression. Soon she realised that much of her suffering was because of the emotional baggage that she had been carrying since her childhood. In order to relieve herself of the burden, she needed to write her memoir, which she happened to complete in the span of five short weeks. The book, therefore, was "born out of a dark place", much like how all births happen in the darkness of the womb. 
But post the publication of the book, it dawned upon her that the purpose of the book was much greater than she had anticipated. She started receiving messages from readers telling her that the book helped them deal with their emotional health. "I started believing that even if it's my story, it's not about me. There is always a greater purpose for why we (authors) are here. We are, more often than not, just a vehicle for something to come through that will help others," said Chatterjee.
'Our reality is only secondary'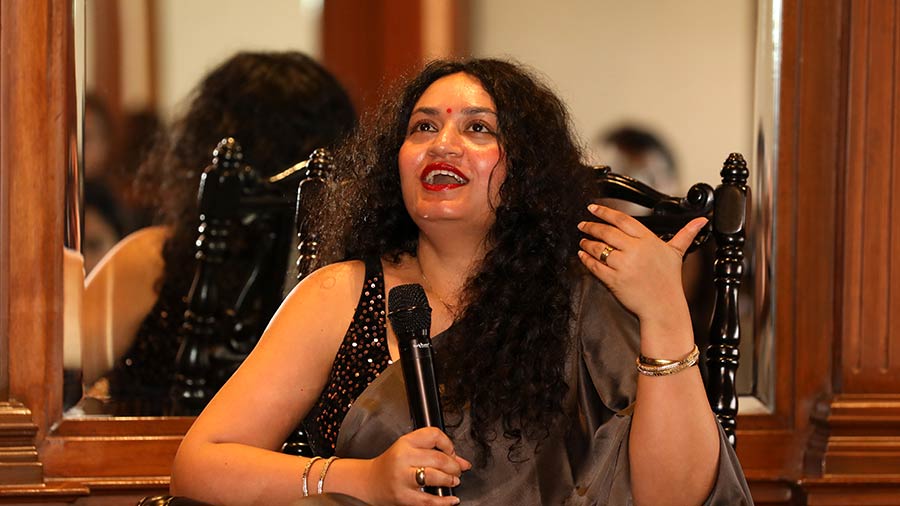 Chatterjee shared numerous insights about the processes and the influences that shaped her second book
Discussing her memoir, which dabbles in magic realism to convey the story of an abused child growing up to find herself, Chatterjee pointed out that she discovered magic realism while studying in college. Crippled by her lack of self-worth and diffidence, she found Salman Rushdie's writing to be empowering. "I was reading a lot of Gabriel Garcia Marquez, a lot of poetry…and Rushdie wasn't special, but something about Rushdie gave me permission to understand that I, too, can write my story. Because I was extremely underconfident back then and I was told that I couldn't even walk or talk," she said. 
She further added that magic realism is her natural state of being as an author because "it's the inner world of our thoughts and fancy which occupy our minds most of the time. Our reality is only secondary". 
'It all begins with self-love'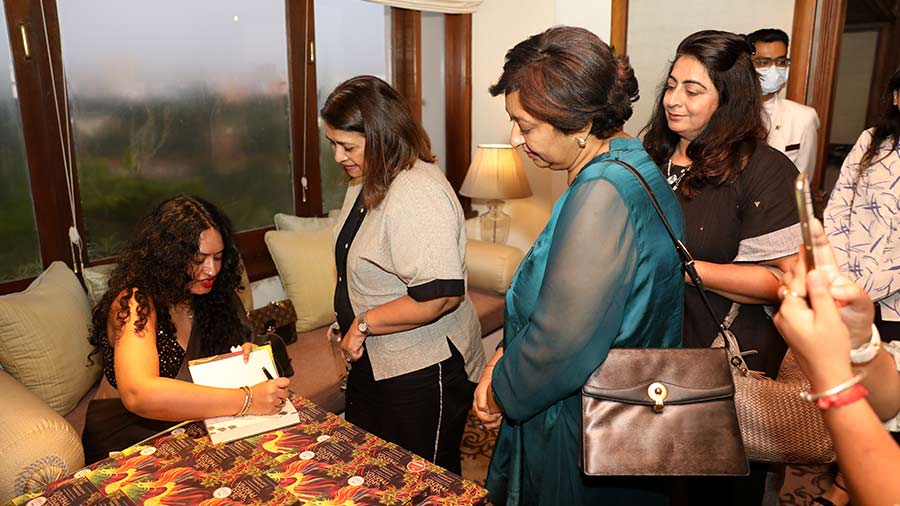 Chatterjee signing copies of her book after the discussion
Speaking about her experiences, Chatterjee stated that despite individual differences, she believes that everyone is united by the beauty of their imperfections. Society can only be more accepting of these differences when everyone consciously undertakes the journey of self-love, which is the ultimate route to healing. Despite healing being a life-long journey, Chatterjee has managed to love herself radically enough to be comfortable in her own skin and to speak her truth through her works. "The book is all about self-love, which isn't about buying yourself the latest iPhone. It's about sitting with yourself and dealing with emotions and not ghosting yourself. Not abandoning yourself. Once you do that, you'll start attracting healthier relationships," observed Chatterjee. 
However, she also felt that learning compassion starts with the family, because it is only by being compassionate towards our children that we can protect them from abuse. "We need to start respecting children's boundaries. We need to listen to them compassionately and be vulnerable with them so that we get to know in time if something has hurt them or is hurting them. We shouldn't shut down our children, but try to protect them from potential predators," concluded the author. 
The event came to a close with a question and answer session with the audience, followed by the felicitation of Chatterjee and Kundu by Gayatri Sabharwal.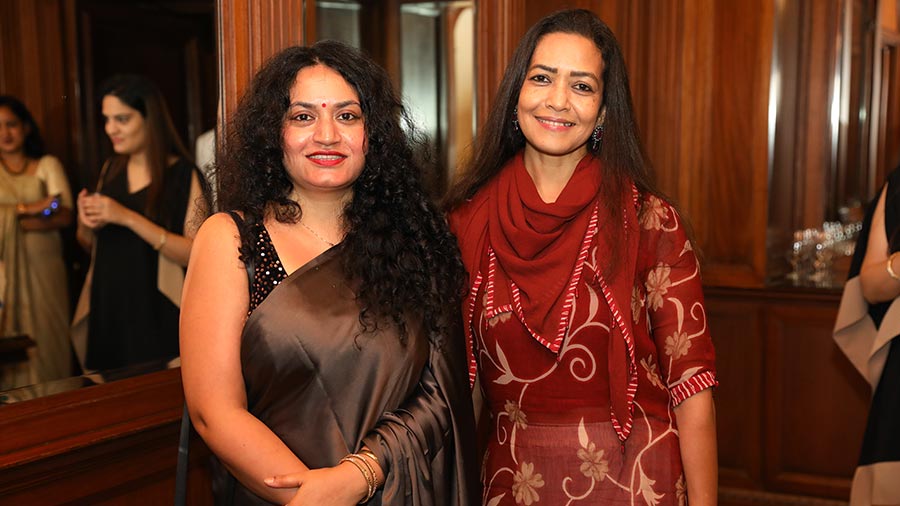 Chatterjee with Esha Dutta
"I've been a part of so many Author's Afternoons with Prabha Khaitan Foundation, but for this one we hung onto every word because every woman relates to this. There's a dark side and happy side to each one of us and the way Rituparna expresses it and the emotions attached to it, I think it resonated with every person in the room."
— Esha Dutta, Ehsaas Woman of Kolkata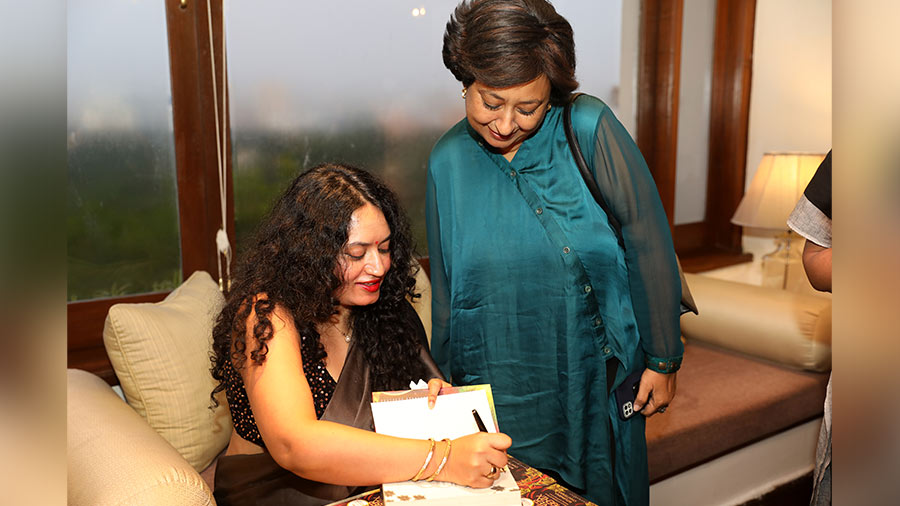 Chatterjee with Meeta Sethia
"For me as a psychotherapist, the event was about what people say and how people interpret things. I was also intrigued by the kind of questions people were asking, but I also felt that a lot more questions could've been asked which people were avoiding. I felt that there could've been more men in the audience but I think men feel threatened in the presence of too many women. I related to it because there are still parts of us which are in hiding, and magic realism as a coping mechanism has been very beautifully used in the book."
— Meeta Sethia, psychotherapist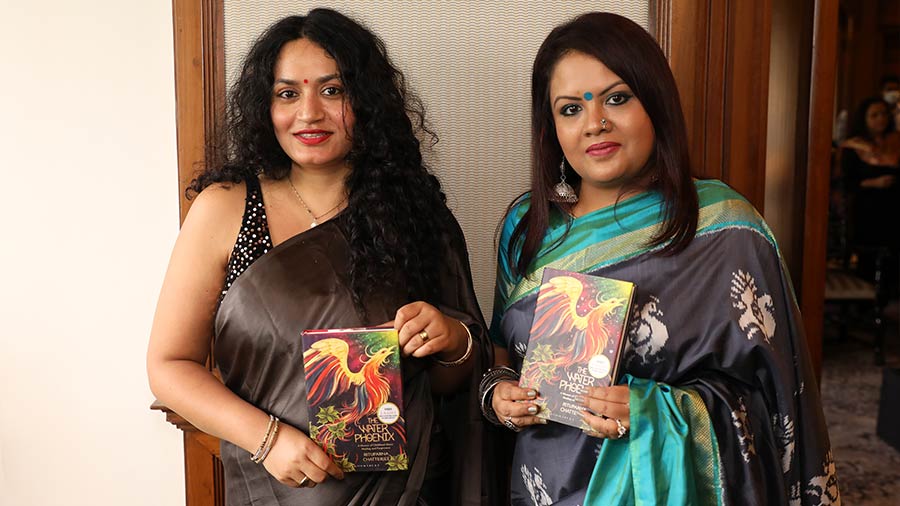 Chatterjee with Sreemoyee Piu Kundu
"I really liked the event. I'd like more and more events by women authors to be popular in every city but also be attended by more men. I always feel that when you bring in women authors, more women attend those events. I'm always invited to women writers' fests, but I find that very problematic because writing doesn't always have a gender. I think it's lovely to have such afternoons when we're talking so freely about our passions, about trauma, about young women and about our children. It's very important because as we are getting into a very materialistic and consumerist culture, we are moving away from books, music, art, cinema".
— Sreemoyee Piu Kundu, author and columnist