A sari lover couldn't be in a happier place than when surrounded by exquisite weaves. Tips and tricks to drape the yards right and show off one's prized possessions can only equal the joy and triumph of finding the perfect blouse and accessories to go with the sari.
CIMA's annual lifestyle exhibition Art in Life, known for its exhaustive and exclusive collection of saris, dress materials, home decor items, bags, jewellery and more from across India, hosted a special workshop with celebrity sari draper Dolly Jain for the members of the Ladies Study Group a day before its opening. My Kolkata had a look in.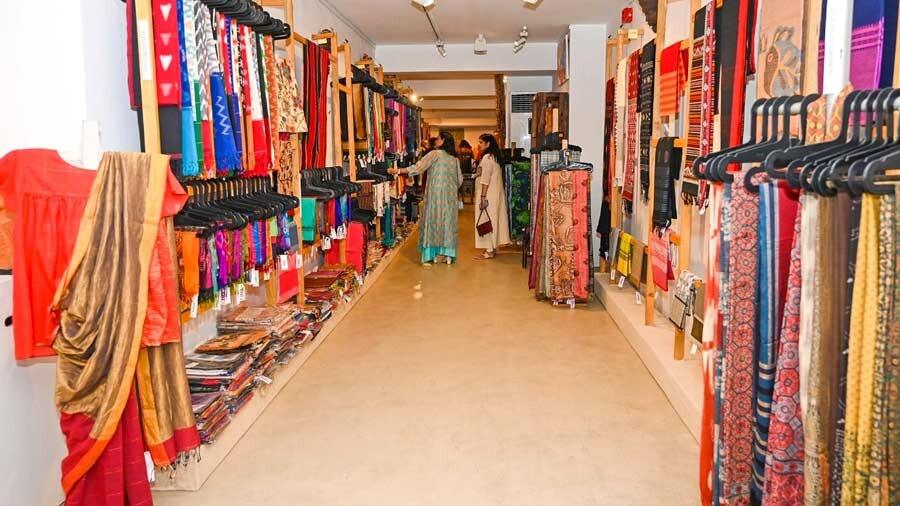 'Art in Life' offers an exclusive collection of saris from across India. The exhibition is on till October 1, 2022, at CIMA Gallery, everyday from 11am to 8pm
Amit Datta
One of the most common arguments against the sari as the go-to for all occasions is that it takes a lot of time to drape, an argument that is made redundant by Jain's Guinness World Record of draping a sari in 18-and-a-half seconds. "When I started, I used to wake up at 4.30am to be ready in a sari by 6.30am," said the woman, who knows 325 styles of draping a sari.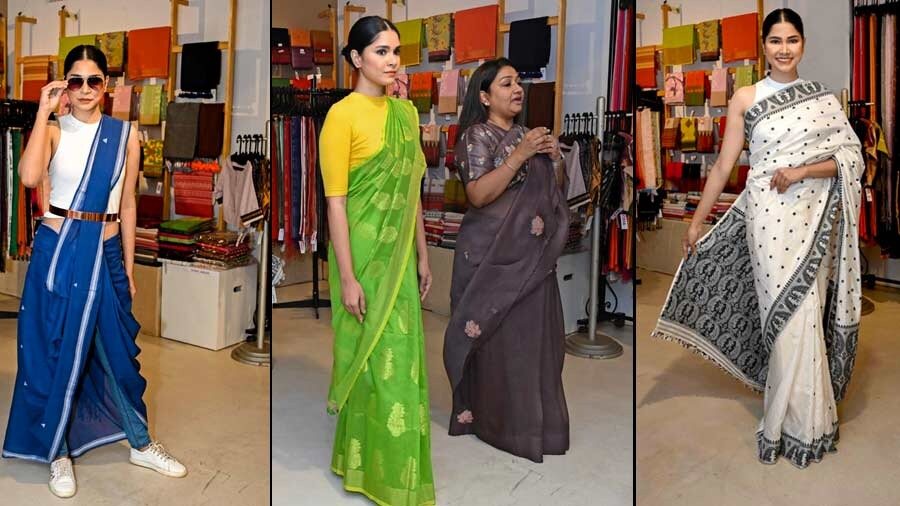 Dolly Jain demonstrates three ways to drape a sari
Amit Datta
Jain demonstrated three ways of draping a sari — the simple pleated way, an edgy drape over jeans, and the open-palla, the last one at the behest of most of the audience present. The instructions ranged from the basic — where to do the first tuck — to the surprising — the small fabric tuck to give the smooth silhouette. And they came with a helpful dollop of tricks like thread a bead into the safety pin to prevent your sari from getting entangled in it; or, the longer the pleated palla the taller you look; or, the three-fourth rule of tucking in the lower pleats (to the left of the navel if you are heavier); or the fact that two washproof band-aids stuck over and under the shoulder of your blouse can protect delicate fabrics like organza and georgette and your designer blouse.
"The 'ohhhs' and the 'aahs' from the audience is like music to my ears," said Jain, who drew loud applause with every style she demonstrated but the loudest was for the drape she did on denim. "Take your crop top or your daughter's, raid your mother or mother-in-law's sari collection, pull on your favourite pair of jeans and be ready to be trendy and fashionable," said Jain.
Jain was very impressed by the collection of saris at Art in Life, praising it for having such authentic fabrics under one roof. "Hats off to CIMA for organising a platform like this where you have fabric from across the country under one roof. You know that when you are buying something from here it is going to be worth the price because it is absolutely genuine," said Jain.
Rakhi Sarkar, the director of CIMA, spoke about how, over the last 20 years, Art in Life has become a discovery of India. "It has given us a better understanding of our country and our culture," said Sarkar.
Art in Life is on till October 1, 2022, at CIMA Gallery, everyday from 11am to 8pm.