Being a busy, bustling metro, the most intimate way to explore Kolkata is surely on a bicycle, with each lane and bylane presenting new stories. While cyclists routinely explore every nook and corner of the city, New Town is undoubtedly the favourite area for enthusiasts, with its spacious roads, dedicated cycle lanes and lush green spaces.
To provide cycling enthusiasts a taste of this space and commence a dual celebration for World Bicycle Day and World Environment Day, The Heritage Committee of The Bengal Chamber of Commerce and Industry (BCC&I) is organising the inaugural edition of BCC&I Pedal through Heritage, partnered by My Kolkata, on June 4. The event will be a first-of-its-kind heritage cycling tour, supported by the East Kolkata Wetlands Management Authority and New Town Kolkata Development Authority.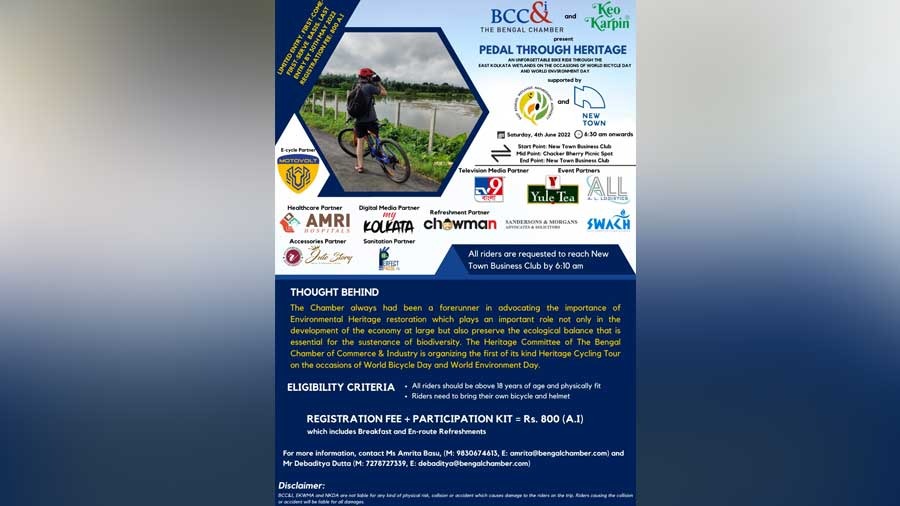 The tour will commence from New Town Business Club at 6.30am, with the mid-point being East Kolkata Wetlands (Chacker Bheri Picnic Spot), from which participants will head back to the starting point.
The event is in keeping with BCC&I's activities to advocate environmental heritage restoration with a vision to not only boost the economy, but also preserve the ecological balance that is essential for sustenance of biodiversity.
"Through this cycling tour, our objective is to highlight the importance of the Wetlands. With a mix of both mechanical bicycles and electric bicycles, we believe that the initiative would also spotlight the issues of air pollution, and how bicycles are effective in mitigating these challenges. As a responsible organisation, we believe that this initiative would create a long-term impact on society," said G. M. Kapur, chairperson, Heritage Committee, BCC&I.
The tour presents an exciting opportunity for amateur and professional cyclists representing corporates, SMEs, academia and startups from in and around Kolkata. It is open to riders aged above 18, provided they are physically fit, and can bring their own bicycles and helmets.
You can register for the tour here.
To view the route, click here.