The tring of a cycle bell is one of Kolkata's most resonant sounds. It announces the arrival of the milkman with the elixir of your morning cha, it travels with adventure enthusiasts and regular people around the city, and it is the nostalgia that Bhaskor Banerjee felt in Piku. The way the world opens up to you without barriers when journeying on a cycle is special, plus there's those health benefits.
Kolkata's New Town is generally known as a hub of commercial activities, surrounded by high-rises, but in recent times the huge township has transformed into a haven for cyclists.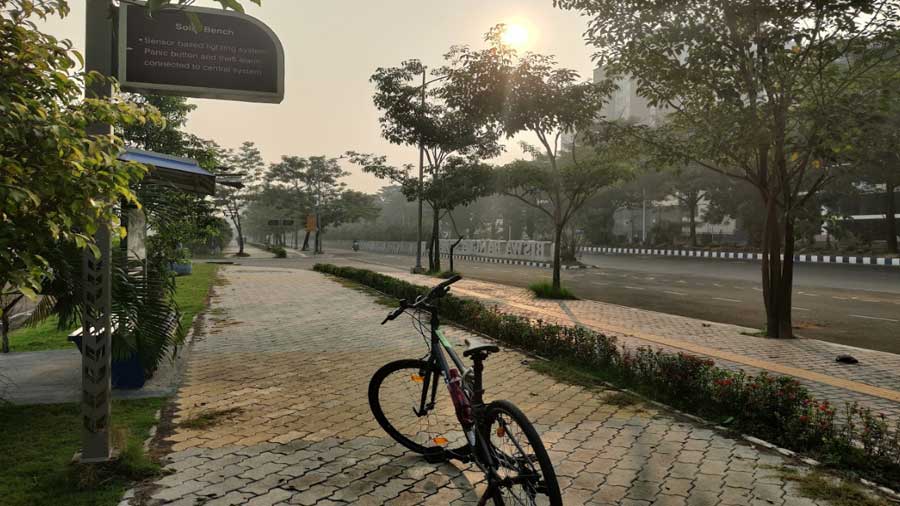 The lanes near New Town Bus Stand have ample green cover to elevate your mood
Vedant Karia
The stretch from New Town Bus Stand to Unitech's Uniworld City is one of the most cyclist-friendly parts of Kolkata, with well-defined cycle lanes much like in many international cities. Unhindered views of the sky, plenty of green cover to soothe your eyes, and refreshing food and beverage vendors along the route only add to the appeal.
Like all good things, you must toil before you reap the benefits of this route. Prepare for the uphill pedal over the bridge that connects Technopolis to New Town Bus Stand. Once that difficult bit is out of the way, you're greeted by a 10km-long stretch of cycle lanes and service roads that keep you comfortably off the busy main road on your jaunt.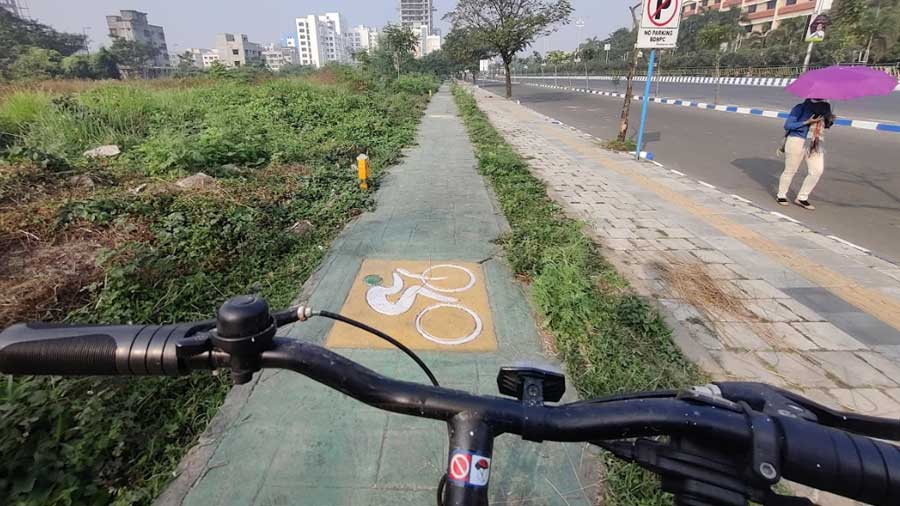 The cyclist lanes are well-defined to ensure the safety of riders, and discourage non-cyclists from using them
Vedant Karia
The lanes for riding your bike around New Town are clearly demarcated to prevent non-cyclists from entering them. Some are made from a different material than the adjoining footpaths, some painted a distinct green, and others separated by a rope-line.
As you glide past Central Mall, the little patch of green in front of it is an inviting spot for some self-reflection or maybe just to feel the morning sun on your face, especially on a winter day. Further down, the New Town Mela Ground beckons for mid-journey break and adda, especially if you're riding in a group.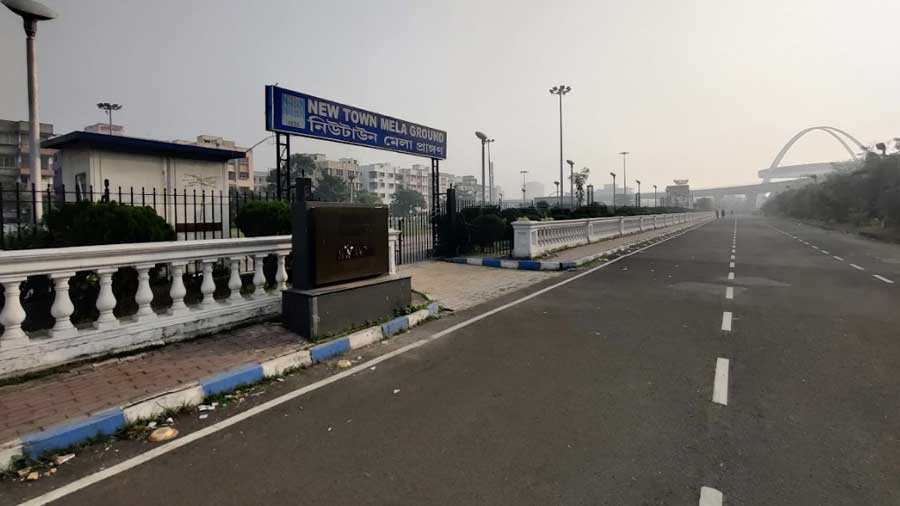 The New Town Mela Ground is a local favourite for the customary adda session.
Vedant Karia
Take some time to walk to the Biswa Bangla Gate, which towers above everything. It's usually a busy junction that warrants being cautious, but in the mornings when the daily rush is yet to begin, we recommend going up there to soak in the sunrise. There's a breathtaking view, and many photo-ops.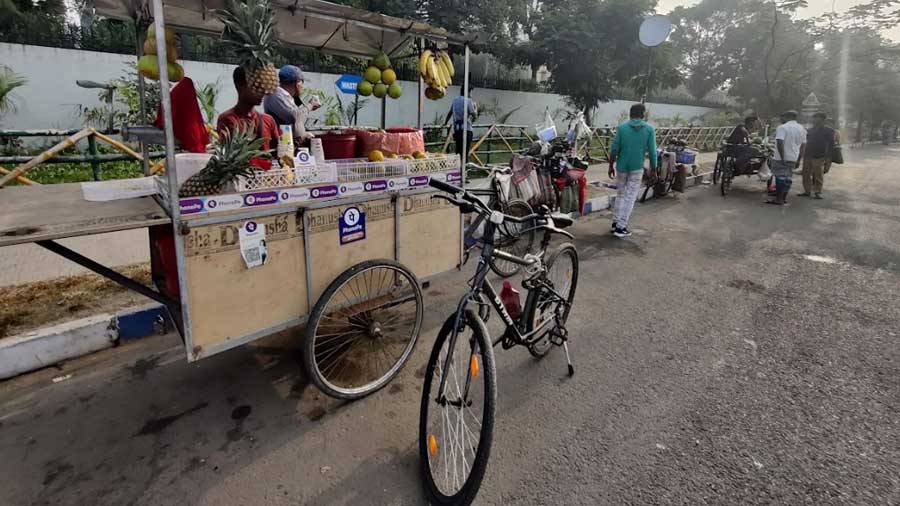 There are stalls selling juice, 'daab', tea and fruits outside Tata Medical Center
Vedant Karia
Tata Medical Center is an ideal point to recharge, with a host of stalls serving healthy options like fresh fruit juices, daab, coffee and tea, and fruits. Cycling further, takes you through a route flanked by mostly unbuilt plots with open spaces and untamed greenery, a sight rare for regular urban settings. Cycling through this stretch that leads to Uniworld City, feels like being far removed from a big city and is an almost meditative experience. You might even find yourself greeting a grazing horse or two.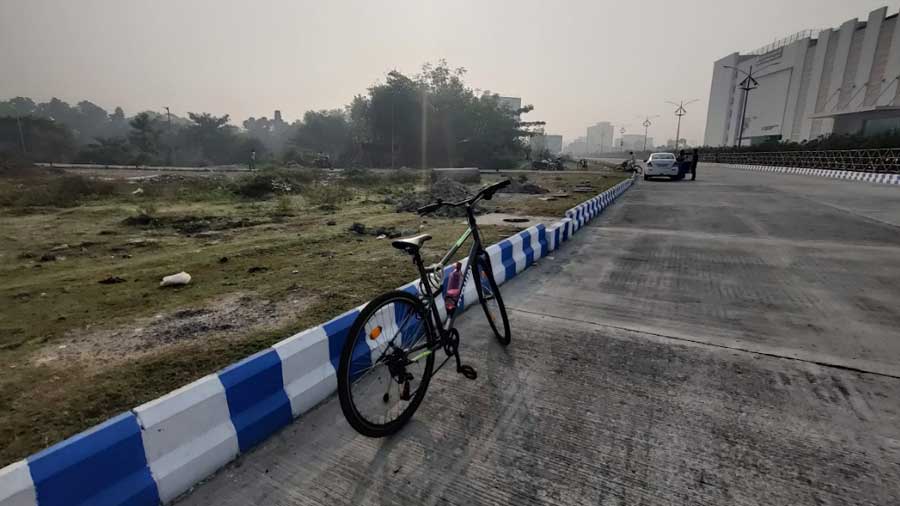 Cycling the route between Tata Medical and Uniworld City feels like being far removed from a big city
Vedant Karia
Given the highway-esque roads of New Town, a drive through the area usually involves zooming towards your destination without taking in much of your surroundings. However, even a 20-minute cycle-ride here is great to rejuvenate you after a tense week, or for a fresh start to your day. The beauty of cycling here is that it allows you to pause and see familiar spaces with a new perspective.