Kolkata's love affair with cycling is no secret. While the two-wheeler is primarily a mode of transport for most, cycling for the joy of the ride has become a niche hobby enjoyed by only a few. Like a painter picking up their brush after a hiatus, the lockdown-filled past year saw Kolkatans rediscovering their love for pedalling.
Cycle Network Grow (CNG), a cycling community from Kolkata has been at the forefront of the city's renewed motivation to pedal. Started on May 30, 2016, by Neil Law and Ashish Bajaj, the CNG community grew through word of mouth and now has over 1,500 members from across the city. 
"I started cycling casually in January 2015 and joined two groups, which don't exist anymore. I saw a lot of politics and leg-pulling there, and was removed from the group on May 29, 2016. The very next day, we decided to create a more comfortable environment, where people would be treated equally and politics wouldn't be involved," said Bajaj, who is an investment banker by profession, and the president of CNG.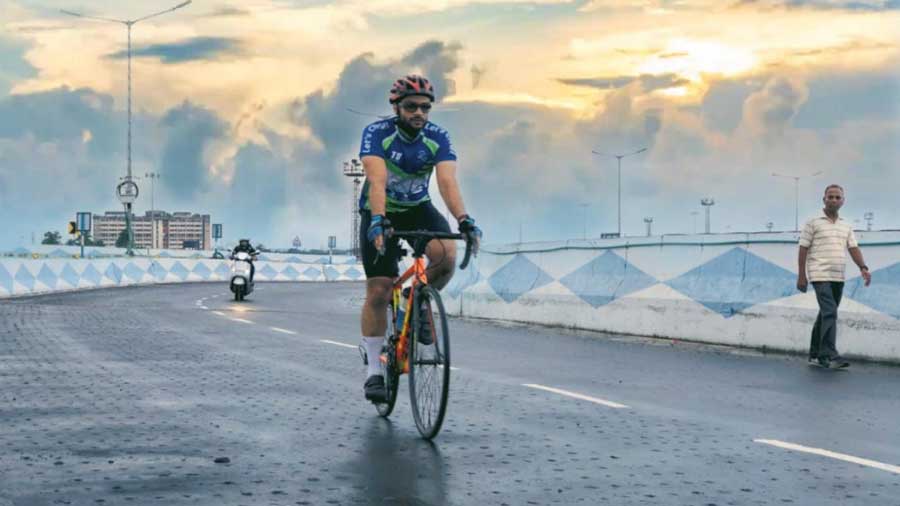 CNG secretary Prateek Jain has completed the daunting Tour de Golden Triangle, a 750-km riding event across Delhi, Agra and Jaipur
The idea was to build an open platform, which is why they don't call themselves a club, but a community, as it is open to everyone. "If you do something right, people will join you along the way," he states.
The joy of cycling
The objective of the community is to cherish the joy of cycling, network with interesting people from all walks of life and grow as cyclists together. CNG currently has six chapters, three in South Kolkata and three in North Kolkata, each with a dedicated WhatsApp group.
"We cycle every day at CNG. The route is posted on WhatsApp with meeting points in different areas where people can gather and join the group. If the route goes from South Kolkata to New Town, we may have meeting points at Minto Park, ITC and Chingrighata. There are a minimum of two routes running parallely every morning, with at least 20 riders joining us on each of them," said Prateek Jain, secretary of CNG.
Riders follow routes all around Kolkata, from Victoria Memorial to the airport, typically starting at 5am and dispersing by 8.30pm, depending on the distance. On weekends, CNG plans outings for longer distances — up to 70km. The members also propose alternate routes and timings to the group admins, who create a plan accordingly and post on WhatsApp for others to join in on.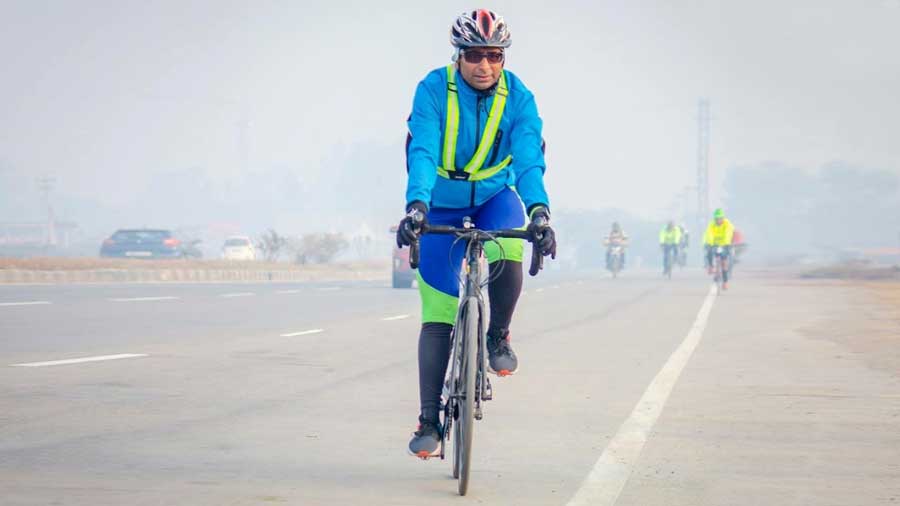 CNG president Ashish Bajaj started the project with a desire to create a community of cyclists united by their love for the activity
"New Town is an absolute favourite for cyclists, with its special cycle lanes and wide roads. It's recent victory [over other cities in the country] in the Cycle 4 Change Challenge organised by The Ministry of Housing and Urban Affairs is testament to how Kolkata is fast becoming a cycle-friendly city," said Jain.
Building a community
We don't care if you have a fancy cycle or a bangla one, as long as you ride with a helmet. Everyone is welcome and the idea is to have fun while riding together. We even have designated tea or food stops in our route. Adda sessions are a priority for bonding," shared Jain.
This inclusive mantra has struck a chord with Kolkata's cyclists, bringing together everyone from a banker to an IPS officer to actors like Anindya Chatterjee.
Joining the group is easy. One just needs to visit their Facebook page, and send a "Hi"' on WhatsApp to the contact number given there. CNG will respond with a Google form and an introduction form that the cyclist needs to fill. Once they fill the forms, the new members are then added to a WhatsApp group based on their location, and introduced to everyone else on the group.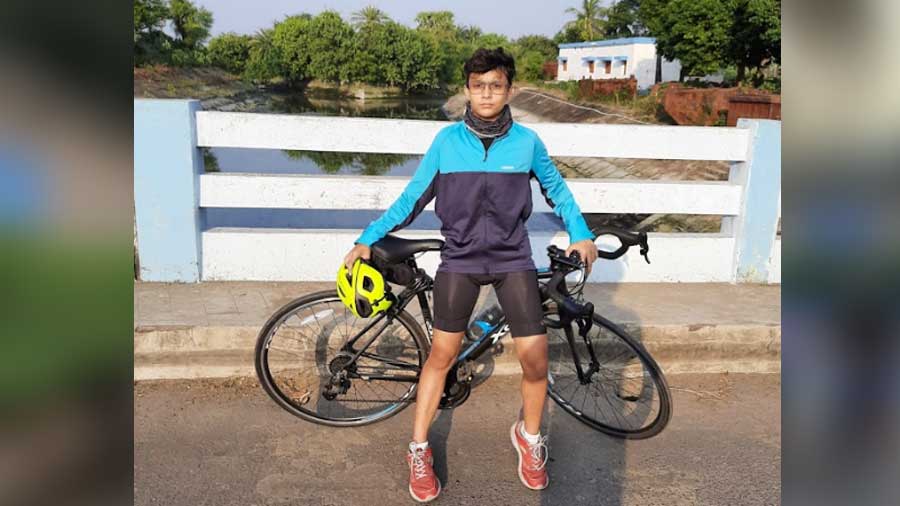 CNG's youngest member, Class VIII student Raka Sarkar, completed her first 100km cycling challenge within just two months of joining CNG
The group welcomed over 300 members during the pandemic. Currently, the youngest is Raka Sarkar, a student of Class VIII at Purwanchal Vidyamandir in Kakurgachi. "I joined two months ago at the insistence of my older brother, who saw that I could cycle long distances. People at CNG have been really friendly and taught me a lot about the cycle. They also pushed me to boost my endurance and I just completed my first 100km challenge," said a smiling Raka, who hopes to get into competitive cycling.
Growing together
Raka isn't the only one to have built endurance at CNG. The 'Grow' in their name translates to challenging your inner cyclist and scaling new heights. Going by Jain's words, they've been doing a good job. Bengal barely had two contenders at the National Road Cycling Championships in the past, but the 2021 edition at Kurukshetra last week saw six cyclists from CNG alone.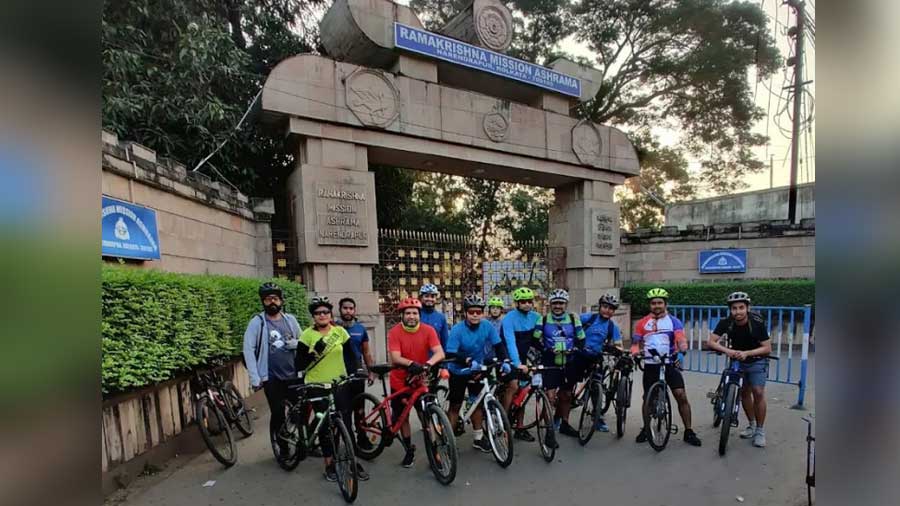 The group has at least two parallel rides every day, where a minimum of 20 cyclists join in
The community is committed to promote endurance, hosting monthly events that time cyclists on 50 and 100-mile routes. Audax India Randonneurs, the Indian representatives of French Cyclist club Audax Club Parisien, which is the international reference for long-distance cycling, has recognised CNG. They can now conduct brevets, endurance cycling events of 200km or more. Back in 2018, Jain completed the Tour de Golden Triangle, a three-day, 750-km riding event across Delhi, Agra and Jaipur. "Riding in a group is a great way to enhance endurance. You often don't realise the distance you cycle while chatting and your peers motivate you to keep going. That being said, the only way to prepare for a race is to practice," he added.
Exploring new routes
There was a brief halt to the community's activities during the lockdown, but the pedalling is back in full force now. CNG operates with complete support of Kolkata Police and any event that involves over 300 cycles is conducted with government permission. This Diwali, its members rode across the city in bicycles decorated with button lights. However, the community's sights are set on bigger heights.
They are gearing up to organise CycloVaganza 2022 at New Town on January 22 and 23. In Jain's words, the tournament will be no less than an "IPL for cyclists", with team owners bidding for riders based on their profile. The riders will then face off across six race formats, earning points with their performance and competing for the best team trophy.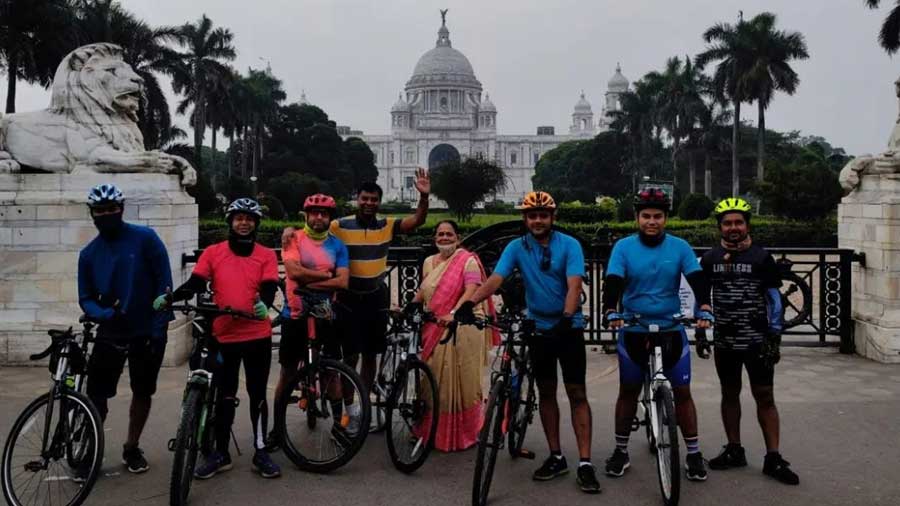 CNG holds monthly events with 50 and 100-mile routes that test a cyclist's endurance and encourage them to push harder
CNG's tips on safe cycling:
Swap masks in favour of light bandanas, as they allow you to breathe freely, while also protecting you from both the virus and pollution.
Follow traffic lights. Breaking them can be fatal.
Be careful to not ride on the tramlines.
Hand signals are a must for both your safety and that of the rider behind you.
Purchase a cycle with a good braking system.
Be aware of your surroundings.
You can follow all updates on CNG's upcoming events at their Facebook and Instagram handles.