Naureen Shaikh was just another student of the International Institute of Hotel Management (IIHM). A culinary dream led her to compete with 3,000 students from IIHMs across India to represent the country at the 9th IIHM Young Chef Olympiad (YCO).
Naureen won the bronze, becoming the first woman to get a trophy for India at the YCO. Patiphon Lertsurakitti from Thailand was awarded the silver medal, while Emil Zeynalzade received the gold medal and imprinted Azerbaijan's name in culinary history. The closing ceremony of the tournament was held on February 4 at Wet O Wild in Kolkata.
Naureen got the loudest cheers for representing the host country, and made India proud with her Herb-Centred Prawn Roulade with Seafood and Red Lentil Sauce, King Prawn Cafe de Paris Butter with Coconut Cream Risotto, Avocado Cream, Artichoke Salad and a savoury tuile biscuit. "It was a surreal experience, and nothing makes me more proud than representing my country. My mentor always says, 'Hard work will never go in vain', and this win is a testament to that. I feel very grateful to have been given this chance," she said.
Emil had the biggest smile when he realised he would be bringing the giant gold trophy home to Azerbaijan. "I feel overwhelmed and it is very difficult to express how I feel. I want to express my gratitude to my country, to India, and everyone who supported me. This was a magnificent manifestation of friendship," said Zeynalzade, who prepared Prawn Mozaic with Avocado Pineapple Chimichurri, Red Lentil Couscous Kofta, Aromatic Coconut Pilaf & Bisque sauce and turned asparagus.
Silver medallist Patiphon Lertsurakitti got to the podium with his winning recipes for seared prawns, deep-fried prawn-lentil ginger ball, pineapple with fennel puree, turmeric couscous with a prawn bisque sauce. "I am really happy and owe my success to my team from Thailand and my mentor. Kolkata has been amazing," he said.
The spirit of the competition was summed up by an incident shared by Suborno Bose, founder and chairman, IIHM. "The student from Iran didn't have a mentor, so the representative from Armenia volunteered to mentor him. This is just one story from this year's competition, and there are hundreds of similar ones. For YCO, the spirit has always been more important than the cooking," he said.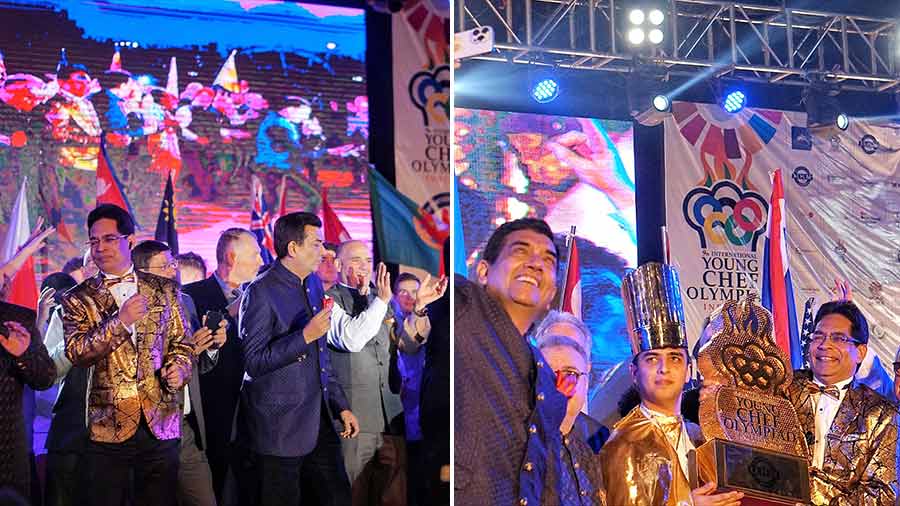 Sanjeev Kapoor and Dr. Suborno Bose with the winners
Soumyajit Dey
This idea was reinforced in how the stage had representatives from all 53 participating countries with their national flags, and the audience had people donning traditional clothing from their respective cultures. It was an exchange of cuisines and cultures.
The Plate Trophy, which was a separate category for countries ranking from 11 to 20, was clinched by Matthew Albert Looram
Soumyajit Dey
The closing ceremony doubled up as an awards night, and the scale of the competition was reflected in how there were over 50 awards and a cumulative cash prize of more than $10,000 up for grabs.
Prof. David Foskett, chairman, International Hospitality Council (IHC) was all smiles, having worked tirelessly to put together the competition. "Over the course of this tournament, we have built bridges through food and become both teachers and students for each other. The students here will break barriers and be the future of hospitality," he said.
The event also hosted British Deputy High Commissioner in Kolkata, Nick Low, who was the judge at the Great British Taste Challenge (one of the categories at YCO). "These students are our hope to achieve sustainable development goals, environment conservation and the elimination of poverty," he said.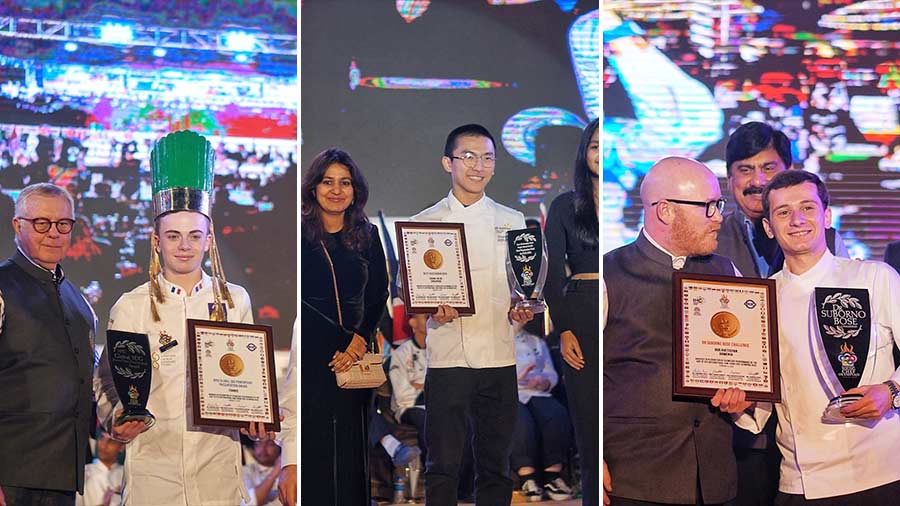 Some of the key awards of the night were (L-R) APIU Global Sustainability PowerPoint Presentation Award (Quentin Marie Dufournet from France), Late Shakuntala Devi Award for Best Vegetarian Dish (Chong Jia De from Singapore) and Dr. Suborno Bose Challenge (Gor Avetisyan from Armenia)
Soumyajit Dey
But all eyes were on celebrity chef and principal mentor, Padma Shri Sanjeev Kapoor. "This night is a fantastic culmination of everything we've seen so far. When Dr. Bose started YCO, people felt that a global competition of this scale in Kolkata was madness, but you can see how he proved everyone wrong. YCO takes the lead on what the world adopts later, and I can confidently say that the time for India on the global stage has begun," he said.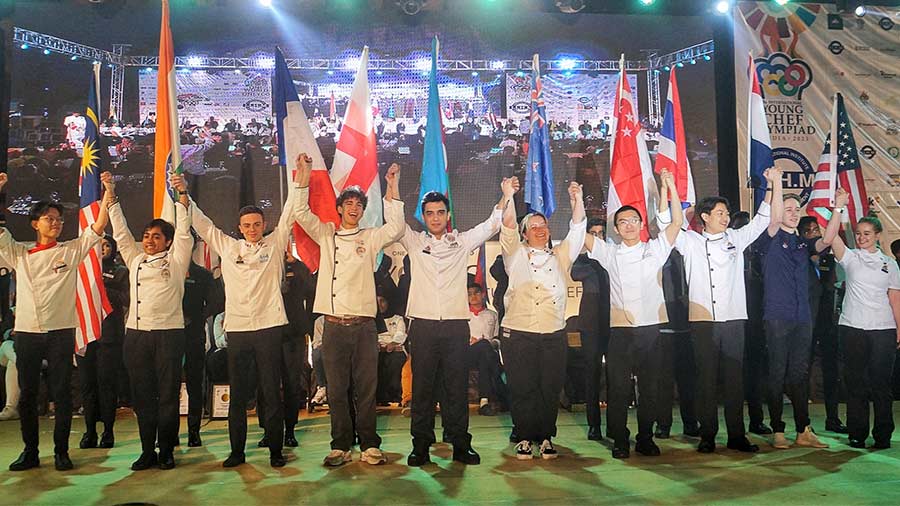 The spirit of unity was emphasised as all the young chefs marched with their flags on the stage
Soumyajit Dey
His words were echoed by the winners, who raved about the hospitality India and IIHM had shown towards them over the course of the competition.
Bose affirmed that the event was all about the spirit of friendship. "This night has been an ode to the world of culinary hospitality, with judges and participants from around the world, from Armenia to Zimbabwe. You all symbolise the world as one big family. Our work for the grand 10th edition of YCO starts tonight itself," he signed off.