Kolkata has made it to the list of iconic food website Eater.com's list of the world's best food cities to explore in 2023. Titled 'Where to Eat in 2023', the Eater list takes in destinations as diverse as Albuquerque and Ho Chi Minh City and, of course, our beloved Kolkata.
"We're taking our time traveling this year," Eater.com said in an Instagram post, "After a fitful 2022, when a wave of pent-up wanderlust crashed over hot destinations, 2023 seems like a chance to give up revenge travel and reset. That means leisurely exploring with no set plan, to-do list be damned. In picking 2023's dining destinations, we thought not just about hit lists and must-try dishes (although those are important, too), but also the aspects of meals that make them feel immersive: the people, environment, culture, and history behind foods that force us to pause and tempt us from pre-planned paths…These 11 destinations encourage us to not just stuff ourselves until we're full, but to eat, drink, and travel fully."
Eater's deep-dive piece on Kolkata by food writer Priyadarshini Chatterjee — 'The 31 Essential Kolkata Restaurants' — takes in everything from iconic sweet shops to pice hotels, heritage and contemporary fine-dining restaurants, and hole-in-the-wall joints with their devoted clientele. Given Kolkata's rich culinary heritage, which continues to thrive with each passing day, it is only apt that an event of the scale of the Young Chef Olympiad — which brings budding chefs from over 50 countries together on one platform — was conceived in Kolkata and continues to be held here with great success year after year. 
While YCO 2023 kicked off with a grand opening ceremony and congress on Sustainability in Tourism and Hospitality in New Delhi on January 29, the action subsequently moved to IIHM's campuses across India. Budding young chefs from 53 countries were participating in the Olympiad this time and were accompanied by their mentors for the course of the Olympiad. After Round 1 of the competition, for the grand finale and closing ceremony, all the participants gathered on IIHM's Global Campus in Kolkata, where one of the key events to look forward to was the United World of Young Chefs.
Suborno Bose, chairman, IIHM, who conceptualised the Young Chef Olympiad and continues to steer it with rare acumen and panache, congratulated the city of Kolkata and all the eateries of Kolkata for making it to the influential Eater.com list. "We celebrated the recognition Kolkata has received with the United World of Young Chefs on February 1. In the event, participants from 53 countries cooked their national dishes and also replicated some of the dishes of these iconic Kolkata eateries."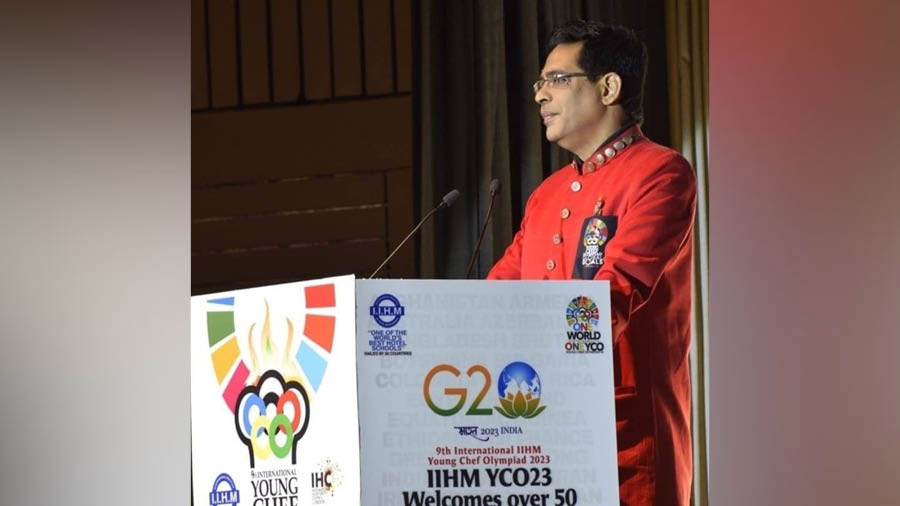 Suborno Bose, chairman, IIHM
The United World of Young Chefs, which took place on the evening of February 1, was a non-competitive event that exemplifies the Indian concept of vasudhaiva kutumbakam or 'the world is one family'. The IIHM campus wore a festive look and the event was a sight to behold. Each of the budding chefs from the 53 countries had done their nation proud by presenting their national dish for the guests that evening. Dressed up in all the finery of their national dress and standing behind the counter where their dish was placed, the young chefs looked proud of themselves.
Ahmad Ben Hisham Joma' Thaher from Jordan had prepared Musakhan Rolls. Amy Christina Fox Martin, who was representing South Africa, had rustled up a delicious Lamb and Tomato Bredie, the iconic South African stew, served with Thyme Sorghum. Adérito Lamoza Carvalho from Portugal was proud of his Carne De Porco A Portuguesa. Kalina Yordanova, who was representing Switzerland, had presented a heartwarming Swiss fondue made with Gruyere and Emmental cheese. John Michael Kochev from Scotland had come with a poshed up and exotic version of Crispy Haggis Cake, Arran Mustard Mash & Whisky Broth.
Other lip-smacking dishes that could be sampled at the United World of Young Chefs included the iconic Singapore Chicken Rice, Nokshi Pitha from Bangladesh, Namibian Bobotie with Yellow Rice and Tomato Sambal, and Gheyme Nesar from Iran. Of course, there were many, many more dishes on offer. India was well represented by the classic Bengali combo of Bhetki Paturi, Moong Mohan Dal, Aloo Jhuri Bhaja and Ghee Rice.
"It's an emotional moment to see these rising chefs from so many countries coming together under one umbrella and sharing their glorious culinary heritage with each other. I am now confident that the future of the world is in able hands — and they can cook a fine meal as well," Bose said.
On February 3, 2023, in a nail-biting finish, the top 10 finalists of YCO 2023 had been selected in the grand finale held on the IIHM Global Campus in Sector V, Salt Lake, Kolkata. The top 10 finalists were Azerbaijan, England, France, India, Malaysia, Netherlands, New Zealand, Singapore, Thailand and the USA.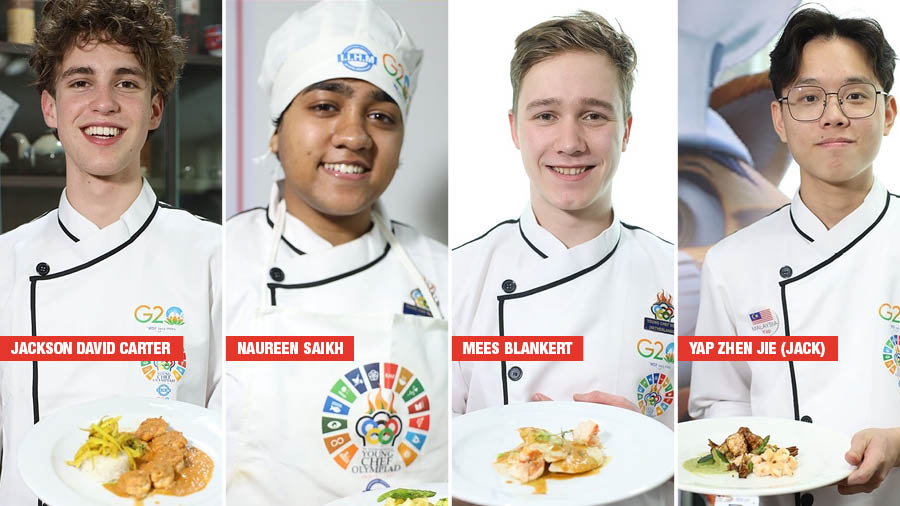 Some of the finalists of YCO 2023
The closing ceremony on February 4, held at Wet-O-Wild, Nicco Park, was a massive, grand and star-studded event, symbolising the unputdownable spirit of the students, mentors, judges and all those associated in making #YCO2023 a huge success. And, of course, the spirit of Kolkata. At the grand closing ceremony, all the 53 participating countries — young chefs and their mentors — who had travelled across the world to participate in YCO were called on stage and introduced to the audience. This was probably the biggest such congregation of young chefs anywhere in the world.
A high point of the closing ceremony was the presence of celebrity chef Sanjeev Kapoor, who is the chief mentor of the Young Chef Olympiad. With his sweet smile, poise and charisma, he charmed the audience.
Finally, the moment everyone had been waiting for arrived and the Top 3 Winners of YCO 2023 were announced to much fanfare and applause. Naureen Shaikh from India won bronze and a cash prize of US$ 2,000. Patiphon Lertsurakitti of Thailand won silver and a cash prize of US$ 3,000. Emil Zeynalzade of Azerbaijan walked away with the top prize — the coveted gold trophy and a cash prize of US$ 5,000.
Ashraf Shikhaliyev, ambassador of Azerbaijan to India, who had especially flown in from New Delhi to attend the closing ceremony, was delighted with Azerbaijan's win and wished the young chef from Azerbaijan all the best for his career.
That it all happened in Kolkata, the undisputed culinary capital of India — and now on the world culinary map — was just the icing on the cake.