The gates of Hell have opened and the ghosts are out to dine on the feast laid out in front of their horseshoe-shaped graves. It is the Chinese Hungry Ghost Festival, celebrated on a full moon day — usually the 14th or 15th day of the seventh month of the Chinese calendar.
It is believed that during Ghost Month, the gates of hell open and ghosts make their way to earth looking for food and entertainment. According to Chinese belief, the ghosts who visit at this time, are the ancestors of those who forgot to pay tribute to them after they died.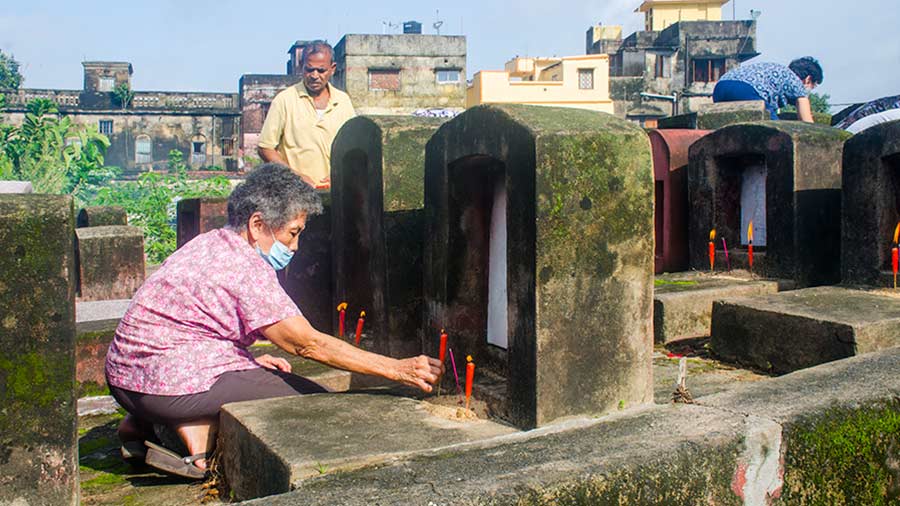 Kolkata's Chinese community celebrates the day in the city's cemeteries on the Sunday closest to the festival
Like the Tomb Sweeping Festival celebrated in March, the Hungry Ghost Festival is celebrated in the community's cemeteries, where a large spread of food is laid down in front of the graves. There are no holidays to celebrate the festival in India, but Kolkata's Chinese community celebrates the day on the closest Sunday. This year, the festival was spread over a few Sundays, with different clans celebrating it on different days.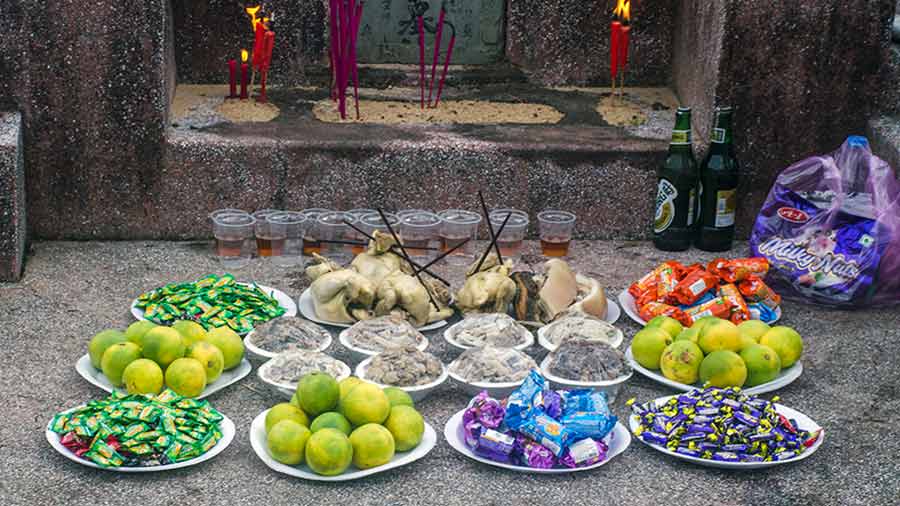 A feast of fruits, cadies, wine, meat and other food laid in front of a grave
The celebrations begin at about 8am and continue for a couple of hours. An elaborate spread, usually consisting of exotic fruits and nuts, wine and beer, candies, boiled vegetables, meat and fish is laid out in front of the graves. Large red candles and incense sticks are lit. The practices also include the burning of 'ghost money,' which is joss paper or incense paper. Though this is not actual money, according to Chinese beliefs, burning these notes is the only way of sending money to their ancestors. The festival ends with the distribution of money for good luck, usually given to local children, who often spend a trying day cleaning the graves.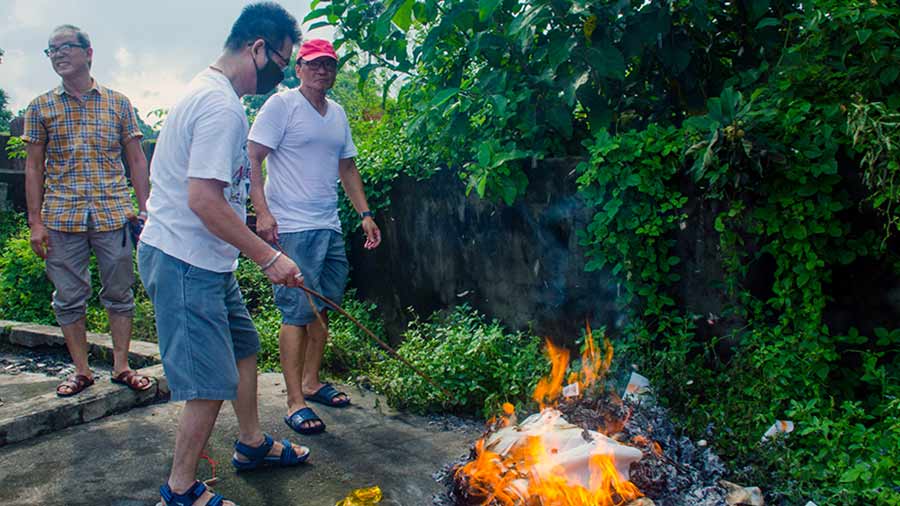 The burning of ghost money or joss paper
This year, the Chinese Ghost Festival was held on August 12 around the world. Kolkata Chinese clans like Lee, Tseng and few others decided to celebrate the festival on August 20 at the Choong Ye Thong Cemetery near Tangra. With the monsoon showers setting in, the low-lying cemetery was flooded with portions of many graves under water and many others covered with thick undergrowth making them inaccessible. It is usually the local neighbourhood kids who help clear the vegetation and clean the graves.
Choong Ye Thong Cemetery, near Tangra, during the Hungry Ghost Festival
Rangan Datta is a mathematics and management teacher by profession and a travel writer and photographer by passion. He has been addicted to discovering off-beat places since his undergraduate days at St. Xavier's College. Blogging and contributing to Wikipedia are his other passions.