In the southern hemisphere, March 23 is considered as the spring (vernal) equinox — the day marking the end of the winter and the beginning of spring. Fifteen days after the spring equinox, Chinese people across the world visit cemeteries to sweep fallen leaves from the tombs of their family members. Known as Qingming, or Tomb-Sweeping Day, it is celebrated by the Han Chinese of mainland China, Hong Kong, Macau and Taiwan, along with Chinese immigrants all over the world.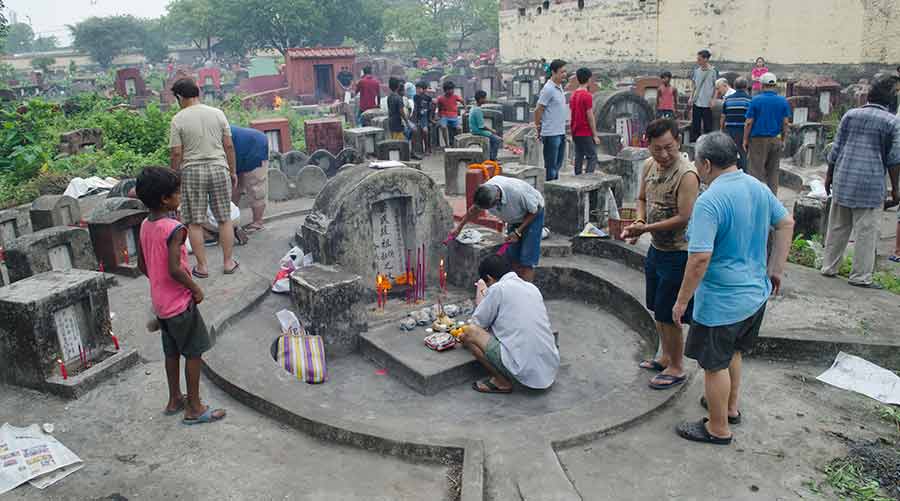 Qingming being observed at Choong Ye Thong Cemetery
Courtesy: Rangan Datta
The festival dates back over 2,500 years, but the present celebration of Qingming is credited to Emperor Xuanzong, a Ming dynasty ruler of 8th century CE. At that time, wealthy citizens of China were reportedly holding too many extravagant and expensive ceremonies to honour their ancestors. Emperor Xuanzong sought to curb this practice by declaring that such ceremonies should be formally held only once a year, on Qingming.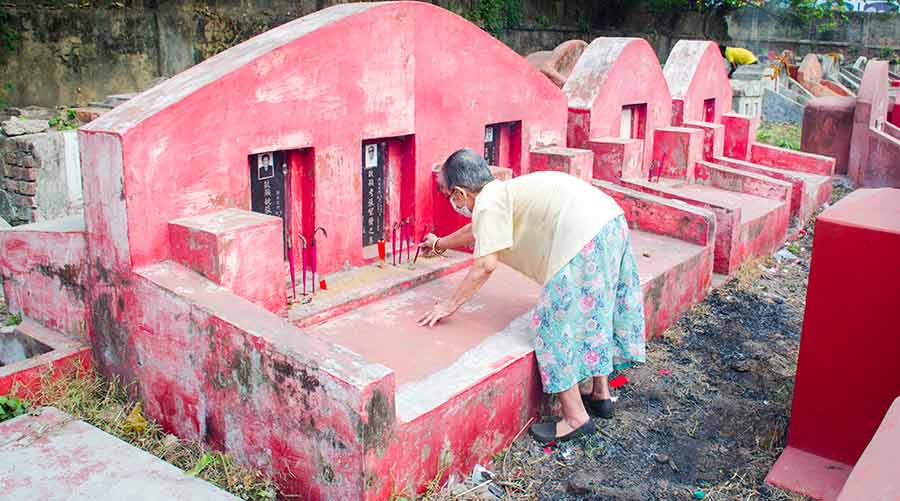 A woman places incense sticks on a tomb in Nam Soon Cemetery
Courtesy: Rangan Datta
Today, apart from the Qingming festival, the Chinese also pay tribute to their dead during the Hungry Ghost Festival or Zhongyuan Festival, held in late August or early September. On both these days, the Chinese honour their ancestors by cleaning their tombs and laying out food in front of the graves. It can be considered the Chinese version of All Souls' Day.
Today, there are about 2,000-odd people of Chinese ethnicity who consider Kolkata their home, and still celebrate both these festivals. Qingming generally falls on April 4 or 5 (April 5 in 2022), and since it is not an official holiday in India, Kolkata's Chinese community shifts the celebrations to the nearest Sunday (April 3 this year).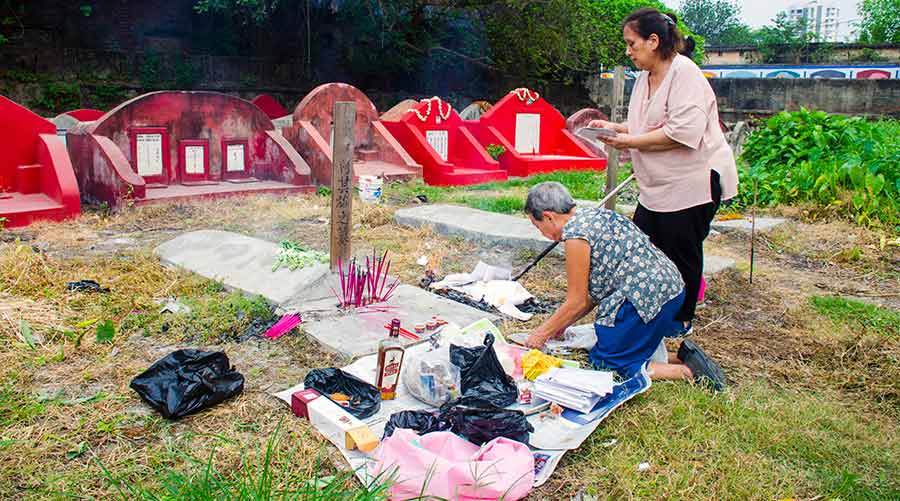 Rituals at Nam Soon Cemetery
Courtesy: Rangan Datta
The festivities take place in Tangra, which houses six Chinese cemeteries. Choong Ye Thong Cemetery is the largest and grandest, and is the centre of attraction on Tomb-Sweeping Day. The Nam Soon Cemetery also has its charms and a handful of people carry out the rituals in this small but elegant cemetery.
An elaborate food spread is laid in front of the graves. The spread usually consists of exotic fruits and nuts, wine and beer, candies, boiled vegetables, meat and fish. The rituals continue with the chants from holy Chinese texts, occasionally interrupted by the burst of fire crackers.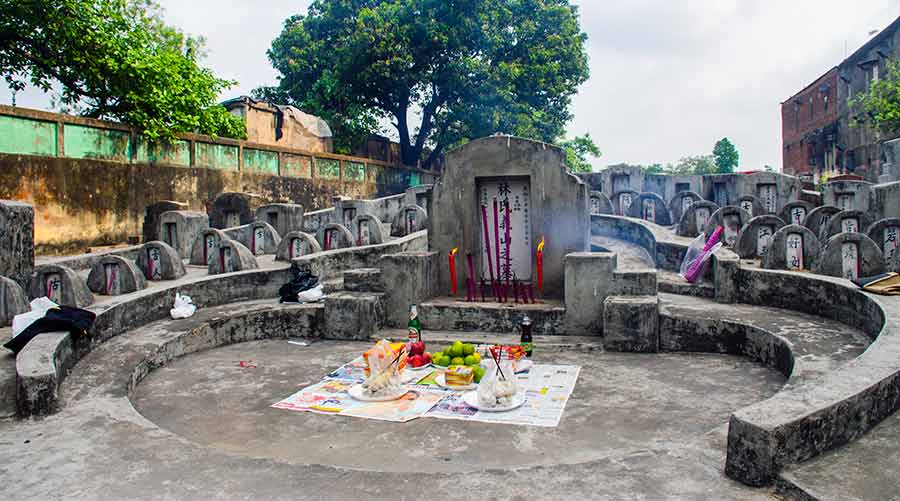 Food and drinks laid in front of a tomb at Choong Ye Thong Cemetery
Courtesy: Rangan Datta
The practices also include the burning of 'ghost money' or joss paper. Though this is not actual money, according to Chinese beliefs, burning these notes is the only way of sending money to their ancestors.
The festival ends with distributing money to local street children, who clean up the graves. These children also provide a helping hand in carrying out the rituals during the Hungry Ghost Festival. They are also given some of the food, with the remainder going back to the respective families.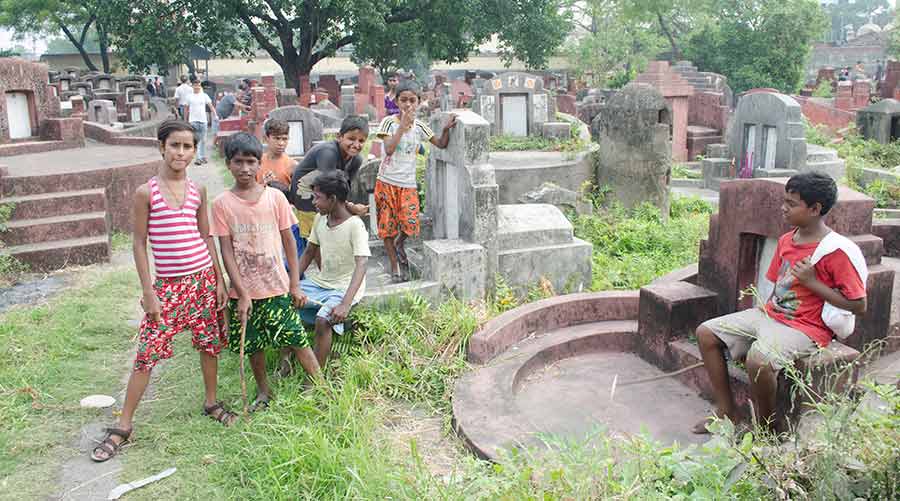 Local children provide a helping hand in carrying out the rituals
Courtesy: Rangan Datta
Rangan Datta is a mathematics and management teacher by profession and a travel writer and photographer by passion. He has been addicted to discovering off-beat places since his undergraduate days at St. Xavier's College. Blogging and contributing to Wikipedia are his other passions.