Art & Flea Project's flagship pop-up, Noboborsho Edit, is being held on April 2 and 3 at the Ganges Art Gallery (33A, Jatin Das Road). Much like their curations, the brands featured in this pop-up are sustainable and conscious, bringing together the joy of fashion and the process of sustainability. 
Art and Flea Project is a women-led sustainability forum founded by three friends, Disha Das, Sreenanda Ganguli and Sayanika Mukherjee in 2019. Their aim is to create an alternate marketplace to achieve their vision of a more sustainable and low-carbon future. 
"Art & Flea Project was conceived as a chance to change. It's an alternative space where art and artists take the centre stage in driving a new wave of conscious consumerism," shared Disha.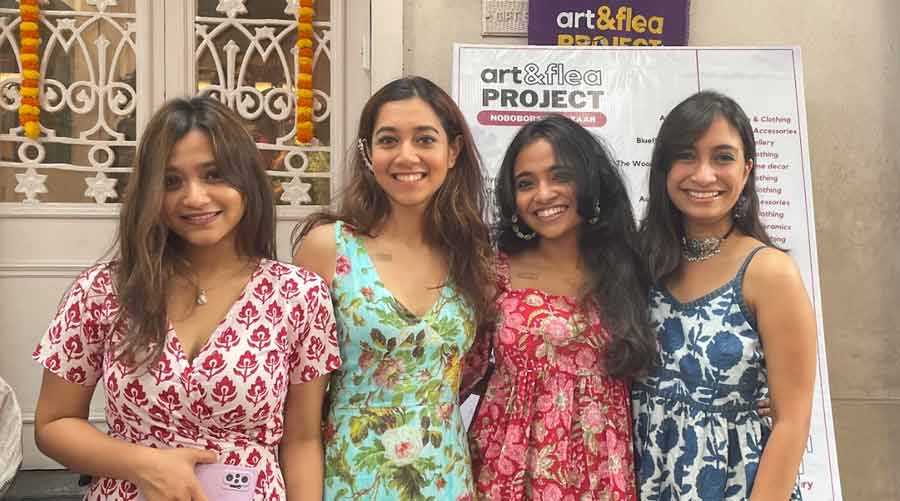 (L-R) Sreenanda Ganguli, Disha Das, Sanandita Ghanty (a member of the curation team) and Sayanika Mukherjee
They have hosted pop-ups in Kolkata, Bengaluru and Mumbai, curating brands and giving them a platform to connect with their buyers. 
"It's amazing to see how people of all ages are taking to our project. And in many ways, the concept of sustainability is deep-rooted in Indian families — from wearing hand-me -downs, reusing one object in many ways to upcycling saris and much more," said Sreenanda. 
The Noboborsho Edit is no different. With 30 brands taking centrestage at this pop-up, it is a riot of colours, ideas and more importantly, a conversation starter on fashion that is sustainable. 
"It's wonderful to be able to give emerging artists and entrepreneurs a chance to build something and sustain it. Art & Flea Project wants to be that stepping stone," shared Sayanika. 
My Kolkata spent Saturday afternoon interacting with the brands and entrepreneurs who showcased their products at the pop-up. Here is a rundown of some of them…
Viva La Vida by MSD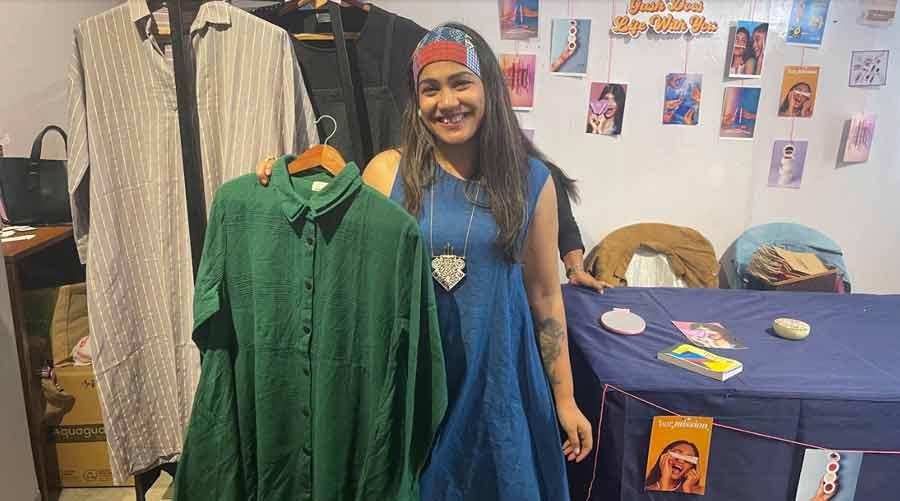 Mamata Sharma Das with one of her creations, a green textured shirt dress
Spearheaded by social media influencer Mamata Sharma Das, Viva La Vida showcases pieces made from surplus textiles from export houses. Featuring mostly monotone colour pieces, this brand brings the concept of the anti-fit silhouettes to the pop-up. 
"I realised that there is a very small market for brands who make one size only. I wanted to create an affordable, ethical and sustainable brand that is size-inclusive while being quirky," said Mamta.
AURA Creation by Shreya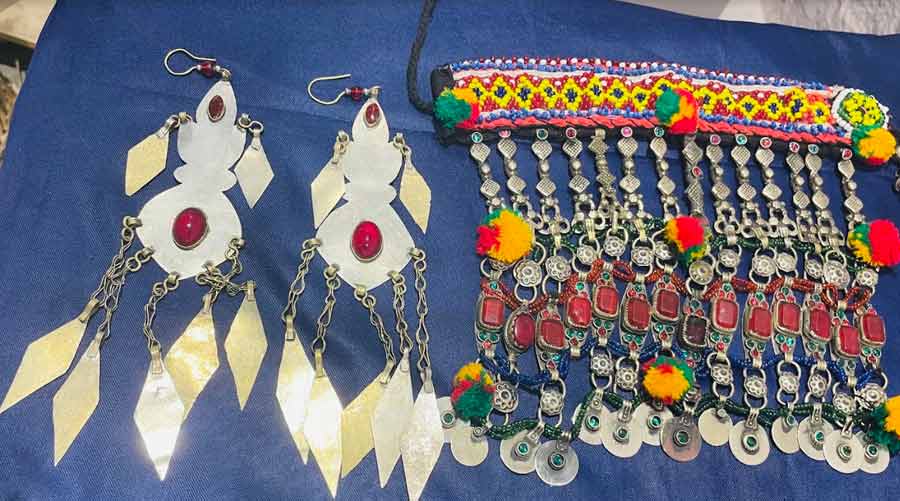 Shoulder-duster metal earrings and a vibrant cloth-and-metal Afghan choker
One of the things that caught our eye was the dazzling table of Afghan jewellery by AURA Creation. Sourcing these pieces from Afghanistan itself, Shreya Chakraborty curates these one-of-a-kind pieces that will make any outfit dazzle. 
"We keep pieces that are absolutely defect-free. However, nowadays, many people love the vintage heirloom look of Afghan jewellery with their unique chips and cracks, which make them look quirky," shared Shreya.
AforArch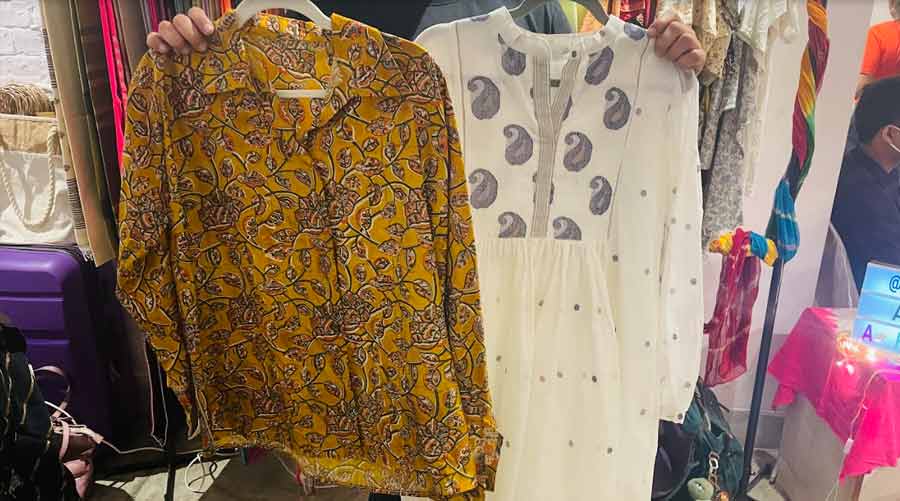 A printed silk shirt upcycled from a sari and (right) a top made with a blue and white jamdani fabric
If you love indigenous fabrics but want a piece that is modern and chic, AforArch is the brand for you. Run by brother-sister duo Utansa and Aditya Mansata, they take old saris and fabrics and upcycles them into easy-breezy pieces one can style effortlessly. 
"We love the Indian aesthetic and wanted to make it more modern and contemporary, and more wearable in everyday life. It helps us make fabrics that are deep-rooted in our culture more accessible to the youth," shared Utansa. 
Bluefly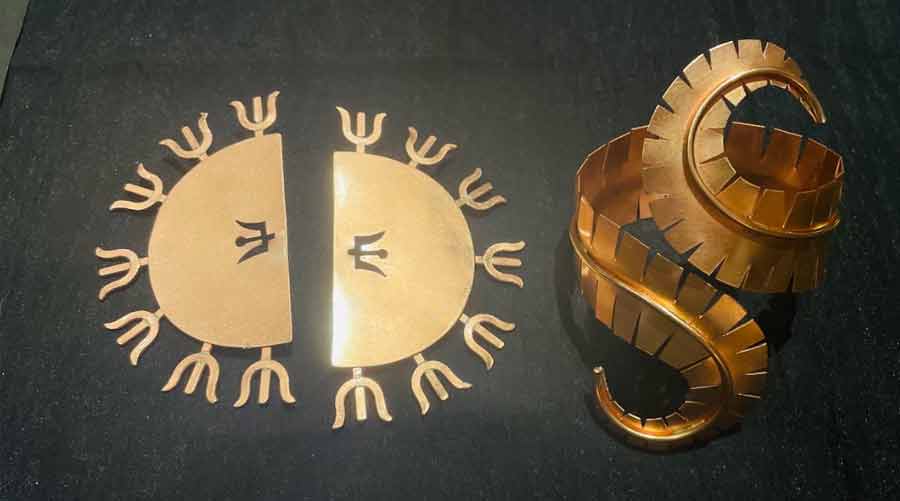 Half-moon Trishul earrings and a structured hand-cuff made from copper
This jewellery brand is unlike any you've seen before. Working with brass and copper, Mahuya Acharjya designs jewellery that are showstoppers and versatile. 
"Bluefly started from my love for jewellery. When I was in second year of college, I realised that I wasn't getting the kind of pieces I wanted to wear myself, so I started my own brand. I get most of my inspiration from nature and things around me. My karigars help bring my vision to life," said Mahuya. 
Womaniya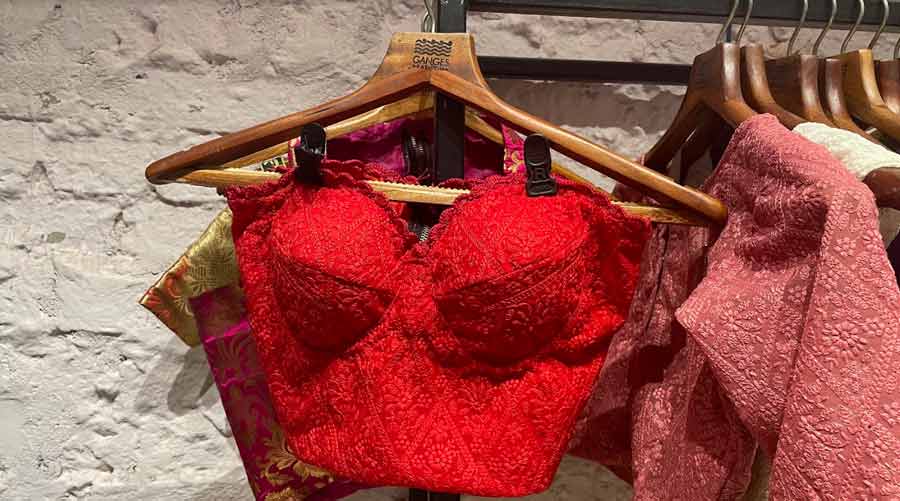 A bright red corset-style blouse made from chikankari with crochet detailing
Shoukhina Das' brand creates handcrafted blouses from fabrics like ajrak and chikankari. But what caught our eye was a corset-style blouse that doubles up effortlessly as a top. 
"I was looking for reasonably priced handcrafted blouses, which led me to start my own brand. If people can wear tops as blouses, I thought why not make blouses that could double up as tops as well," said Das. 
Nandika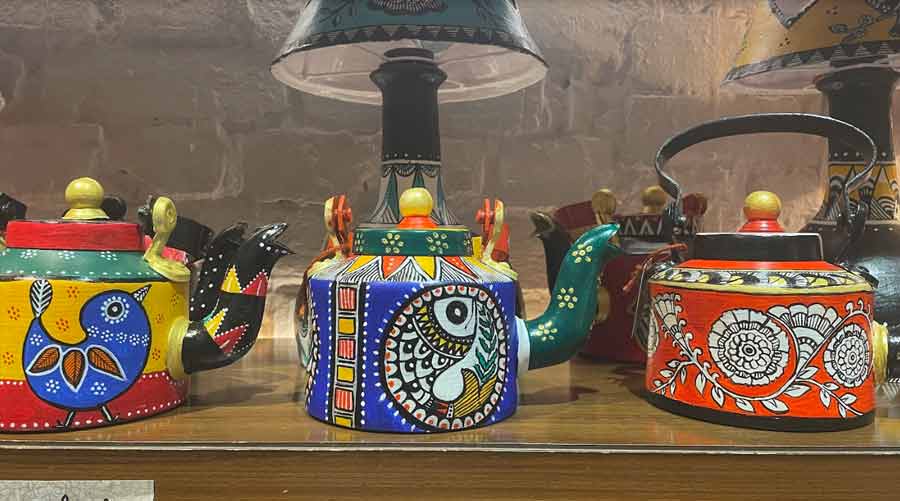 Quirky hand-painted kettles
Started as a lockdown project by sisters Chandrima and Sangeeta Roy, this brand focusses on Indian artforms like patachitra and warli. With home decor items like coasters and lamps, all the painting is done by hand by the sisters. 
"We've always loved painting and art. We have kept the Indian aesthetic and style in mind while creating our pieces," shared Chandrima.