• A cover of Coffee House-er sei adda... from a stall on the left
• A performance by a baul troupe at a state government pavilion on the right
•  An announcement from another stall about an impromptu interaction between an author and readers
In keeping with tradition, the International Kolkata Book Fair was a mix of music, noise, books and fish fry, when The Telegraph visited Central Park on Thursday afternoon.
The city's annual tryst with books and more was scrapped last year because of the pandemic.
On Thursday afternoon, the cacophony of music, non-stop announcements and the aroma of fries were all parts of a sensory overdose.
With maps of the fair laid out in front, some visitors were trying to figure out the next stop. Many others sat on the gallery stairs, sipping tea and soft drinks and looking drained. Book lovers went about their business, undeterred.
Subhra Ghosh, a homemaker from Belghoria, had come with her husband and daughter. Her right arm was tied in a sling, insulation against a "damaged nerve".
Daughter Saindhabi, a student of IISER, had a backpack full of books. Ditto for husband Chanchal, a graphic designer.
Saindhabi's buys included Sei Somoy by Sunil Gangopadhyay and Sambo by Kalkut. "I was supposed to return to my hostel today. But I postponed it because I did not want to miss the fair," she said.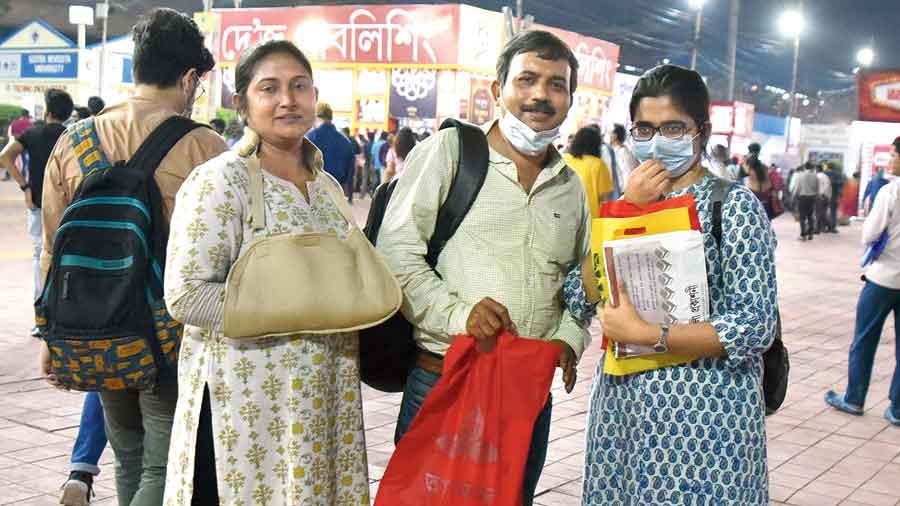 Homemaker Subhra Ghosh, husband Chanchal and daughter Saindhabi
Gautam Bose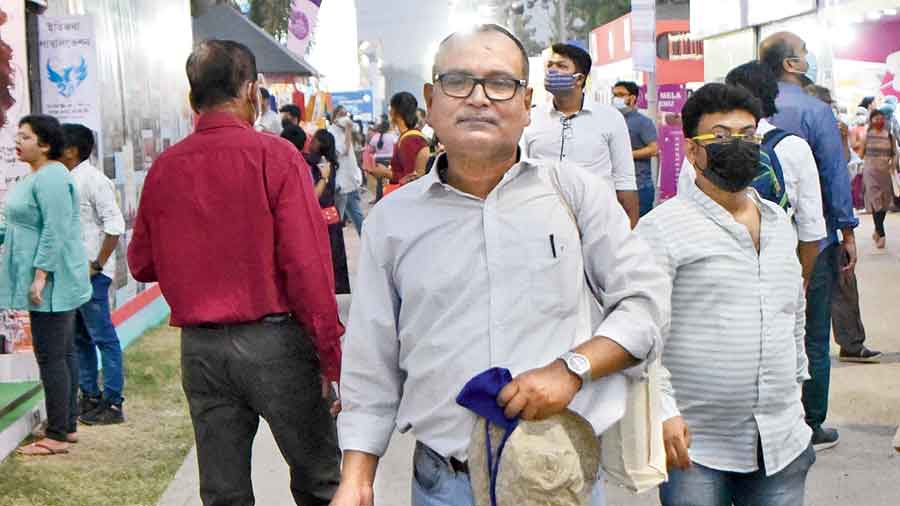 Kalyan Das with his trolley bag full of books at the fair
Gautam Bose
Kalyan Das, a retired bank employee, walked with a trolley bag stacked with books. The resident of Liluah is researching Howrah's history. He focuses on "tidbits" of history that often go unnoticed, like the "history or pattern" behind the naming of villages.
"Readers are no longer dependent on the Book Fair, or a library, for access to books. Almost everything is available online. Everything but an organic connection with books. That is the essence of this Book Fair," said the author of multiple books on Howrah.
The fair has 600 stalls and another 200 dedicated to publishers of little magazines, according to the organisers, Publishers and Booksellers Guild.
Sudhangshu Sekhar Dey, president of the guild, said the volume of business the fortnightly fair generates has been over Rs 15 crore over the past few years. "In 2020, the volume was around Rs 17 crore," he said.
"Most of the visitors are buying books. Not that the stalls selling food, bags and other items are not busy, but books are the main draw," said Dey.
Many publishers, however, said the fair had been more about visibility than profit since it shifted from the Maidan. "Putting up this stall cost me around Rs 50,000. At the end, I might just break even,"said Sarup Dutta, proprietor of Agami, a publishing house.
On Thursday evening, the food zone seemed more crowded than many book stalls. At the stall of the State Fisheries Development Corporation, fish fry and butter fry coupons sold fast. The mutton galouti rolls at the stall of Royal of Chitpore also had many takers.