Young couple assaulted, girl raped in Jamshedpur
A 17-year-old girl was raped by two men who beat up her fiancé in Sonari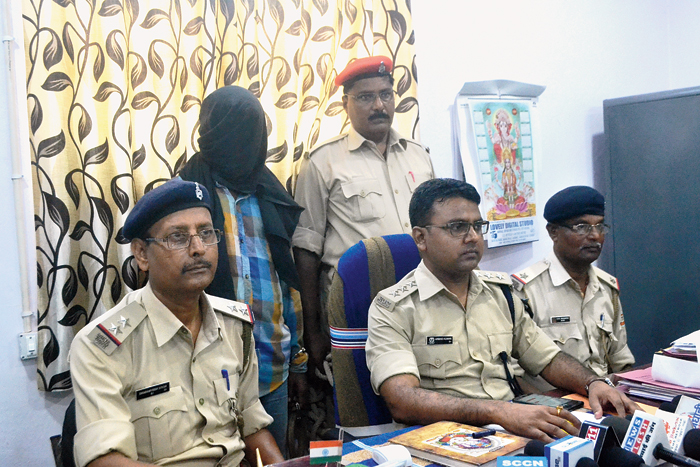 ---
---
A 17-year-old girl was raped by two men who beat up her fiancé in Sonari on Monday, it was revealed on Friday when police publicised the arrest of one of the accused.
The incident bears uncanny similarities with the one last month in which armed men abducted and gang-raped another 17-year-old girl who was out on a late evening joy ride with her male friend on the Dobo-Kanderbera Road 16km from the steel city.
Revealing about the latest incident, deputy superintendent of police (headquarters-II) Arvind Kumar said the girl was sitting with her fiancé at a secluded place behind the Mauni Baba temple in Sonari around 8pm on Monday, September 16.
Two men passing through the area on foot assaulted the boyfriend, who is around 21 years old, and one of the criminals dragged the girl away to a jungle patch nearby while the other pinned down the fiancé. The two men took turns to rape the girl while the other kept the fiancé hostage. Both the girl and her fiancé were badly injured.
The girl lodged an FIR with the Sonari police the next morning.
Given the seriousness of the crime, Jamshedpur senior superintendent of police Anoop Birtharay set up a team to crack the case.
"Though the two men who raped the girl were completely unknown to the victim and her fiancé, the team succeeded in tracing the culprits within days. We have already arrested one of the rapists, Sunny Tandi. The other one, Amit, will be arrested soon," DSP Kumar said at a news meet on Friday.
The arrested man was identified as Sunny Tandi, 30, a resident of Road No. 7 in Ram Nagar, Kadma. The other accused, Amit Giri, 35, also a resident of Ram Nagar, is absconding.
DSP Kumar said it was a challenging case to crack because there were no clues, and no CCTV camera near where the incident occurred.
"In the absence of any clue to the criminals involved in the case, we started picking up suspects randomly and interrogated them thoroughly," he said. "We could crack the case only after interrogating more than a dozen suspects. After zeroing in on Sunny, we brought the culprit before the girl as well as her fiancé. Both of them identified him. Later, Sunny also confessed and revealed about his friend Amit's involvement."
He said police are raiding the other accused's house continuously.