Woes for cracker sellers in Ranchi
The Met department predicted heavy rain for the next two days due to the impact of low pressure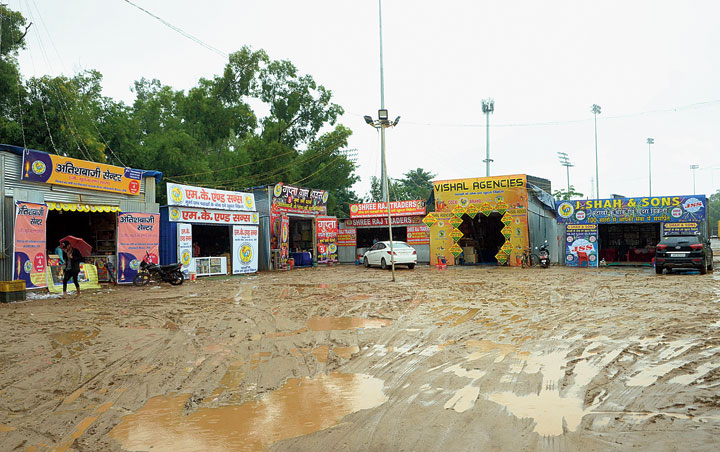 The deserted makeshift firecracker market at Morabadi ground in Ranchi on Thursday
Prashant Mitra
---
Ranchi
|
Published 24.10.19, 07:34 PM
|
---
Constant rain in the capital over the past 24 hours has dampened the spirits of firecracker sellers with their business badly affected.
Around 130 shopkeepers who got temporary licences from the district administration to set up their stalls at designated spots said they are staring at losses.
The Ranchi district has administration notified seven clusters — Morabadi ground, Harmu ground, Jaipal Singh Stadium, Shastri ground in Chutia, Bariatu Housing Colony, Kaju Bagan on Ratu Road and PHD ground in Hinoo — where shopkeepers with valid licences can set up stalls to sell firecrackers for Diwali.
On Morabadi ground, sale was permitted from October 21 till October 27. On Harmu ground, shopkeepers can sell crackers on October 26 and 27. At remaining five clusters sale is permitted from October 24 to 27.
"Last year we had huge business even though the Supreme Court had put some restrictions regarding timing when people can burst crackers," said Manoj Kumar, who could not set up his shop at Jaipal Singh Stadium due to rain.
"Our business depends upon good weather. Bad weather means our business is going to suffer. We have to take extra effort to protect firecrackers from water and moisture. If the rain continues till Diwali, there will be low sale of crackers."
Nadim Hassan, who has set up shop on Morabadi ground, said the actual sales start four days before the festival.
So far, nine temporary shops have been set up at one corner of the ground.
'There are pre and post Diwali celebrations when people purchase crackers. But rain has dampened our mood. Expecting good business I invested my savings. I am very unsure whether I will make any profit," said Hassan.
The shopkeepers were all praying for good weather at least on the day of Diwali.
The Met department on Wednesday predicted heavy rain for the next two days due to the impact of low pressure. The department also predicted that the impact is expected to wane from October 26, the day before Diwali.
"For the past five days hardly a handful of customers came to Morabadi ground," said Jamal Shah, president of Chhotanagpur Fireworks Dealers Association. "This makeshift market place bears a deserted look as customers are not coming for purchase due to heavy rain. If the weather improves by October 26, we will have less than 24 hours for sale. We are just praying for pleasant weather."