Withdrawal of Pathalgadi cases: Hemant Soren approves home department's resolution
The government deployed forces to suppress the movement with villagers alleging that they were subjected to 'police brutality' and 'state's repression'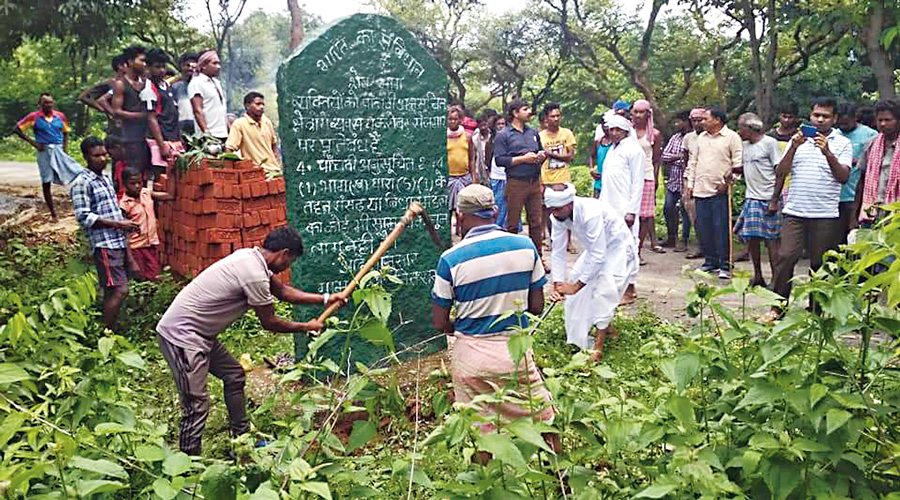 A view of stepping stones (pathalgari) at village Arki in Khunti.
Manob Chowdhary
---
Jamshedpur
|
Published 28.03.21, 12:29 AM
|
---
Jharkhand chief minister Hemant Soren on Friday evening gave his nod to the state home department's resolution on withdrawal of pathalgadi cases lodged in different districts during the erstwhile Raghubar Das-led BJP government between 2017 and 2018.
The Munda Adivasis of Khunti district had in 2016-17 began erecting stone slabs in their villages inscribed with the provisions of Schedule V of the Constitution — excerpts from the Panchayats (Extension to Scheduled Areas) Act, 1996 — that grants special autonomy to tribal areas after the then BJP government tried to amend the age-old land laws (CNT-SPT Act). The erection of stone slabs (pathalgadi) was an age-old tribal tradition to demarcate ancestral lands by commemorating the contributions of ancestors. It came to be known as the "pathalgadi movement in 2017-18".
However, the BJP government perceived the movement to be "anti-development and anti-national". The government deployed paramilitary troops and police forces to suppress the movement with villagers alleging that they were subjected to "police brutality" and "state's repression".
The Soren government had in its first cabinet meeting after coming to power in December 2019 had announced withdrawal of all pathalgadi related cases lodged in different police stations.
The government will now send a requisition to the court to withdraw all such cases, many of which involved charges of sedition.
According to a communiqué issued by the chief minister's office on Friday at 8.50pm, three-tier committees were formed to look into the issue of withdrawal of cases registered in Seraikela-Kharsawan, Khunti and West Singhbhum led by deputy commissioners, head of the police (superintendent of police) and public prosecutors of the respective districts. A total of 23 such cases were registered in the police stations of these districts, it said.
However, the data does not match with the figures provided by the Jharkhand Janadhikar Manch, a social outfit, on the basis of an RTI application filed in January 2020. There a total of 30 cases (Khunti- 23, Seraikela-Kharsawan- 5 and West Singhbhum- 2), the Manch said.
The social outfit further said that out of the 30 cases pertaining to pathalgadi registered in different police stations, the sedition charge was invoked in 19. The government's reply to the outfit's RTI plea said that only one sedition case was recommended for withdrawal.