With no orders, Kolaghat Durga idol makers skip steel city visit
20-member team who would make the idols at Beldih Kalibari hope for two orders they may receive from Calcutta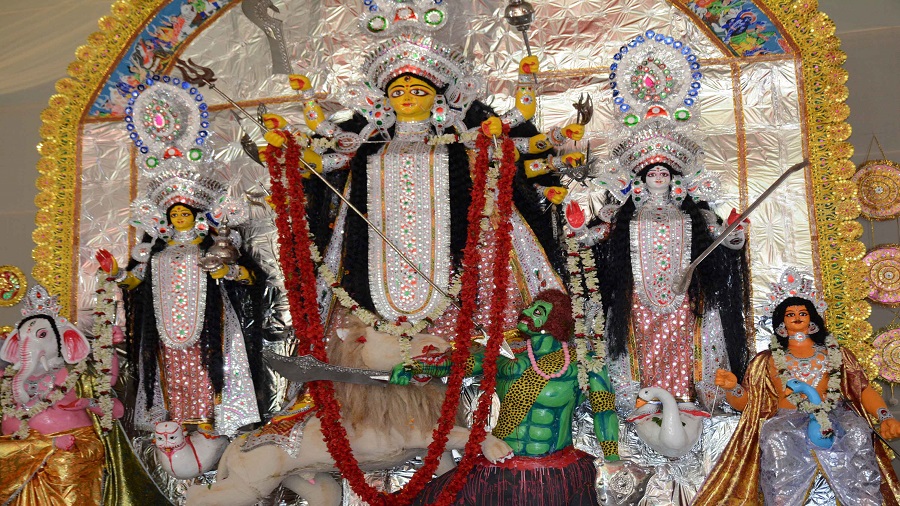 The Durga idol at Beldih Kalibari in Jamshedpur last year
Bhola Prasad
---
Jamshedpur
|
Published 27.08.20, 08:36 PM
|
---
With the Covid pandemic reducing Durga Puja to a low-key affair, artisans from Kolaghat in Bengal will not be coming to the steel city this time, as they have received no orders.
It is for the first time in over five decades that the artisans will not be coming to Jamshedpur.
"There is no reason to come to Jamshedpur since we have no orders to make idols. We feel disappointed but such is the situation," said chief artisan Ajay Chakravarty.
Speaking to The Telegraph Online on phone from Kolaghat, Chakravarty said that his late father Shaktipado Chakravarty started making Durga and Kali idols in the steel city idols in 1963.
"I started crafting idols from 1970 onwards. That time we used to make Durga idols at New Baradwari near Sakchi," he added.
Apart from the imposing Durga idol at Beldih Kalibari, the artisans from Kolaghat make idols for New Baradwari, Rajendranagar, Sonari, Telco, Bengal Club and Kadma.
Puja committees of these areas have not given any orders to Chakravarty, who works with a 20-member team.
Chakravarty rued missing the opportunity to make the idol for Beldih Kalibari.
"I had taken over the responsibility of drawing eyes of the goddess at Beldih Kalibari after my father passed away," he said, adding that he learnt the art of making eyes of the goddess from his father.
 "The eyes are a reflection of the soul. So, I always take special care to etch them on clay. Durga's eyes must reflect a mix of traditional beliefs and modern art," the master artisan explained.
According to him, they may make one or two idols for puja organisers in Calcutta.
"We are waiting for a word from organisers in Calcutta," Chakravarty said, adding that Covid has severely affected their income.
Meanwhile, the lack of usual excitement and has already made its presence felt in Jamshedpur.
Jamshedpur Durga Puja Kendriya Samity (JDPKS) and Purvi Singhbhum Central Durga Puja Samity (PSCDPS) have said the celebrations would be low-key this year.
There would be no big budget pandals and puja will take place in a simple manner with a few number of people.
The JDPKS has asked puja organisers to restrict the height of idols to 5ft while pandals will be simple and small.