Winter getaways for winged friends
Maithon dam, Topchanchi lake host migratory birds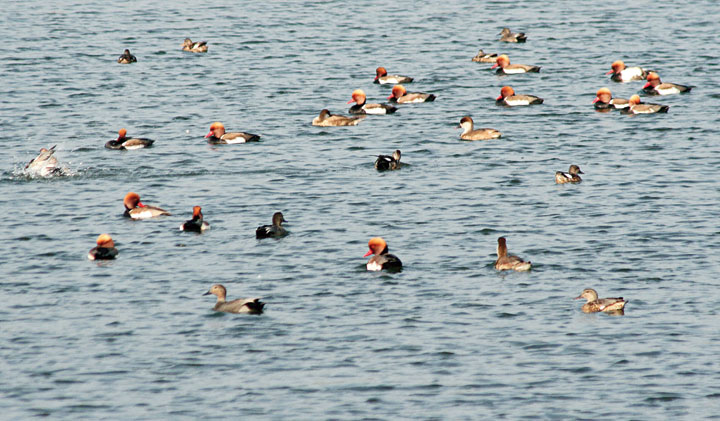 ---
|
Dhanbad
|
Published 13.01.20, 08:53 PM
---
Winged guests are making themselves at home at Maithon Dam and Topchanchi Lake in Dhanbad, a heartening sign for the ecological health of both reservoirs.
Migratory birds such as the great cormorant, ring-billed gull, citrine wagtail, lesser whistling duck, tern, northern pintail, bar-headed goose, great crested grebe, little grebe (dabchick), common and red-crested pochard, common teal, black-winged stilt, gadwall, among others, have been sighted at these two places since December-end.
These birds are likely to stay till mid-February.
Sanjay Das, a well-known photographer of Maithon and the president of Maithon Bird Club, said they had spotted many varieties of migratory birds in the past few days.
"Well, I won't say it was very easy for the visiting birds this time, thanks to untimely rain, but still they are here," he said. "The water level at Maithon Dam is pretty good. Birds find it hospitable."
He added they were doing their best to spread awareness about migratory birds among picnickers, especially students. "There's boating at Maithon Dam, but we tell tourists not to make needless noise around birds or scare them away. They need to feel secure," said the bird lover. "Besides awareness campaigns, we hold study tours for people who are genuinely interested in migratory birds."
He added they were planning a workshop this January-end on migratory birds which ornithologists from across the country would attend.
There's no boating at Topchanchi Lake, so birds are more. Boating at Topchanchi Lake was earlier carried out by the Mineral Area Development Authority, but in a restricted manner. Due to a dip in water level in the past decade, boating has stopped.