Wanted: nets, drone cams for high-rises
Yadav added they would also seek drone cameras from the state fire department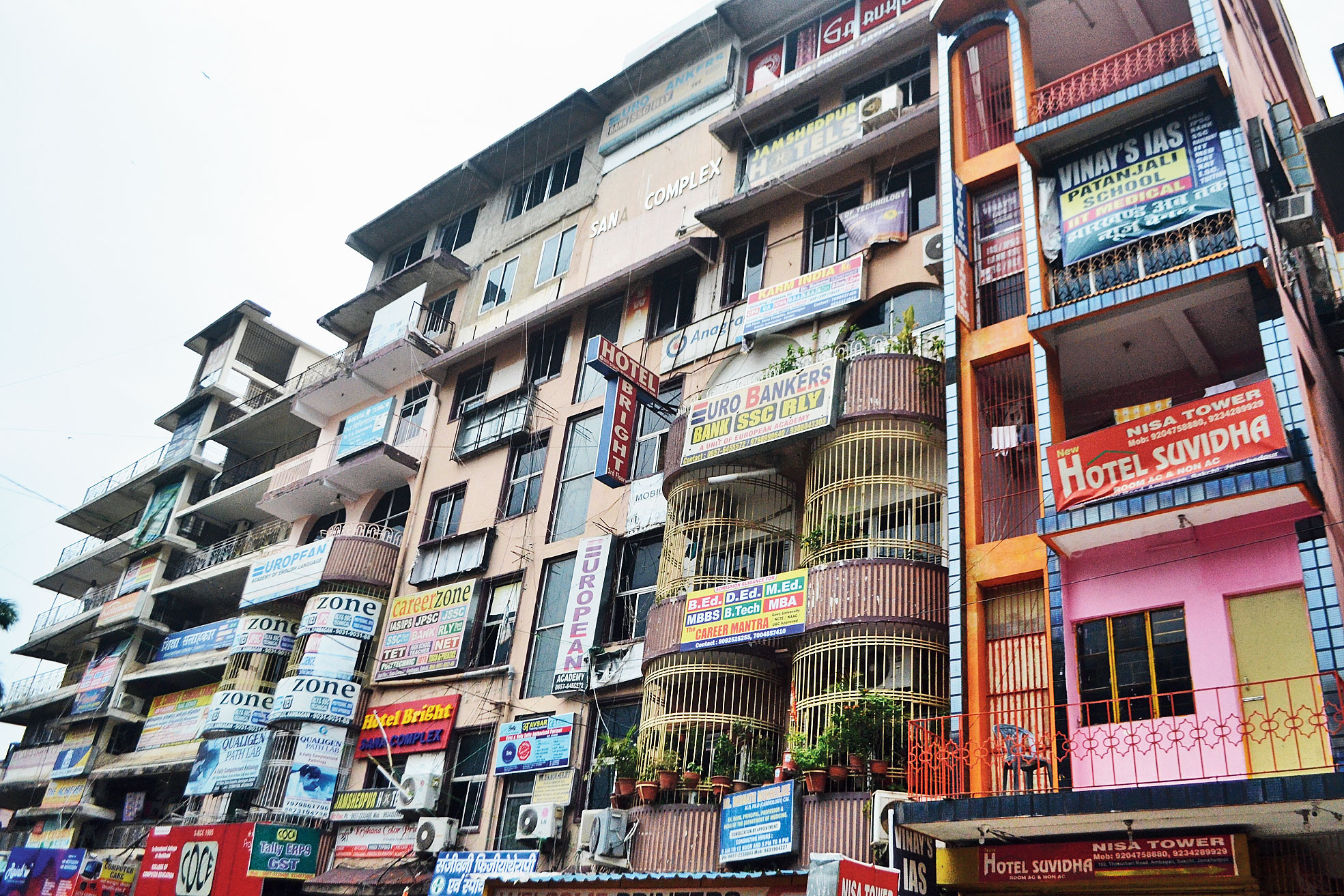 A multi-storey commercial building at Aambagan in Sakchi, Jamshedpur, on Saturday.
Picture by Animesh Sengupta
---
Jamshedpur
|
Published 25.05.19, 06:56 PM
|
---
The government-run fire station office at Golmuri is mulling contemporary firefighting measures in the wake of Friday's Surat blaze at a four-storey building with a coaching centre that left at least 22 dead.
Fire station officer Gopal Yadav said that the urban landscape of Jamshedpur had changed with mushrooming high-rise buildings and so firefighting methods must change to be more effective.
He suggested using hydraulic aerial ladder platforms, nets and drone cameras to combat fires in high-rise buildings.
"The days are gone when one would depend on only fire tenders to combat blaze. Now the steel city's skyline is being redrawn with multi-storey residential and commercial buildings in place of double-storey or single-storey ones. Firefighting needs to reflect this change to be effective. In case of a high-rise fire, rescuing trapped people is priority. If people jump off high-rise terraces, the fall can be fatal. That's why a fire tender needs to have nets similar to those used in circuses. A lot of lives can be saved."
He pointed out they were expecting a hydraulic aerial ladder platform from the state government for the steel city for rescuing people trapped in high-rises, but so far had not received it. "The high cost of the equipment may be a deterrent. But circus nets are more affordable and they are an alternative to save lives," stressed Yadav.
Yadav added they would also seek drone cameras from the state fire department.
"Often, we are in the dark about rooftop restaurants with kitchens in high-rises, which could be a mishap waiting to happen without proper safety measures in place. If we have drone cameras we can carry out aerial surveys and take appropriate action against the building owners concerned if we find out violations," the fire station officer said.
Bistupur, Sakchi, Mango and Golmuri are crowded with high-rises where coaching centres and roof-top restaurants are run.
Though no major fire incidents have been reported from any steel city building in the recent past, small incidents at a commercial building in Sakchi and a residential apartment at Sonari occurred last week.