Vishy effect on Jharkhand's 'littlest' champ
7-year-old Adhiraj shuns toons for chessmen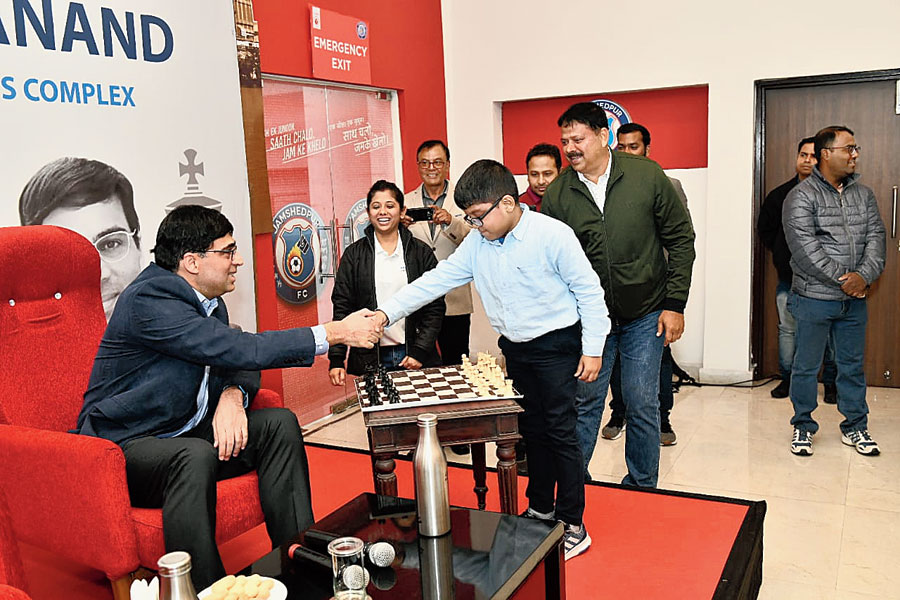 ---
---
He's all of seven, but he's already made a big move in life.
Watching cartoon channels has taken a backseat for Adhiraj Mitra, a Class II boy of Loyola School and Jharkhand's youngest international chess player, ever since he played an impromptu match against Grandmaster Viswanathan Anand.
Adhiraj, a big Vishy fan, had always wanted to play with his idol. The dream came true when Adhiraj went up to Anand at the JRD Tata Sports Complex, where the five-time world champion was meeting 200 chess enthusiasts last Saturday to promote his book Mind Master, and requested the Grandmaster for a game. To the boy's utter delight, Anand said yes.
Though the symbolic contest lasted for just over five minutes, Anand was pretty impressed with Adhiraj's moves and congratulated the boy.
That simply changed the boy's life, smiled doting parents Uttam and Runa Mitra of Sonari. "It's the Anand effect," laughed Uttam, a businessman. "After Anand shook hands with Adhiraj, my son got so excited that he demanded his favourite cheese-butter masala dosa. We had to drive him down to his favourite Bistupur eatery for the treat. Then he came back, renounced cartoon channels and started practising chess moves on the laptop."
Runa, a homemaker, agreed she had also seen a big change in Adhiraj. "Adhiraj has now started working harder on chess. He learns new moves on the laptop and also from his mentors at Tata Chess Centre and maternal uncles Dushyant and Abhishek Das, both international-rated players," she said.
Adhiraj's rating issued by FIDE last year was 1,336, which makes him the youngest in Jharkhand to achieve the feat. Players crossing a rating of 1,000 are deemed to have international ratings.
That makes him a pretty smart chess player. But both his parents, who accompany him on outstation tournaments, said that the time spent with Anand, brief though it was, helped Adhiraj in a vital aspect. "He's no longer nervous," said Uttam, thanking Anand profusely for the change in his son. "Yes, I think my son has become more mature," added Runa.
Adhiraj said he was "over the moon".
"Playing against my idol was a dream come true. I'm very excited, can't explain what it felt like," he said.
Adhiraj, who started playing chess a little over a year ago, claimed the Seraikela-Kharsawan open chess event (Under-6) last year and followed it up with wins in a city tournament in Under-7 and Under-8 categories.
An Under-8 event in Bangalore, an Under-7 title in the All India Open FIDE rating event in Ranchi, and an Under-7 event in a state FIDE rating tournament in Hazaribagh followed.
He finished runner-up in an all-India rating event in Cuttack and won the Under-8 in a district event in Jamshedpur.
"As parents we are backing him to the hilt and obviously hope that he becomes a big chess player and earns laurels for the country. But it's also important that he enjoys the game," said Uttam.