Death on wheels
Uprooted tree proves fatal for woman headed to Galhobar in a car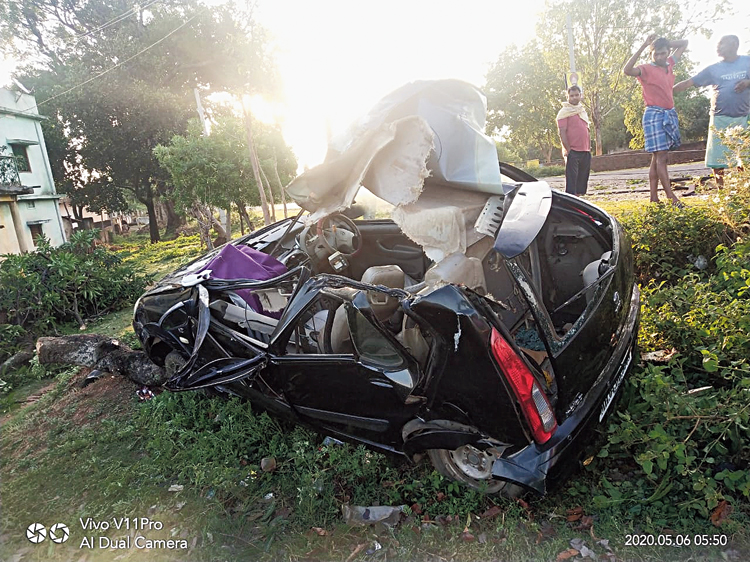 The mangled remains of a car that rammed into an uprooted tree on Hazaribagh-Giridih Road (NH-100), resulting in the death of a woman on Wednesday.
Vishvendu Jaipuriar
---
Published 07.05.20, 01:20 AM
|
---
The incident took place near Silwar under Muffasil police station, around 9km away from the Hazaribagh district headquarters.

Police sources said a Mango tree was uprooted during heavy rain accompanied by winds blowing at the speed of 30-40km per hour that swept through the district around 11.30pm on Tuesday.
The tree had fallen on the SUV of petrol pump owner Munna Kumar who was returning to his home around 12.15am on Wednesday. Not only did Munna remain unhurt, but also his vehicle suffered little damage. However, the same tree proved fatal for a member of a family on its way to its native village Galhobar in Vishnugarh.
Akhilesh Gupta, the owner of a coaching centre in Hazaribagh town, was headed to Galhobar in a car along with his wife, daughter and mother.
Akhilesh, who couldn't spot the tree on the road, crashed into it.
The car was badly damaged under the impact of the collision and Akhilesh's mother Mamta, 55, was injured.
An ambulance, which was passing by, took them all to Hazaribagh Medical College & Hospital where Mamta was declared brought dead. Others were discharged after first-aid.