Two drown, two others die in lightning strikes in Hazaribagh
STATE DIGEST: Bokaro DC courtesy visit to CM, Bokaro DC launches special Covid campaign,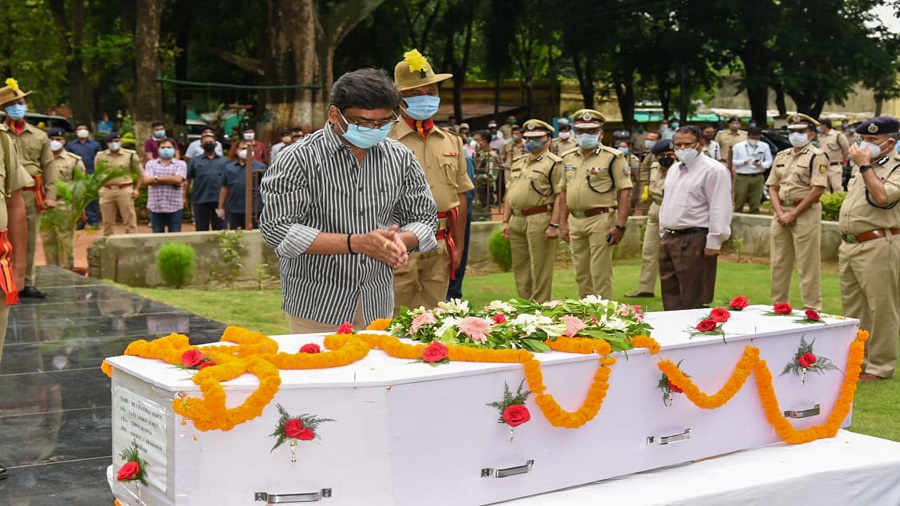 ---
---
Sunday witnessed a number of mishaps, including two lightning deaths with three women suffering burn injuries in Hazaribagh, and the drowning of two children in the neighbouring Chatra district.
Mohan Yadav (60) of Sijhuwa village in Ichak block went to the forest with his cattle, and heavy rain forced him to take refuge under a tree, when lightning struck, killing him instantly Sunday afternoon.
At the same time, in Khutra village, three women sowing paddy in the field sustained severe burn injuries due to lightening.
The trio were referred to Hazaribagh medical college and hospital.
The third lightening incident took place in Bara village in Vishnugarh block, when 15-year-old Khushboo Kumari was returning home by foot, when she died due to a sudden strike of lightning.
Circle officer of Vishnugarh, Krishna Kumar Marandi met the girl's parents and assured her of government help.
In Pathalgadda, Chatra, two brothers namely Mohammad Ashram (8) and Mohammad Imran (10) drowned while taking a bath in a pond.
Their bodies were fished out and sent for postmortem.
Bokaro DC courtesy visit to CM
Deputy Commissioner, Bokaro, Rajesh Singh paid a courtesy visit to chief minister Hemant Soren in Ranchi on Sunday.
Singh apprised him of the Covid situation in the district and the actions that are being taken to contain the virus.
He also told him about steps taken related to the development work and other areas.
The CM said that the vision of a good leader or officer is more important than eyesight.
Singh, a 2007-batch IAS officer, has also represented the country in the field of sports.
Soren said, he hopes that Singh will serve the residents with full dedication and take the state forward.
Bokaro DC launches special Covid campaign
Deputy Commissioner, Bokaro, Rajesh Kumar Singh, launched a special campaign to make residents aware of wearing masks and following social distancing norms.
Flying teams conducting the drive, visiting marketplaces and public places to check whether residents were wearing masks or not.
Those found without face covers were warned by officials to not to repeat the same or be ready to face legal action.
Additional Collector, Vijay Kumar Gupta said that action is being taken against those who are not following the rules of lockdown even after repeated instructions.
"The Covid cases in the district are increasing rapidly, so it is necessary that action should be taken to identify people as well as those who are not following the norms. They are risking their lives and infecting others with this virus," said Gupta.
Deputy Superintendent of Police (DSP), City, Gyan Ranjan, who is conducting the drive has instructed police officers and personnel to make the public aware about social distancing and wearing masks, and impress upon them the mandatory nature of the rules.
ATM loot bid
Unidentified persons damaged a Bank of India ATM in the wee hours of Sunday in an unsuccessful loot bid near Lahra Mandir, Dhanbad.
Kenduadih police station officer in Charge, Sudhir Prasad said, "The incident took place between 2.30 am to 4 am as the police patrolling party made rounds of the area before 2.30 am and found the ATM damaged at around 4 am."
He added that the criminals also damaged the CCTV camera of the ATM kiosk. "We are investigating the case and raids are being conducted to arrest those behind the incident," said Prasad.
Eight cyber cons arrested
Dhanbad police on Sunday arrested a gang of eight persons engaged in siphoning off of money from different bank accounts, by making phone calls and taking bank details, posing as bank officials.
On a tip-off the arrest was carried out by a Cyber Cell team of Dhanbad police led by Dhanbad Cyber Police station OC Jitendra Kumar at the Kharkabad area of Govindpur.
Police also recovered 23 mobile phones, 66 SIM Cards, seven ATM Card and some notebooks from the arrested persons, who have been identified as Hiralal Ravidas, Tinku Ravidas, Bhole Ravidas, Mohan Ravidas, Motilal Ravidas, Gram Ravidas, Jay Ravidas and Tulsi Ravidas