Tuskers enter Harina jungle, cops' role under scanner
Elephants from Odisha enter the Potka block of the East Singhbhum district giving villagers sleepless nights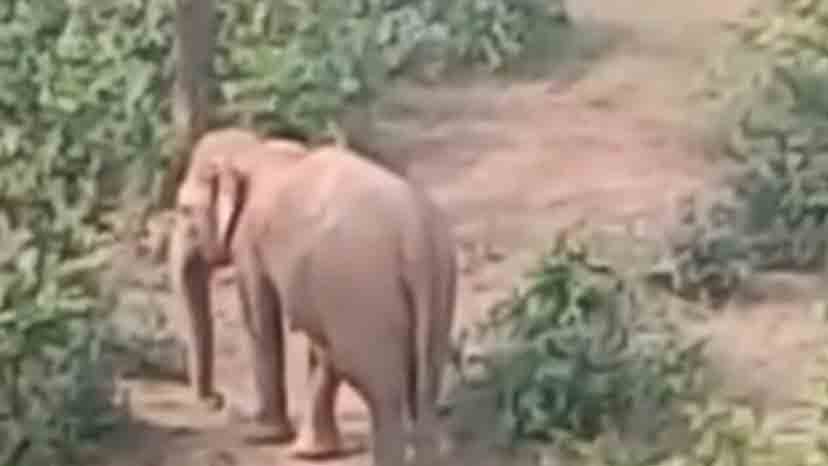 Elephants in the Harina jungle in East Singhbhum district
Animesh Sengupta
---
Jamshedpur
|
Published 19.11.21, 05:41 PM
|
---
A herd of wild elephants has entered into a forest in the Potka block of the East Singhbhum district from Odisha since Wednesday, giving villagers sleepless nights. 
But what makes the arrival of the herd of elephants in the jungle in Potka block of the district significant is that it is the police department and not the forest department which is supposed to be more proactive in this context.  
The police are expected to create awareness among villagers against stray animals. The forest department officials are just monitoring the movement of the herd of a dozen elephants that is the Harina jungle in the Kowali block of the district. 
"A herd of elephants has crossed over to the Harina jungle from the neighbouring Mayurbhanj district of Odisha on Wednesday. Since the past two days, the herd is stationed  in the jungle which also has a human habitat inside it. We are trying to drive the migratory elephants back to Odisha, but the tuskers are reluctant to move away, " said a forest official while talking to this website," an official said on condition of anonymity. 
The official added as the herd is anchored in the forest limit they can not force the tuskers to move away from the jungle as it is their natural habitat. The department can only watch the movement of the tuskers so as to see if the animals are moving into the human habitats outside the jungle. 
Significantly, people living in the villages inside the Harina jungle tend to come closer to the herd, sometimes to drive away it's from the paddy crops and the other times making fun with the wild tuskers. 
OC, Kowali thana, Amit Kumar Rabidas said they have to take extra precautions as villagers are putting their lives at risk by coming closer to the tuskers.  "The villagers are climbing on the trees where the elephants are moving around in the jungle. They are also shooting arrows at the elephants preventing the tuskers from grazing the paddy crops. As the villagers are indulged in wishful acts near the elephants' herd, we have to drive the people away into a safe zone. We have to remain active during the night also, " said the OC while talking to The Telegraph Online. 
Rabidas said there are five villages in Harina jungle under Kowali thana area about 25 km away from the steel city, adding that as long as the herd is anchored in the jungle, the police officials will have to be on their toes.