Tradition goes strong, a ton & beyond
Idols & bhog soul of grand Centenarians; organisers pray cyclone leaves festival unscathed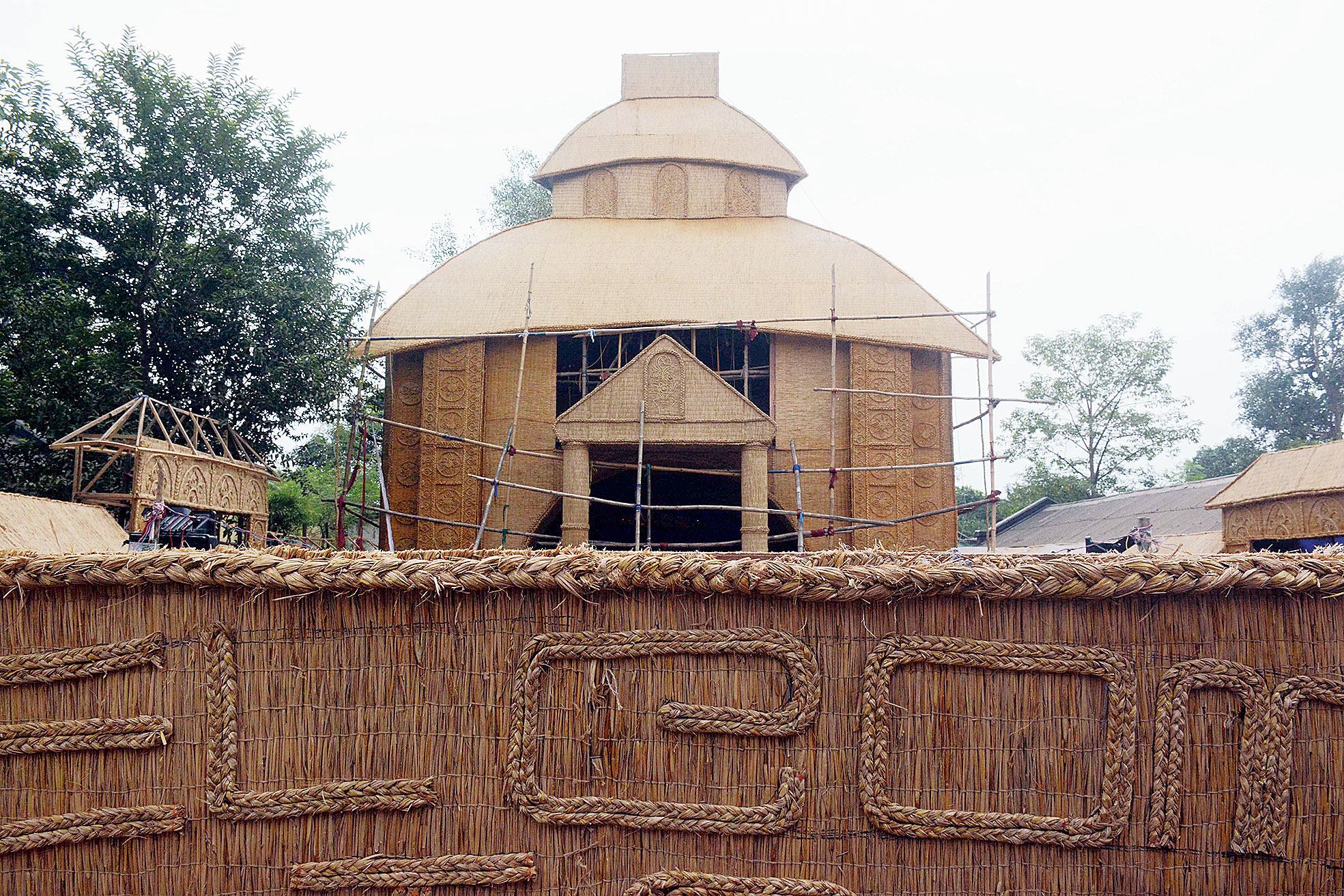 All heart: The pandal of SE Railway Traffic Colony near Tatanagar on Wednesday. Picture by Bhola Prasad
Picture by Bhola Prasad
---
Jamshedpur
|
Published 10.10.18, 06:42 PM
|
---
Theme Pujas may be the rage, but standing with folded hands in front of a simple pandal with traditional idols also gives a rare feeling of peace.
For this, head over to heritage Pujas, where simplicity rules over glitter. And though Jamshedpur does not have 200 and 300-year-old Pujas like Calcutta, there are a couple of centenarians such as SE Railway Traffic Colony Durga, Laxmi and Kali Puja Committee near the station and Jamshedpur Puja Committee in South Park Bistupur.
The city's oldest Puja, the 113-year-old SE Railway Traffic Colony Durga, Laxmi and Kali Puja Committee, has always focussed on idols and rituals and kept itself aloof from the razzmatazz most committees bring in to increase footfall.
The Puja committee, currently having around 120 members, held its first Puja way back in 1906 when Tata Steel was waiting to start operations. Then station master of Kalimati (now Tatanagar) Dilip Sengupta had been the prime mover behind the Puja. "It was organised by three or four families for the first few years. In 1913, it became sarvajanik or public when people started giving chanda or donation to organise the Puja," said I.D. Prasad, general secretary of SE Railway Traffic Colony Durga, Laxmi & Kali Puja Committee.
He added that most residents and committee members were salaried railway employees so hefty donations and big budget Puja decorations were not possible. "Our focus is on the idol, the rituals and bhog distribution," he said.
Members collect money throughout the year from about 400 families to finally organise this Puja, he added.
He related an interesting anecdote about their priest Madan Mohan Choudhury, who comes from Anandapur in West Midnapore, Bengal. "He's the third generation priest in his family who has been performing our Puja. He's like family," Prasad said.
The Jamshedpur Puja Committee in South Park Bistupur has stepped into its 100th year this time. Started in 1919, this Puja saw the light of the day at a Tata Steel company quarters verandah in Q Road, Bistupur. From Jogesh Chandra Ghosh's residence, this Puja in its initial years went to various venues till it was stationed on the premises of Jamshedpur Association known locally as Ghasi Club.
"In 1922, it was organised on the premises of Rama Krishna Mission at L Road but due to differences of opinion with the Belur Math school of thought, the Puja shifted to its present place. We concentrate more on the Puja. Till date, bhog for the goddess is prepared by Brahmin members of the committee and not the caterer," said secretary of Jamshedpur Puja Committee Bimal Ray.
In its centenary year, this traditional Puja has concentrated more on cultural events such as jhumur and chhau. On Ashtami, October 17, internationally acclaimed Lakhan Das Baul will perform here.