Traders down shutters in Dhanbad
Jharkhand businessmen join rest of India in voluntary tribute to Pulwama victims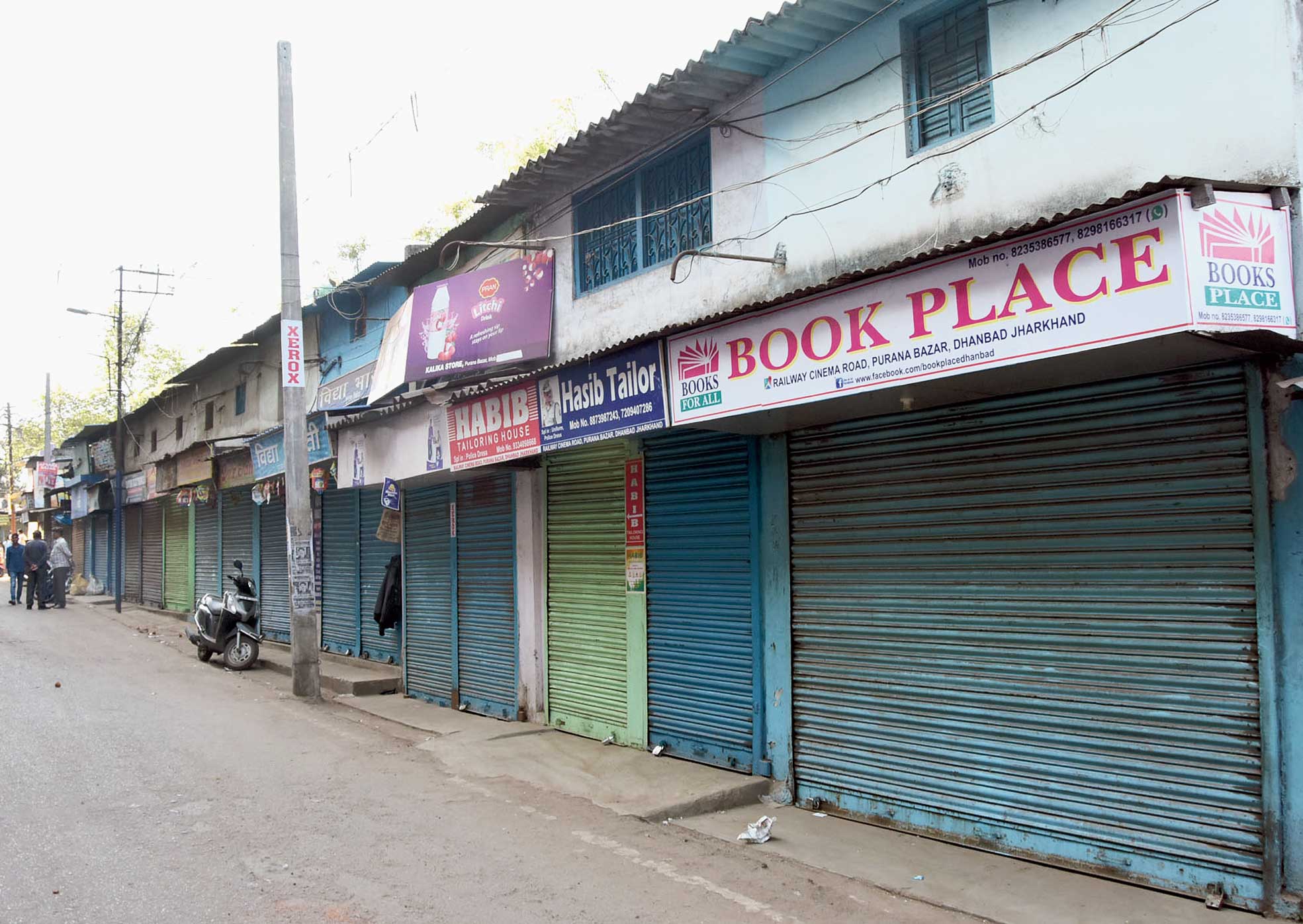 Closed shops at Purana Bazar in Dhanbad on Monday in protest against Pulwama terror attack.
Picture by Gautam Dey
---
Dhanbad
|
Published 19.02.19, 07:56 AM
|
---
Traders in several parts of Dhanbad shut shops voluntarily on Monday in protest against the killing of CRPF personnel at Pulwama apparently in response to a call issued by a Delhi-based trade outfit even though the local business chamber did not issue any directive to that effect.
"We received information about a bandh call issued by the Delhi-based Confederation of All India Traders on Sunday evening through WhatsApp messages and newspaper advertisements. But we left it to shopkeepers as we did not want to force a bandh," said president of Federation of Dhanbad Zila Chamber of Commerce and Association Rajesh Gupta.
In areas like Purana Bazar and Katras, the traders themselves shut their shops. But in other areas markets remained open, he said.
At the two places, a group of fruit and vegetable sellers propelled others to close the market. "The bandh was spontaneous as all shopkeepers closed their shops on their own," said president of Purana Bazar Chamber of Commerce of Industry Md Sohrab.
At Purana Bazar vendors took out a procession at 8am with others gradually joining in. In no time, most traders shut their shops and joined the march.
"More than 2,000 small and medium traders of Purana Bazar, besides others of Bank More observed a bandh. No shop was closed forcibly, but everyone closed their outlets on their own," said Sohrab.
In Katras, the day began with over 1,200 traders, including fruit and vegetable sellers, holding a condolence meeting after which they closed their shops. In the afternoon, over 200 traders took out a procession from Guhibandh and walked through Rajasthani Dharmshala and Surya Mandir before assembling on Cinema Road Chowk.
Katras ward 3 councillor Vinayak Gupta, who is also a local trader, said, "All shopkeepers observed a spontaneous bandh. There was no pressure on anyone but everybody joined in."
But president of Bank More Chamber of Commerce Prabhat Surolia said they did not join Monday's protest as no bandh call was issued by Federation of Jharkhand Chamber of Commerce and Industry.