Trade unions, tribal, farmer outfits protest against Centre in Jharkhand
The Kisan Mazdoor Samanway Samity has decided to submit its demands through district administration officials to President Ram Nath Kovind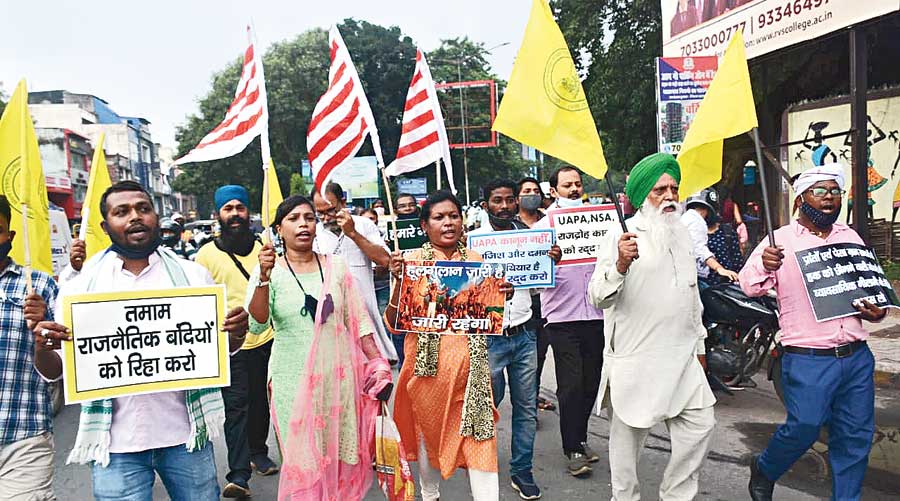 Members of farmer and tribal outfits and trade unions take part in a protest rally at Sakchi in Jamshedpur on Monday
Bhola Prasad
---
Jamshedpur
|
Published 10.08.21, 01:47 AM
|
---
Trade unions joined hands with tribal and farmer outfits in Jharkhand to protest in almost all the 24 districts of the state against the central government.
The Kisan Mazdoor Samanway Samity (Farmer Worker Coordination Committee), which was formed earlier this month specifically for this movement, has decided to submit its demands through district administration officials to President Ram Nath Kovind.
"This is a part of the nationwide protest called by central trade unions against the policies of the central government and for observing August 9 as 'Save India Day' which is also the day which witnessed the start of the Quit India Movement by Mahatma Gandhi," said Praful Linda, a member of the Samanway Samity and a Left leader.
"Since Jharkhand is a tribal state and the day is also observed as the International Day of the World's Indigenous Peoples, tribal outfits also joined our agitation against the anti-tribal policies of the Union government. We will be submitting a joint memorandum addressed to the President through administrative officials on Tuesday as Monday is a state holiday in Jharkhand," Linda said.
Farmers, tribal outfit leaders and trade union members took out rallies holding placards against the policies of the Narendra Modi government.
"Farmers across the country are agitating against the anti-farmer laws and demanding their immediate repeal since last year. But so far the Union government has not bothered to spare a thought about the plight of farmers.
"Surprisingly, our Prime Minister has not even spoken to the agitating farmers," said Sufal Mahato, state convener of Jharkhand Rajya Kisan Sangharsh Samanvyay Samity, an outfit formed last year to coordinate the farmers' agitation in Jharkhand against the farm laws.