Three fires break out at Jamshedpur on Diwali night
While a lamp lit during puja caused the fire at Sonari, the Jugalsai and Mango incidents were caused by short circuits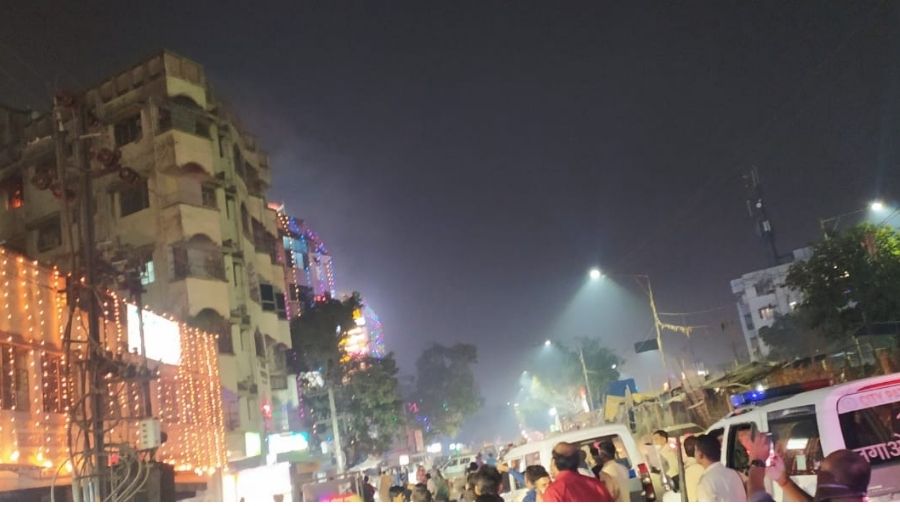 ---
---
Three fires broke out at Jugsalai, Sonari and Mango localities on Diwali (Sunday) night, partially gutting two shops, and severely damaging a flat in a residential apartment.
While a paint-cum-hardware shop that caught fire at Sonari market was put out by locals, the fires at Jugsalai and the apartment were extinguished by the fire brigade.
A dia or lamp lit during a Laxmi Puja triggered the fire at the paint-cum-hardware shop in Sonari around 9 PM.
Shop owner Sitaram Agarwal said that he suddenly noticed the flames in the paint section of the shop while he and his family members were busy with the puja.
"Paints are highly flammable; the fire suddenly spread and engulfed the shelve where the paint containers were kept. The puja was disrupted, causing a commotion. Soon neighbours rushed in and started throwing water at the fire, which prevented it from spreading further. It was finally doused when someone from the neighbourhood used a handy fire-extinguisher," Agrawal told The Telegraph Online.
"A fire broke out at a paint-cum-hardware shop in the densely populated Sonari market area. Had the neighbours not acted in time, this could have become a major mishap. When we reached the spot, the fire had already been brought under control," Renu Gupta, OC, Sonari Thana, informed.
The Jugalsai fire broke out at a plastic shop on Station Road around 10.30 PM. A number of young people engaged in bursting fireworks on the road noticed the flames.
"A few of them broke open the shop's door and made others throw water at the flames. Some of them dared to enter the shop and dragged out the shelves which were on fire. A fire-tender reached the spot soon after and extinguished the fire," Nityanand Mahto, OC, Jugsalai Thana, said.
According to Mahto, a short circuit resulted in the fire. The shop owner shut up the shop following Laxmi Puja without switching off the lights.
The third fire broke out at Mango at around 11 PM, on the fourth floor of one Tarun Apartment on Dimna Road. The flat was unoccupied as owner Puja Sardar was out of station.
A local alerted other residents after he saw smoke coming out of the flat, prompting them to inform the fire brigade and police. Firefighters rushed to the area and brought the situation under control. It took two hours for the fire brigade to extinguish the flames completely," Vinay Kumar, OC, Mango Thana informed The Telegraph Online.
Kumar said initial reports suggest the accident was caused due to a short circuit, and that the owner of the flat has been informed about the mishap.