Three-day pottery fair begins at Bistupur
The idea is to help potters during Diwali, encourage people to discard plastic artefacts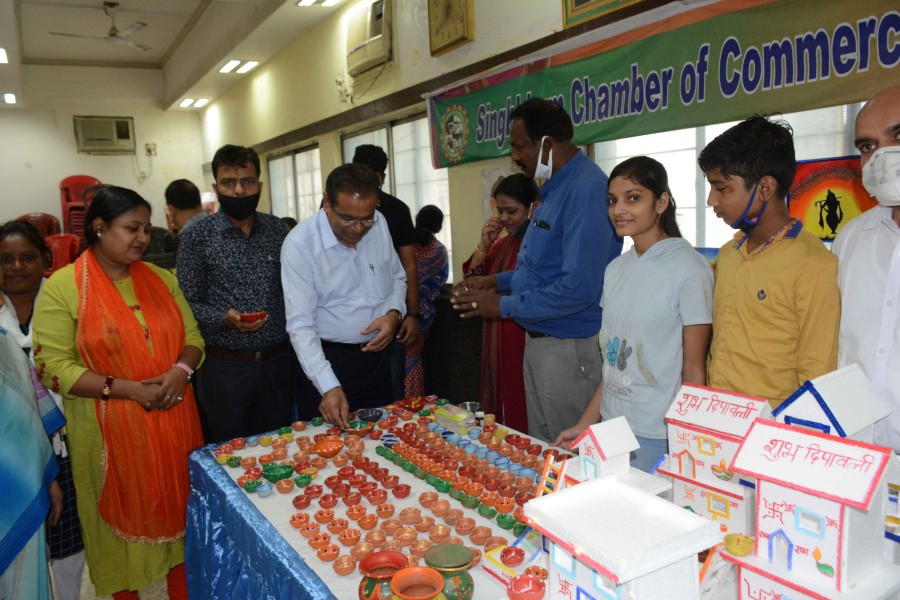 ---
---
A three-day Diwali Mela, aimed at promoting potters to sell their work ahead of the festival, kicked off on Wednesday at the Chamber Bhavan in Bistupur.
About a dozen of potters have participated in the fair organised by the Singhbhum Chamber of Commerce and Industry (SCCI), and have put designer diyas and other clay pots meant for Diwali, up for sale.
"We will also get buyers for the products made by potters. Apart from other customers we have asked all our members to make their Diwali purchases from those potters who have put up stalls at the venue of the fair," SCCI president Ashok Bhalotia said.
The fair will open at 11 am and continue till 7 pm on all three days, he added.
Rajesh Prajapati, a potter participating in the fair said, "The demand for traditional diyas has dropped in the last few years and this has affected our business. This year we are not much optimistic of the sale due to the Covid-19 pandemic."
In a bid to express the community's plight, he said that earlier, potters' hands would be full during the Diwali season, but eventually the numbers have dwindled.
Another porter at the fair pointed out, "The increase in the price of raw materials and customers bargaining steadily is resulting in loss for potters."
Notably, despite a ban on Chinese products most households prefer plastic and glass products to light up their homes instead of earthen lamps.
However, commoners are seen paying attention to the potters, given their poor conditions.
In a bid to support indegenous workers, people have come up with the hashtag #PottersKiDiwali on Twitter, urging people to shop for traditional diyas instead of modern lamps and lights.