Three BIT-Sindri students get Rs 10.52 lakh job offer from Tata Steel
The B.Tech third year techies are from electrical and mechanical engineering streams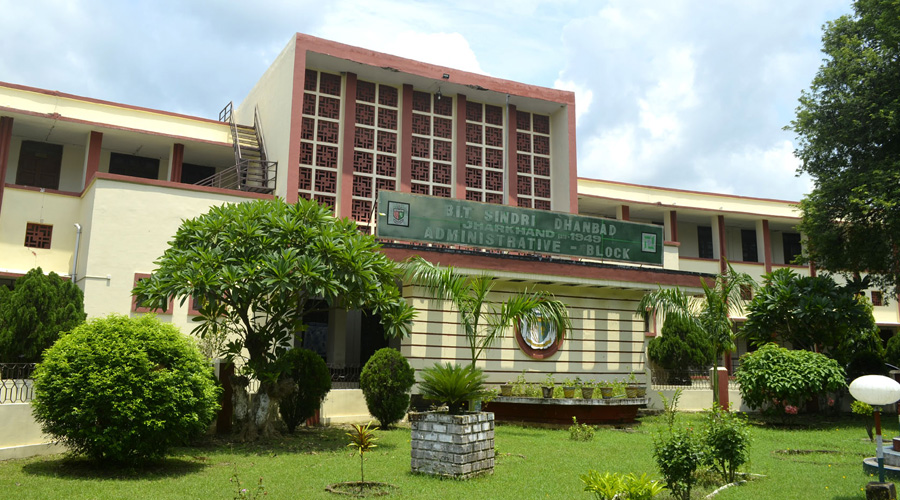 Birsa Institute of Technology (BIT) Sindri in Dhanbad.
Picture by Gautam Dey
---
Dhanbad
|
Published 13.12.20, 07:41 PM
|
---
Three B.Tech third year students of BIT-Sindri, namely Aditi Sinha and Salique Ahmed of electrical engineering and Abhishek Paul of mechanical engineering have been lapped by Tata Steel for a package of Rs 10.52 lakh per annum.
The selected three students were among the 170 who appeared for the online written screening held on December 8 and out of the 19 who were selected for the final round of interview held on December 11.
Talking to The Telegraph Online on Sunday, Ghanshyam Rai, BIT-Sindri training and placement officer said, "The selection in the period of lockdown assumes significance when all tests are being conducted online and few students are getting job offers."
"Though 40 students of our institute of the 2020-21 pass out batch have so far been selected by different recruiters but the selection of three students by Tata Steel has special significance because of the high package of more than Rs 10 lakh per annum," added Ghanshyam.
"Seventeen of our B.Tech students have also been selected by Tata Consultancy Service on October 18 this year out of which 14 secured Tata Ninja offer for a package of Rs 7 lakh per annum, while three others got the Tata Digital offer for a package of Rs 3.36 lakh per annum," explained Ghanshyam.
Divulging more details, Ghanshyam said, "Several other recruiters' interview are still lined up for the present batch of 725 but the majority of these recruitment process like the previous one will be conducted online.
"We are utilising the time of lockdown period for honing up the soft skills of our students and several online workshops, seminars are being organised at the behest of the training and placement cell where the top executives of different companies are providing valuable tips about personality development besides skill for facing an interview, etc.," said Singh and added that more than 350 students of the 2019-20 batch out of total 725 had already secured jobs through campus placement while the remaining are appearing for off-campus selection.
The leading educational consultant and founder of learning also tipped the students of the institute about successful interview facing techniques during an online session held on November 3.
Expressing happiness over his selection, Abhishek Paul said, "We came to know about our selection on Saturday night and initially could not believe."
"For other students, I would request them to be very confident while facing interviews and concentrate on the technical part while replying to queries of the HR department," said Paul.