Tabrez in vote pitch
To a crowd of over 7,000 Asaduddin Owaisi said Tabrez was beaten up mercilessly till he revealed his name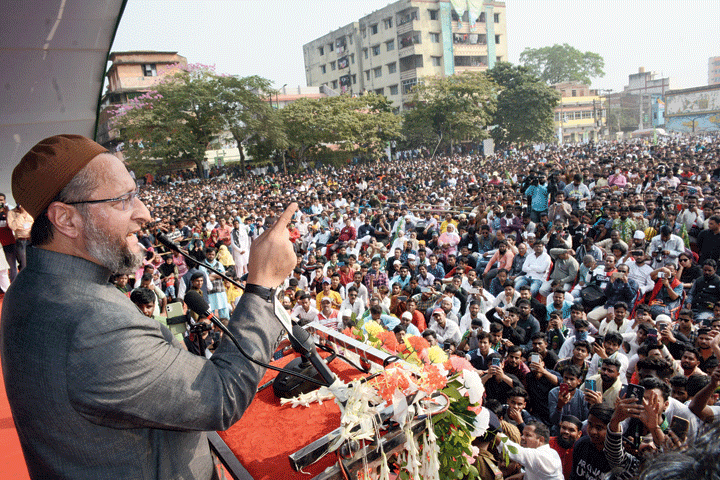 ---
---
AIMIM chief Asaduddin Owaisi, campaigning from Jamshedpur West on Saturday, raked up mob lynch victim Tabrez Ansari.
Addressing a crowd of over 7,000, mostly from the minority community, at Gandhi Maidan, Mango, Owaisi said Tabrez was not beaten up mercilessly till he revealed his name.
Accused of theft, Tabrez, 24, was fatally beaten up by a mob in Seraikela near Jamshedpur this June, and asked to chant Jai Shri Ram. He died in hospital four days later.
For the "sake of Tabrez's soul", Owaisi asked the Gandhi Maidan gathering to vote for the AIMIM candidate Reyaz Sharif.
Owaisi added that PM Narendra Modi went to Bangalore to watch the (Chandrayaan-2) moon landing but was not bothered about the NH-33 that links Jamshedpur and Ranchi.
"Highway ko lekar 1,000 crore ka ghotala ho gaya. (There's a Rs 1,000-crore highway scam). Jharkhand High Court has ordered a CBI probe," Owaisi said, adding Raghubar Das might soon become ex-CM.
He pooh-poohed BJP's slogan of Sabka Saath, Sabka Vikas. "Giving jobs to youths and protecting the land of tribals should be the government's priority. But the government here is trying to take away tribal land by tinkering with the CNT Act. Is this sabka Saath, Sabka Vikas?" he asked, referring to the Das government's unsuccessful bid to tweak tribal land tenancy Acts.
An MP from Hyderabad, Owaisi alleged secularism had no meaning for either the BJP or the Congress. "My party protects secularism. Ask Banna Gupta (Congress candidate from Jamshedpur West) why his party joined the Shiv Sena in Maharashtra. Congress-Shiv Sena are bedfellows are raising fingers at me," he said.
Owaisi termed the BJP, RSS, Congress and Shiva Sena as "Ram aur Shyam ki jodi" that could unite any day. "By 2024, Modi will have visited all countries in the world. But ask him why India's GDP is 4.5 per cent and why unemployment is rising, and BJP replies with scrapping Article 370 and triple talaq."
He said National Register of Citizens targeted minorities. "After Assam, the government wants to introduce NRC in other states and wants to bring the Citizenship Amendment Bill. But every person of every religion has equal rights. India is ours. India is Bharat. No one can drive us away from this country," he added.